Ollie Rathbone expects a call from his good mate Scott McTominay if Rotherham can topple Sutton in today's Papa John's Trophy final at Wembley.
The Millers ace is good mates with his fellow midfielder having graduated together through Manchester United's legendary youth system and while McTominay's Old Trafford career might have sky-rocketed, hard-working Rathbone has had to be patient for his own big chance.
"Scotty has been one of my best mates since I was 11 years old," revealed Rathbone.
"I used to drive to training with him when we both played for United Reserves together.
"He's wicked, a wonderful lad. He's worked incredibly hard to get where he is now. He deserves all the accolades and all the awards that come his way.
"We do keep in touch. For that type of friendship we don't have to text every single day, but if I ever watch him on the TV I'll drop him a text if he has a great game.
"And similarly if he switches son the box and sees me playing for Rotherham that week he'll give me a call for a chat. There's a lot of mutual respect.
"I came through with him and Marcus Rashford at the club. That's probably been the most successful group of players from the academy system for a while.
"Marcus was the year below with Axel Tuanzebe and Timothy Fosuh-Mensah, while me, Scott and Dean Henderson was also in the same age-group.
"In them two age groups there's obviously now been a lot of first-team appearances. They were really, really good days."
Rathbone, like many gifted United stars, was forced to leave Old Trafford in search of regular football.
He enjoyed five seasons with Rochdale, making nearly 200 appearances for the club, before the Millers snapped him up after he impressed in a pre-season friendly.
"Leaving Man Utd after eight years to go Rochdale was a massive moment in my career," he admitted. "I went to scrapping for our lives with Rochdale.
"I've definitely done it the hard way. Nothing's never really been given to me, I've really had to work hard for everything.
"Even after 180-odd games for Rochdale it was a pre-season friendly which got me the move to Rotherham.
"I couldn't even relax in a pre-season, I had to do it all on the hope they'd take a chance on me. I'm fortunate they did."
Victory over The Yellows this weekend would see Rathbone pocket his first-ever silverware and with the table-topping Millers on the cusp of another promotion back to the Championship, the 25-year-old playmaker is understandably salivating about winning a "dream" double.
"It's the kind of thing you dream about isn't it?" stressed Rathbone. "I've been joking with my family and my agent about what's going on.
"But we're all chuffed to bits how well it's going and how much I'm enjoying playing for the club. Hopefully it can be a really special season for us.
"It's [playing at Wembley] is a wonderful occasion for all of us, I've never played at Wembley before.
TICKETS | Tickets are still on sale for Sunday's Papa Johns Trophy final at Wembley.
At the last count, we'd sold 12,299 tickets and we'd love to have as many people as possible behind the lads in the capital!
#rufc
|
#ForeverTogetherForeverProud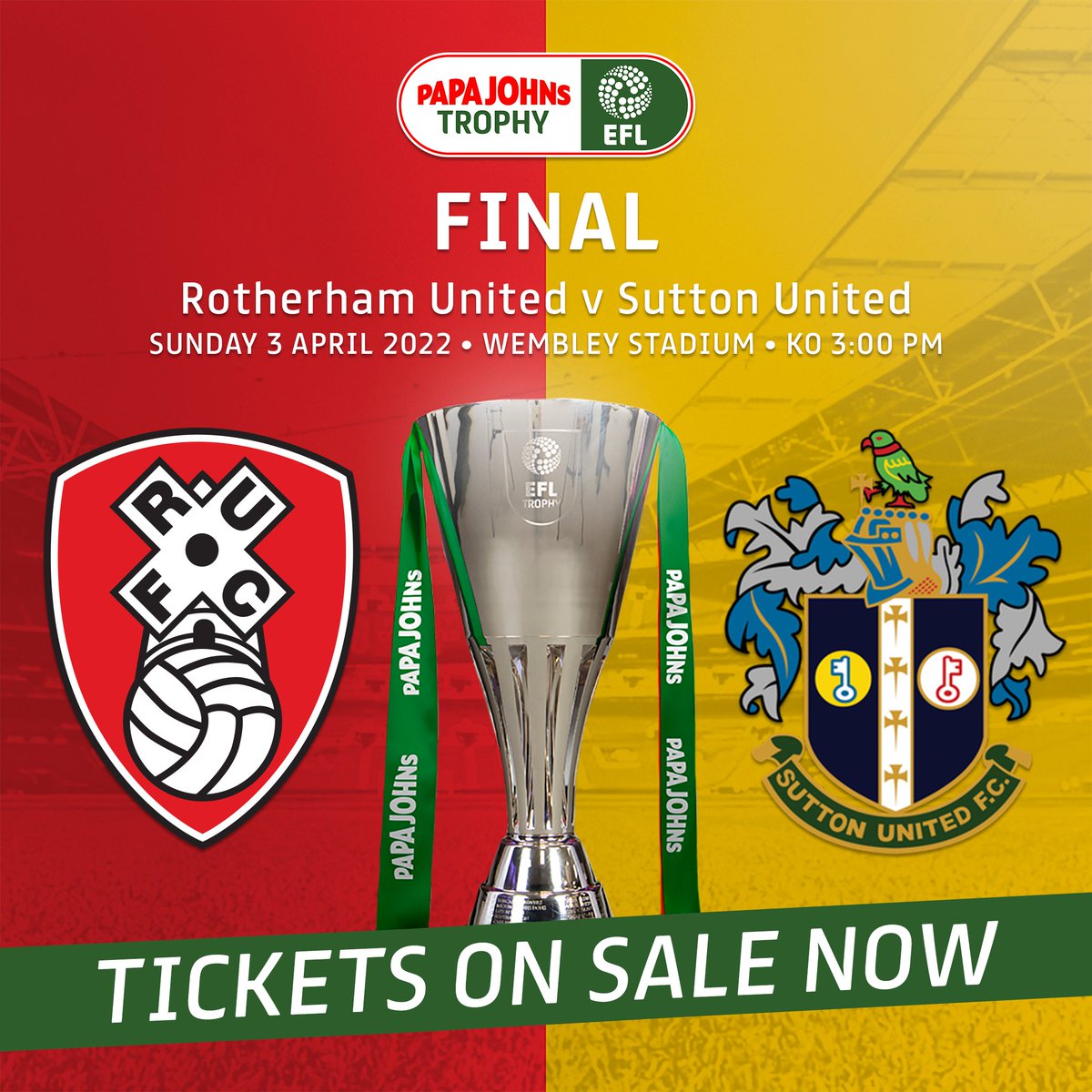 "Lots of players go their whole careers without getting to Wembley, so the staff have said enjoy it.
"It's also massive reward for all our hard work, you've got to win a lot of games to get to this point.
"We've all got lots of friends and family coming down to the game. Everybody I've spoken to about it wants to come, they all know how big a deal it is."
One of those avid supporters is Rathbone's dad, Mick, a former professional player himself, football manager and Everton medical man - and now a physiotherapist with League Two Salford. He's also an acclaimed author and recently had his second football book published.
Mick enjoyed an impressive 19-year-long playing career, largely at Blackburn Rovers – where he made over 250 appearances – as well as turning out for Preston, Birmingham and Halifax Town.
"My dad's coming up to 50 years in football," revealed Rathbone.
He joked: "But he'd want me to say he's an award-winning author as well!
"He wrote a book about ten years ago which was really popular – and he's just released a follow-up now which is getting good reviews.
"My dad's been a really big help for me, he's never put any pressure on me. The only thing he expects from me on a match day is to play with a smile.
"That takes loads of pressure off me. I like to think when he comes to the games he can relax and enjoy them.
"He knows how hard I've worked for this, so he always says to me I deserve everything I get."
And so what of Sutton - the League Two opposition who have surprised many this season by winning six tough matches to reach the final?
One of those notable scalps was beating Wigan, the Millers' automatic promotion rivals, 7-6 on penalties in the last round.
"We definitely won't be taking them lightly, especially with the amount of cup upsets you get these days," he said.
"We'll be well aware of the possibilities and the dangers they bring.
"I know they're quite a direct team, they like to get the ball in the box and they'll look to put our defence under pressure."
Team spirit and a real togetherness has stood the Millers in good stead this season and Rathbone is also blossoming under manager Paul Warne, who is now in his fifth term and has enjoyed two previous promotions with the club.
"I only joined the team in August, but you can definitely tell the core of the team has been together for a while," reflected Rathbone.
"We didn't sign 15 new players in the summer, the group has worked together for a long time.
"You can tell there's a real close-knit bond between the players. We all really support each other, which is a big thing.
"We've got Chieo [Chiedozie Ogbene] who is really doing well at the moment for Ireland – and everyone is absolutely delighted for him.
"And that typifies the spirit amongst all the players. Sometimes you get lots of cliques, but not with us, we really are one big group."
"And me and the gaffer have got a really good relationship. I really enjoy working with him. The manager stresses that the pressure is a privilege.
"It would be easy to be at a club now that's mid-table and they're safe, you can probably book your holidays.
"But to have that pressure on your shoulders – and to be successful – you have to embrace it.
"We've got Wembley and seven league games left, but we're just going to attack them all like we have done all season.
"We're not going to shy away from success, but try and enjoy it along the way."
And if he were to score at Wembley – and even the winner – has thought of a celebration yet?
"To be honest I've got to be careful because I'm usually on a booking for large parts of the games," he joked.
"If I did score I probably wouldn't be able to take my shirt off and jump into the crowd."