Thousands will follow Dale to Old Trafford for Cup test
10:16, 25 Sep 2019
Talk of North West clubs in the Football League has sent shivers down many spines in recent months.
Historic founder members Bolton Wanderers and - most tragically - Bury have dominated conversation due to the severe financial mismanagement of the two clubs when the focus should have ideally been on the expectations of the brand-new league campaign.
The latter club's 125-year league history was ended abruptly in late August, the Shakers becoming the first side to be expelled from the EFL since the liquidation of Maidstone in 1992. Bolton were eventually rescued at the 11th hour.
Just over six miles away from Bury's home ground Gigg Lane, League One club Rochdale mercifully provide a welcome relief to a region that was in danger of becoming all too accustomed to clubs becoming embroiled in financial turmoil.
And this week Rochdale are guests of Manchester United at Old Trafford in the third round of the Carabao Cup.
Bolton - fielding a side of youth products as their future remained in the balance - were the Dale's first conquests in the League Cup campaign, with a 5-2 victory at Spotland. A subsequent win over League Two side Carlisle United has led them to the Theatre of Dreams.
Rochdale have never been in a league position higher than the third tier; Manchester United, Premier League behemoths and record champions sit 53 places above them.
Rochdale chief executive David Bottomley told The Sportsman of the significance of the fixture:
"What is means to the club is that our genuine loyal fanbase - supporters who stick with Rochdale through thick and thin - are obviously very excited about it. It doesn't happen on a regular basis that we play world-famous names like Manchester United. In terms of heritage of clubs they don't come any bigger than them.
"It's also a great opportunity for our supporters and for the team to go to one of the finest sporting stadia in the world and get paid to play, and for all of us at the club that's the real excitement.
"We have a very young, exciting management team and we have a great group of professional footballers at Rochdale. Team spirit and togetherness is 100% in place.
"We can go very proudly to Manchester United."
It's an occasion few Dale players have ever been privileged to be a part of. Former Rochdale player and now Head of Dale In The Community Sports Trust Keith Hicks spoke to the club's official website about the majesty of the occasion, and the resonance for a footballer and a club, particularly one of a lower league standing. Hicks played an FA Cup tie against Manchester United at Old Trafford in 1986, with United winning 2-0 thanks to goals from Frank Stapleton and Mark Hughes.
"We took about 6000, the buzz was fantastic. We were going to play European Cup winners, FA Cup winners and it's 'Little Rochdale'. Looking back now the match was a blur."
Over three decades later, it's a position Brian Barry-Murphy's 2019/20 side also now find themselves in and one that Dale supporters and players will, of course, be relishing; a bittersweet contrast to the fate of their geographical rivals, something that CEO Bottomley sympathises with: "First and foremost as a club we have every sympathy with Bury's supporters. Without supporters at our level of football, football is nothing. It's what makes football really tick as a sport.
"All of us at Rochdale, our hearts go out to supporters, the fans of Bury who haven't done anything wrong, who've just gone and watched their football club."
It's MATCHDAY! 🙌
🆚
@ManUtd
(A)
🏆
@Carabao_Cup
Round Three
🏟️ Old Trafford
⌚️ 8pm kick-off
🎟️ Pay on the night
📱 Twitter updates
🎙️ Listen live on iFollow
#RAFC
#MUFC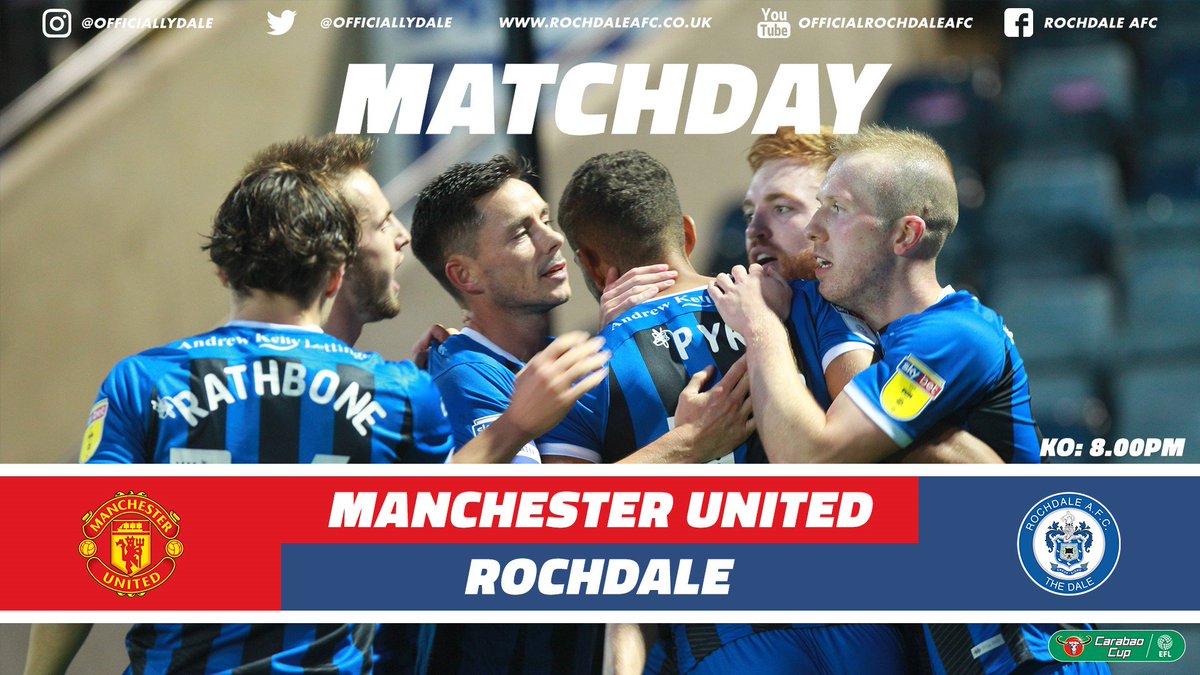 Barry-Murphy's side's brand of football is one of the reasons Rochdale are a team to keep an eye on, says Bottomley: "It's one we haven't seen in a long time at Rochdale. It's a possession-based game and when it comes off it works absolutely brilliantly, it excites us all. You just sit there with open eyes thinking 'This is really great football I'm watching!' "
The expulsion of Bury should, of course, continue to be discussed and deconstructed, as should the precipice Bolton and their fans found themselves teetering towards. Rochdale provides an antidote in the region.
"For 112 years Rochdale has had a chairman, a chair, and a group of directors who have felt themselves very privileged to be part of a lovely Lancashire football club.
"We've maintained Football League membership while traditional rivals around us - Stockport County, York City and Wrexham - have all dropped out. Our board of directors have always sought financial stability above success on the playing field.
"It's hard to take sometimes when other clubs around you are overspending and seemingly having more success. It's quietly knowing that the day of reckoning always comes.
"Rochdale have always avoided that pitfall of chasing success with money it's never had. That's where we are today."
Rochdale's journey towards the upcoming fixture ultimately, however, is a merciful reprieve in the north of Greater Manchester, an area that has threatened to become perpetually tinged with doom and gloom across the current season.
Similarly to Bury - with whom their 'M66 Derby' had become a notable occasion - Rochdale have had a strong longevity with the EFL; the club was founded in 1907 and has been part of the Football League since 1921.
Rochdale's league positions in the past several seasons have been far from spectacular. But good solid management means that a visit to Old Trafford isn't just a payday, even if there is an obvious financial benefit to the tie. It's instead a reward, and the swarm of travelling fans to M16 should feel blessed that, unlike the Shakers, their current grounding is solid.
"I hope the people of Rochdale who go to the game at Old Trafford and maybe some fans of Manchester United, enjoy themselves so much and think: 'You know what, I'm going to go to Rochdale on a Saturday or a Tuesday night and watch the wonderful football that they have.'
"We're a good traditional Lancashire club from a good traditional Lancashire town."
🗞️ Halom's Heroes
You can read the match report from that FA Cup tie at Old Trafford in 1986 via this newspaper clipping from the time
👇
#RAFC