Mikel Arteta and Pep Guardiola renew acquaintances on Wednesday night
07:00, 15 Feb 2023
This Wednesday, Pep Guardiola and Mikel Arteta lead their teams into a battle of master versus apprentice. Arsenal manager Arteta served as Guardiola's City assistant between 2016 and 2019. Now the pair are pitched against each other in a Premier League title battle that could well hinge on this week's fixture.
To commemorate this Spanish civil war, The Sportsman looks back on five of the best instances of managers coming against their former staff. When the master faces the apprentice, sparks often fly.
Brian Clough vs Peter Taylor
Football's greatest duo, neither man enjoyed the same success without the other. As a pairing, Clough and Taylor won the First Division with Derby County and a brace of European Cups with Nottingham Forest having previously won the top flight with the newly-promoted side. Once they parted ways, ostensibly due to Taylor's 1982 retirement, neither would lift a league title again.
Taylor wouldn't be out of the game for long, but he didn't return to Clough's side. Instead, he took the reins at old stomping ground Derby. Almost inevitably, the two former friends met in the third round of the FA Cup in January 1983. While the two men did not speak during the tie, another former Tricky Tree did reacquaint himself. Now playing for the Rams, Archie Gemmill scored in a 2-0 Derby victory.
Sir Alex Ferguson vs Brian Kidd
A player and coach for both Manchester City and Manchester United, Kidd's contributions for the Red Devils can never be questioned. A European Cup winner on the field, his role in helping mould the Class of 92 meant he deserved some credit for the treble win of 1999 too.
But Kidd was not on the payroll when Ferguson's team lifted those three trophies. By that point he was the manager of Blackburn Rovers. After a promising start, which saw him scoop the December Manager of the Month award, Kidd's side were relegated. In a cruelly poetic moment, a goalless draw with United in their penultimate game is what condemned Blackburn to the drop.
Sir Alex Ferguson and his assistant Brian Kidd emerge into Galatasaray's 'Hell', 1993.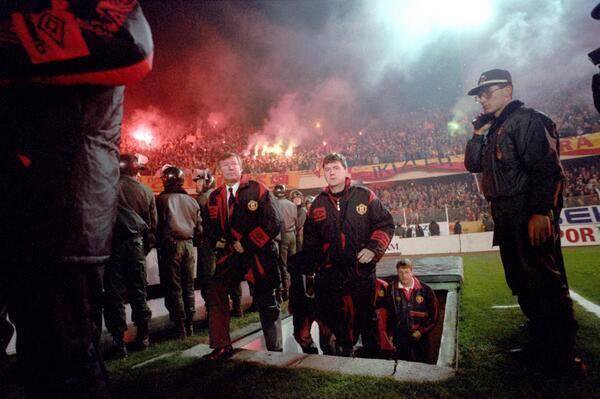 Jose Mourinho vs Louis van Gaal
Given he spent many of his prime years battling against them, it is always strange to consider that Jose Mourinho used to work for Barcelona. The Portuguese icon served as an interpreter for Bobby Robson, having followed the Englishman from Sporting CP and Porto. Mourinho's job ended up with a wide remit that took in coaching duties as well as translation work.
Impressed by Mourinho's work, Van Gaal dropped the translating part of his role and made him a coach. The Dutchman nurtured Jose's skills and encouraged him to try his hand at first-team management. The pair would win a brace of La Liga titles together before Mourinho moved on.
The two would be reunited in the 2010 Champions League final. Camp Nou was in each man's rearview at that point, with Mourinho snubbed in favour of Pep Guardiola while Van Gaal returned for a toxic and brief stint in 2002. Now Van Gaal sat in the Bayern Munich dugout while Mourinho occupied the Inter Milan job. After some spiky exchanges in the build-up, with both managers providing box office copy about the other, the game was won 2-0 by Jose's Inter.
Carlo Ancelotti vs Zinedine Zidane
In terms of influence at a single club, this might be the best master-apprentice duo of all. Both Ancelotti and his former assistant Zidane are considered among the greatest Real Madrid head coaches of recent times, with each boasting the trophy cabinet to prove it. Both men have won a La Liga each, they have lifted a combined five Champions League titles and a bevy of other domestic, continental and global cups.
While each is a Los Blancos icon, only one could lead the Liga giants onto the field when they met as opposing managers. Zidane would coach Real on that occasion, when Ancelotti's Bayern Munich provided the opposition in the Champions League quarter-finals in 2017. Madrid won both legs, emerging as 6-3 aggregate winners. They would go on to lift the crown, beating Juventus in the final.
📊
@RealMadrid
have won 100 Trophies in their History with the Senior Team. Carlo Ancelotti & Zinédine Zidane have won 20 of them as Head Coaches. 20% of the Club's Trophies in 10 Years.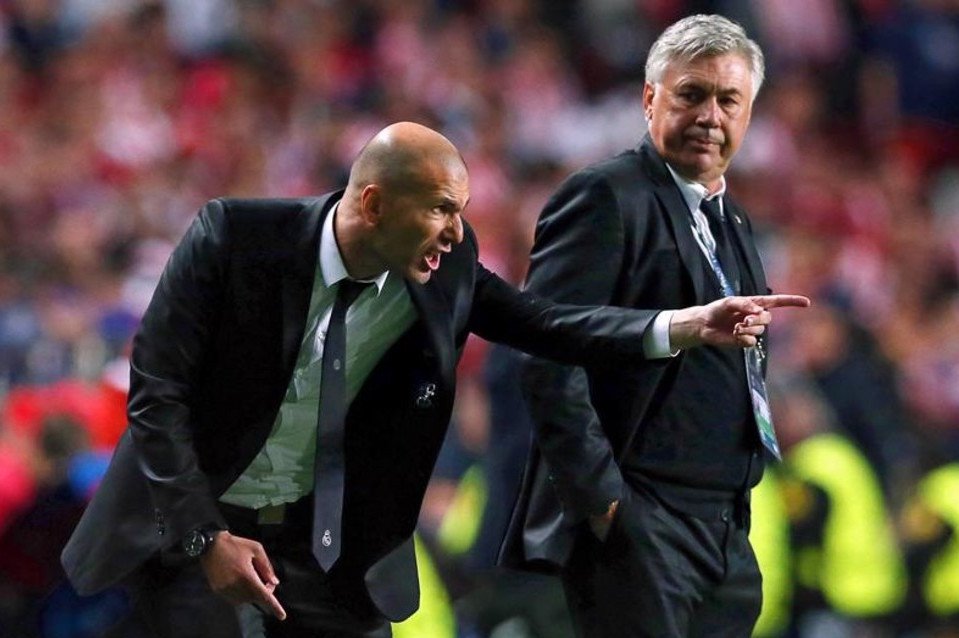 Jurgen Klopp vs David Wagner
Sometimes the sort of mentor-pupil relationships we're talking about can be more of a hindrance than they are a help. David Wagner probably learned a great deal from colleague and close friend Jurgen Klopp while they were both at Borussia Dortmund. Klopp led the first team while Wagner was at the helm for the B team. But the association proved hard to shake when Wagner came to England.
Often derided as a Klopp clone, the baseball cap and glasses combo certainly didn't help the comparisons. Wagner's spell at Huddersfield Town was successful, with the German getting his side promoted and keeping them in the Premier League. But Wagner never escaped Klopp's shadow. Liverpool beat Huddersfield in all three league meetings they shared during Wagner's tenure.
*18+ | BeGambleAware | Odds Subject To Change