Neymar Leads Our 5 Players To Watch In The First Weekend Of The World Cup
15:30, 14 Jun 2018
The 2018 World Cup finally got underway today and although the opening match between Russia and Saudi Arabia could hardly be more underwhelming the first weekend is looking good. After today's game there are ten matches between Friday and Sunday, including Portugal v Spain, Egypt v Uruguay, Argentina v Iceland, Croatia v Nigeria, and Germany v Mexico, not to mention both France and Brazil also getting their tournaments underway.
One of the most exciting things about the first round of fixtures at a World Cup is analysing the formations and tactics - getting to grips with which nation is in chaos and which could be dark horses in Russia. Here are five players who, from a tactical perspective, could play decisive roles this weekend:
Neymar
One of the most encouraging things about Tite's Brazil is that they are no longer so reliant on Neymar to win matches. However, for their opener against Switzerland it is the Paris Saint-Germain forward who can make the difference up against an ageing right-back in Stephan Lichtsteiner.
But more important than that individual battle is Neymar's psychological readiness. The 26-year-old has scored in both of his matches since returning from injury (against Austria and Croatia), raising the pressure once again for their star player to shine in Russia. Switzerland have conceded just one goal in their last six matches, reflecting a defensive resilience and organisation that has lifted the European nation to sixth in the FIFA world rankings. This is by no means an easy start for Brazil.
Rodrigo Bentancur
Oscar Tabarez has gradually evolved Uruguay away from their old counter-attacking approach to something more possession oriented, and 20-year-old Rodrigo Bentacur is arguably the main reason for this dramatic shift. The South Americans still boast a formidable Atletico Madrid centre-back pair (Jose Gimenez and Diego Godin) and still rely on the power of Edinson Cavani and Luis Suarez, but in the graceful Bentancur Uruguay are now more controlling.
Egypt will seriously test Bentancur's ability to handle the pressure, to control a game with his passing, and to pick a lock. Without Mohamed Salah the Egyptians are expected to sit deep and play for the draw, packing the middle of the pitch with bodies in order to limit the creativity of Bentancur. If the 20-year-old can make the difference on Friday then he will probably be one of the standout players of the tournament, but if Mohamed Elneny comes out on top then Uruguay could struggle to make the impact many expected.
👏 Love the honesty from Neymar...
#BRA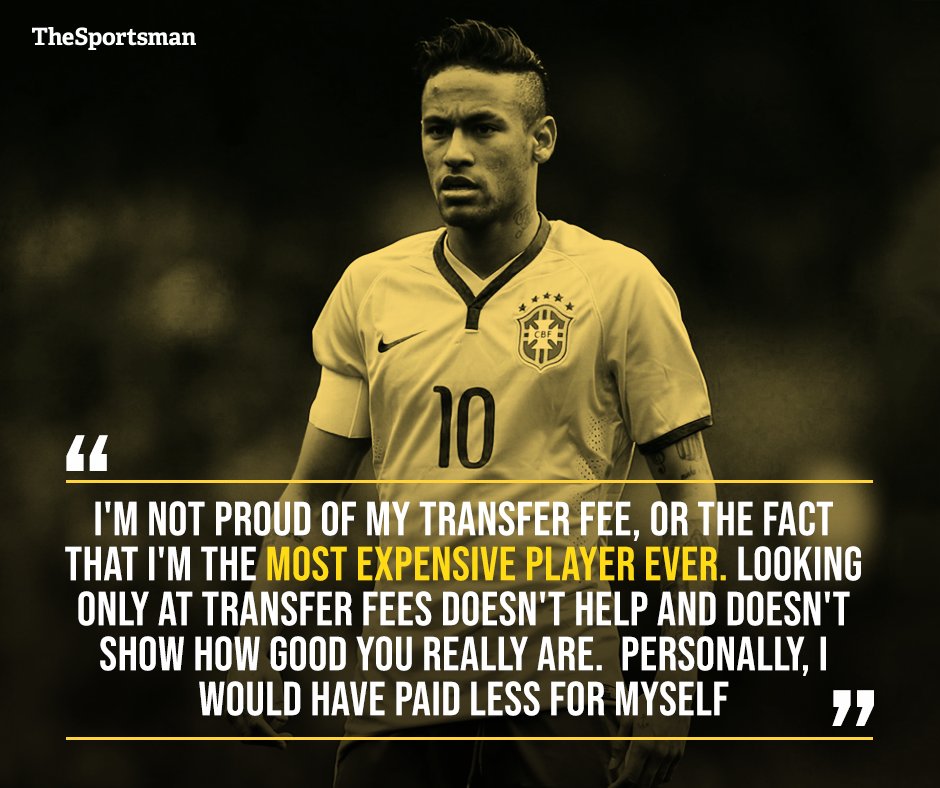 Sergio Ramos
In his first competitive match since giving Lorius Karius concussion and wrestling Mohamed Salah to the ground, pantomime villain Sergio Ramos is charged with keeping the Spain squad calm, composed, and focused on the task at hand following the sacking of Julen Lopetegui. Ramos seems the most likely candidate to lose his head against Portugal on Friday and yet it is he, as captain and leader of the Real Madrid contingent, who must help unify the camp.
Tactically, he is also the most important player on the pitch against Portugal. He will know Cristiano Ronaldo inside out and thus should know how to rile him up, how to create a tempestuous and frustrating atmosphere for Portugal's star player. Ramos will be walking a tightrope throughout as he attempts to antagonise Ronaldo while holding in his own feelings about the Spain implosion.
Ronaldo will look to drift to the left flank to isolate right-back Alvaro Odriozola, who deputises for the injured Dani Carvajal despite having won just four senior caps. Odriozola will need his captain's assistance.
Johann Berg Gudmundsson
The Cardiff City central midfielder is the beating heart of the Iceland national team, and as such his biting tackles, battling spirit, and aggressive leadership style will be crucial when they face Argentina on Saturday. However, he has been out with injury for most of Iceland's matches in 2018 and played his first full 90 minutes for the national side last week in a 2-2 draw with Ghana.
Iceland have conceded 11 goals in their last four games, hardly ideal preparation for their opener against Lionel Messi and company. The tiny island is almost certain to lose against one of football's most famous behemoths and a country 131 times bigger than their own; keeping the score down will depend upon a commanding midfield display from Gudmundsson. If he is on form, then the rest of the side will find it easier to stay compact, follow his lead, and rough up the Argentines.
Ivan Perisic
The only 'must win' game of the weekend is Croatia v Nigeria, two nations vying for second place in Group D behind Argentina. It should be a superb match; Croatia like to dominate the ball via their silky midfield duo of Ivan Rakitic and Luka Modric, while Nigeria will be happy to absorb pressure and hit their opponents on the break.
Croatia are too simplistic in their tactical approach, invariably shifting the ball out to Ivan Perisic on the left wing to cross for the big man Mario Mandzukic. However, on this occasion the tactic should work because Nigeria's right-back Shehu Abdullahi isn't good enough and the West African side will pack central midfield with bodies. Passing through the Super Eagles will be tough, making Perisic's crossing all the more important.
When Nigeria break they usually look for Victor Moses on the right wing, which means Perisic will also need to make sure he is not caught too high up the pitch. The battle for that flank could decide which of Nigeria and Croatia makes it to the second round.