''No Ozil, No Chance'' - Furious Arsenal Fans Slam Emery's Starting XI For Derby Clash Against Tottenham
11:42, 02 Mar 2019
The Arsenal starting line-up for Saturday's crunch North London derby against Tottenham caused consternation amongst Gunners fans on Twitter.
Alexandre Lacazette, Henrikh Mkhitaryan and Granit Xhaka were all handed starts at Wembley Stadium, although Mesut Ozil and Pierre-Emerick Aubameyang were left on the bench.
Unai Emery's selection decisions left Arsenal fans disillusioned...
I don't even want to watch the match now, just forfeit [@Oliver_stewart7]
And the absence of Ozil from the starting XI was again the main source of discontent...
Ramsey starting but should have started Ozil too. Anyways let's win lads. [@Santi_Classorla]
Ozil has long been a Marmite figure at Arsenal. The German playmaker is capable of producing moments of magic on his day and has plenty of supporters, although his critics will deride his failure to turn up in the big games.
Haha great joke lads now show us the real line-up [@DanielJonKnight]
The 30-year-old has played 16 games in the Premier League this season, scoring four goals and laying on two assists so far.
Ozil has made eleven appearances against Tottenham during his career, scoring one goal and laying on four assists (although two of those assists were for Real Madrid in a Champions League game during the 2010/11 season).
What'a wrong with Unai? No Ozil and Auba No Party [@LesleyEscobar4]
In eight Premier League appearances against Spurs Ozil has laid on three assists - all at The Emirates - and scored one goal, with Arsenal winning only one of those games!
Lucas Torreira was also missing from the line-up...
No torriera. No Ozil. No Auba. No chance. [@L1XMJXYC3]
It is part of a wider problem as Ozil has played 41 Premier League games against the traditional 'Big Six' in the top-flight during his career, scoring a paltry six goals and effecting seven assists.
Ozil also on the bench after having a sick game mid week after being benched all that time [@Rico_Shabbir]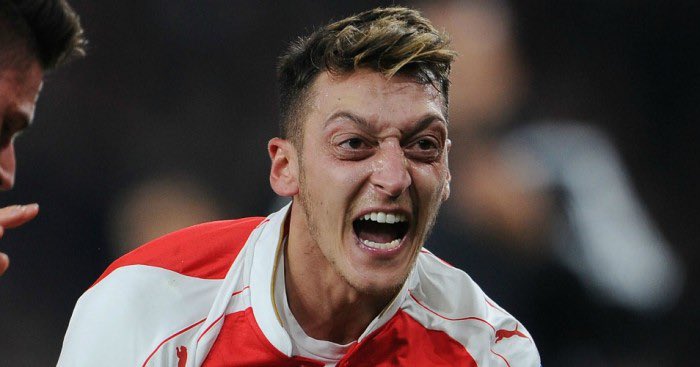 Tottenham v Arsenal team sheet