On This Day In 1992: Alan Shearer Joins Blackburn Rovers
06:36, 27 Jul 2017
Twenty-five years ago today, Alan Shearer joined Blackburn Rovers from Southampton in a move that helped mould him into the best English striker of his generation.
Already capped by England, Shearer completed a then record £3.6million move to Ewood Park with David Speedie reluctantly going in the other direction.
Shearer's fee easily eclipsed the previous domestic transfer record set when Liverpool paid £2.9million to Derby County for Dean Saunders.
At the time, Shearer was 21 and the leading English striker of his generation despite a modest return of just 23 goals in 118 league appearances for Southampton.
He was seen as the natural successor to Gary Lineker after his record-breaking goalscoring feats in an England Under-21 shirt and so it proved.
Shearer, of course, famously turned down Manchester United in favour of Blackburn, perhaps sensing the revolution that Kenny Dalglish, backed by Jack Walker's millions, was conjuring at Ewood Park.
Shearer scored twice on his Rovers debut on the opening weekend of the 1992-93 Premier League season in a 3-3 draw with Crystal Palace and never looked back.
He scored twice from distance at Selhurst Park and, speaking after that match, Shearer said: "I knew the eyes were on me and it was a big pressurised situation because I was expected to deliver."
A further 20 goals in all competitions followed, before his first season at Ewood Park was ended by a cruciate ligament injury suffered in December 1992.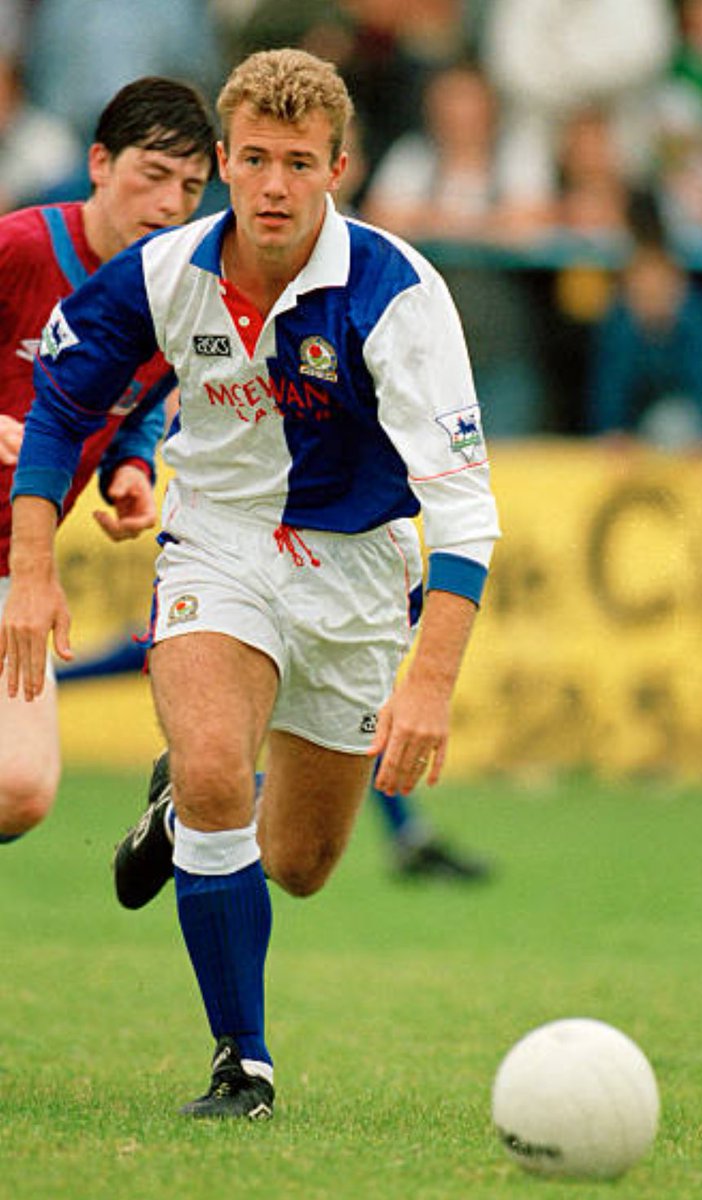 Yet, while that is a complaint that has hampered many careers over the years, Shearer returned for the following campaign in even better form.
In each of the three seasons that followed, his goal return read: 34, 37 and 37. The first of that 37-goal haul came during the 1994-95 campaign when, with Chris Sutton contributing 15 alongside him, Shearer helped fire Rovers to a first league title since 1914.
Unsurprisingly, those exploits saw Shearer voted the PFA Player's Player of the Year by his fellow professionals. Shearer's partnership with Sutton saw the strike duo nicknamed the SAS and they were ably assisted by Jason Wilcox and Stuart Ripley on the flanks.
In all, Shearer made more than 150 appearances for Blackburn, scoring 131 goals and inspired the club to the Premier League title in 1995. He departed Ewood Park for hometown club Newcastle United in the summer of 1996 for £15million, despite strong interest from champions Manchester United.
Once again Shearer's serviced commanded a record fee - on this occasion £15million.
Reflecting more recently on his time at Blackburn, Shearer said: "It's an incredible story where Blackburn came from.
"To come from the old Second Division into the Premier League and take on the big boys - Man United, Chelsea, Liverpool and Arsenal - and beat them as we did.
"To have won the Premier League within three years of being in the Premier League is a staggering achievement and I don't think that will ever be done again."
Shearer scored 283 league goals in his career, including a record 260 in the Premier League (of which 58 were penalties) with a record 11 Premier League hat-tricks, and a total of 422 in all competitions including international at all levels.