They were conditions that would never be deemed acceptable anymore. Russia hosted Italy in Moscow on 29 October 1997 in the first leg of a play-off tie which would decide which nation qualified for the 1998 World Cup, but it would be more a test of physical and mental endurance than of footballing ability thanks to the ongoing blizzard and quagmire of a pitch.
And half an hour in, Italy lost their goalkeeper. From a lofted pass into the right channel, Andrei Kanchelskis went chasing towards the ball. He was never going to reach it, but dived in on the lumpy turf anyway as Gianluca Pagliuca went to ground to cover the ball. The result was a nasty-looking collision which left Pagliuca hobbling around, clearly unable to put any weight on his right leg.
Enter a wet-behind-the-ears teenage goalkeeper with only one full season of professional football under his belt. This was his international debut for Italy. In a vital World Cup play-off match. On perhaps the worst surface he would ever play on. In a blizzard.
But the goalkeeper in question was Gianluigi Buffon, and this would be the first of 176 games for his country in an unparalleled career. What followed was a performance which became legend in the bel paese.
🇮🇹
#OnThisDay
in 1997, Gianluigi Buffon made his debut for Italy...
- Games: 176
- Clean Sheets: 42
- World Cups: 1
L E G E N D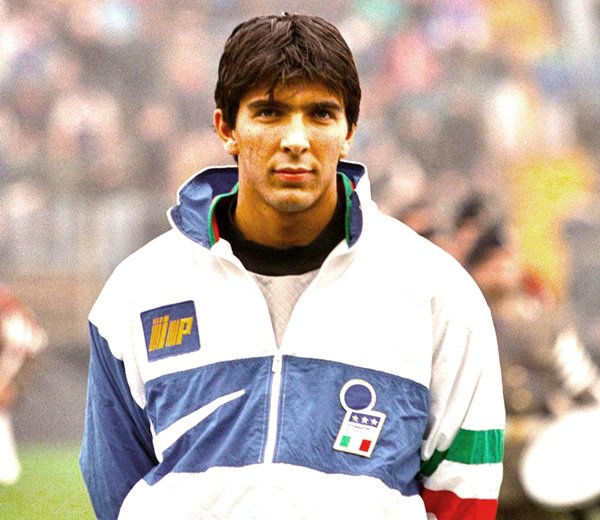 His stupendous first-half save from Dmitri Alenichev with the snow beating into his face proved crucial over the course of the two legs. It also earned him a headbutt to the chest from Fabio Cannavaro in a bizarre but worthy celebration. The Azzurri later took the lead through Christian Vieri and only a Cannavaro own goal spoiled Buffon's copy for the day as he turned in a remarkably assured performance given the context. Italy went on to win the second leg and reach the finals in France.
Those heroics came as no great surprise to anyone who had watched Buffon closely over the previous couple of seasons. His professional debut came for Parma at San Siro against the great 1990s AC Milan team, and extraordinary saves from Buffon to deny Roberto Baggio and Marco Simone had helped to show exactly what he was capable of.
He would go on to have a marvellous career of course, and it is one which is still going strong at the age of 43 back with his first club Parma. Having won practically everything there is to win with Juventus, plus a World Cup with Italy and a French title with Paris Saint-Germain in a 1113-game professional career, it would have been easy to call it a day long ago.
But Buffon still has that same sparkle in his eye that was evident on this day 24 years ago, and his thirst to continue playing is such that it would come as a shock to nobody if he signed up for another season with the Crociati in 2022-23, taking him past the age of 45.
"Look, in my head, there truly is a final stop sign, a maximum bar, which is June 2023," he told The Guardian's Nicky Bandini earlier this year. "That is the maximum, really, really the maximum.
"They say that when you reach my age, the decline happens all at once – from one moment to the next. I don't believe this. I feel what I feel, and the sensations I have within myself don't make me think there is going to be some sudden collapse."
Whenever he decides to hang up the gloves, he'll have a lot to look back on and be proud of. He became the world's most expensive goalkeeper at 23, won his first of 11 league titles a year later and was a World Cup winner by the age of 28. But the memory of coming on at short notice as a 19-year-old to help Italy reach France '98 in the most testing of conditions will surely be right at the top when 'Gigi' comes to reflect on one of the most spectacular careers of any goalkeeper in history.
That was the day an international legend was born.