Several clubs are still in contention for a Champions League spot following Man City's UEFA ban
13:44, 18 Feb 2020
The Premier League table, as of February 18, 2020...
Ten points currently separate second-placed Manchester City and fourth-placed Chelsea, another ten points currently separate fourth-placed Chelsea and 13th-placed Newcastle United. And, of course, a mammoth 25 points separate top of the pile Liverpool and their nearest rivals.
The Reds' quest for a first-ever Premier League title finally looks set to come to an end, but while those revelries have to (officially) wait, for at least a couple of weeks longer, Jurgen Klopp and his men have been given reason to have a little premature sip of champers, though that's probably unwise to do so ahead of tonight's meeting with Atletico Madrid in Europe.
Regardless of whether the UEFA sanctions on Manchester City are upheld, which has preliminarily banned them from Champions League football for the next two years, Liverpool already have more reason to cheer in a season in which they haven't seemed to have stopped doing so.
And they have Manchester United to thank for it, with Ole Gunnar Solskjaer's side defeat of Chelsea at Stamford Bridge meaning Liverpool have already qualified for the 2020/21 edition of the Champions League, a competition they're currently defending after claiming their sixth European Cup in 2019.
They've become the first team in Europe to qualify for next season's event, helping, once again, to illuminate the gulf that currently exists between the Merseyside club and even the 'best of the rest'.
Chelsea's defeat at Stamford Bridge means that Liverpool could lose every single one of their 12 remaining games between now and the end of the season and still qualify for a top-four place. They are 36 points above fifth-placed Tottenham with 12 games remaining but with Chelsea welcoming Spurs to SW6 in the upcoming gameweek, Liverpool are in the clear.
Meanwhile, for Frank Lampard and co, it'll be time to rectify the woe in west London. The Blues hold on a top-fourth berth has been slipping. They've won just three of their last 11 league games and have recorded the sixth-worst run of form in the division since the beginning of January. Spurs, under Chelsea's former manager Jose Mourinho, can claim to have the third-best form in the Premier League since the Portuguese was appointed.
Man Utd move to within 3⃣ points of Chelsea
#CHEMUN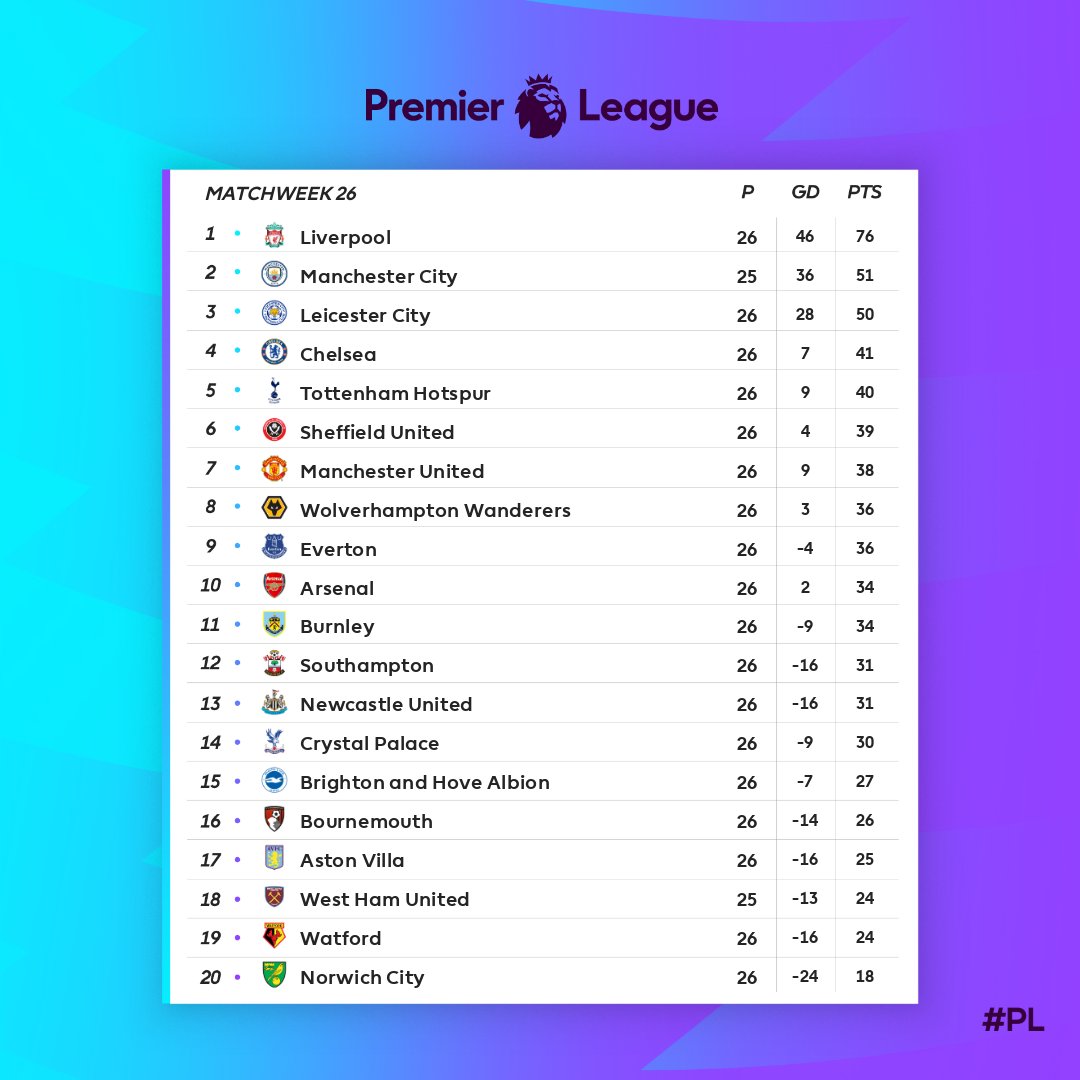 Now just one point behind Chelsea and in fifth, Spurs are right up in the mix to achieve a qualification position, as they had done in each of the last four seasons under Mauricio Pochettino.
As Opta's Duncan Alexander quite rightly pointed out on Twitter, the defeat to Manchester United - the third time they've lost against the Red Devils in all competitions this season - meant that Chelsea have lost as many Premier League home games this season as they did between February 2004 and November 2010, a period in which they won three titles - two of them under Mourinho.
The imposed European exile on Man City has also shook a whole host of English top-tier teams wide awake with a more achievable vacant qualifying spot available, as well as truly put the dampeners on Frank Lampard's homecoming as manager. Tottenham Hotspur, Sheffield United, Manchester United, Wolverhampton Wanderers, and Everton now look to have an opportunity, while not far behind Arsenal and Burnley (in 11th) can be buoyed. No team outside of the top three - of which Leicester City find themselves included - have a goal difference in the double figures.
It puts more invested interest on the upcoming fixtures when the direction of the league title was all but confirmed by Christmas: Sunday 1st March, for example, provides the double header of Everton versus Man Utd, and Spurs v Wolves.
Man Utd might have to watch their fiercest rivals romp to the title and dissipate the jeers that have long been sung across the north-west, but they also might have just helped inject a bit of excitement into 19/20.