Real Madrid Goalkeeper Thibaut Courtois And Four Other Players Who Could Replace Hugo Lloris At Spurs
11:24, 01 Apr 2019
Following in the ignominious footsteps of Jordan Pickford, Hugo Lloris incurred the wrath of a smorgasbord of rival football fans determined to not see Liverpool win their first Premier League title.
In the latest gameweek, a last minute error by the France goalkeeper gifted the Reds all three points in a dramatic 2-1 win over Tottenham Hotspur at Anfield, to maintain Liverpool's impeccable home record; going a joint-second highest league record of 37 games unbeaten.
There were almost parallel scenes at the beginning of December in the Merseyside Derby, when Everton shot-stopper Pickford produced a calamitous mistake in injury-time for Divock Origi to head home and take the win for the hosts.
This time around, Lloris failed to keep hold of an incoming ball from Mo Salah and parried it into teammate Toby Alderweireld who was helpless to concede the own goal.
The shocking error allows Liverpool to keep pace with Manchester City in the title race, but furthermore produced calls from one particular former Lilywhite man for Lloris to be made to step down from between the sticks for Spus
'I think he's had a difficult couple of seasons. I don't think it's one season,"
said Jermaine Jenas in the autopsy on TV programme Match of the Day 2;
'He's 32 years of age, he's a World Cup winner. He was at the club when I was there in 2012. He should be at the peak of his powers right now. But if anything he looks more nervous now than he did when he turned up at the club.
'We go through it (bad form) as players, but a decision has to be made to ensure they get over the line.'
Spurs have notoriously been rather frugal on the transfer scene of late, with the move to their brand-new stadium being at the forefront ant taking priority.
Should Spurs consider dipping their toes in the market once again, here are five goalkeeping replacements for Lloris.
Jasper Cillessen (Barcelona)
AS has suggested that the 29-year-old former Ajax man will likely leave Camp Nou this summer, with the Copa del Rey final against Valencia on May 25th speculated to mark his final appearance. He's only made 28 appearances for Barcelona in all competitions in the three years since his move, being unable to displace Marc-André ter Stegen.
We've already suggested why a move to England could be the right step for Cillessen.
Anthony Lopes (Olympique Lyonnais)
Well it's worked relatively well before why not again? When Spurs last shopped at Lyon, they returned with an eventual World Cup winner and though Lloris' legacy could be seen to have soured somewhat, it was a player signed for just £12million and has thus far provided six years of service and close to 300 appearances.
The 28-year-old Lopes, Lloris' long-term successor with Les Gones after being promoted to the first-team upon Lloris' departure, has just a year left on his contract and could leave the Groupama for a fee this summer, with the potentiality of him just falling short of his own 300 first-team appearances for the side he's been at since youth level.
Might be a trickier signing this time around, after Lyon and president Jean-Michel Aulas were incensed by the manner in which Spurs poached Lloris back in 2012.
Tom Heaton (Burnley)
Why sniff around for hamburgers around the continent when you could have prime steak at home? Burnley goalkeeper Tom Heaton has regained his place in Sean Dyche's set-up at the expense of compatriot Joe Hart.
His England rival Jordan Pickford holds the record for most errors leading to goals this season, and if the Toffees man's form continues to decline, Spur could be swapping one first-team international for another.
His age - he's on the verge of turning 33 - may be a concern, though this could be a viable short-term option, with the Heaton potentially sharing duties with the other goalkeepers Spurs have within their ranks (more on that later).
👏 Burnley defeats in the Premier League...
- Joe Hart: 13 out of 19 games
- Tom Heaton: 0 out of 8 games
#BURTOT
#TwitterClarets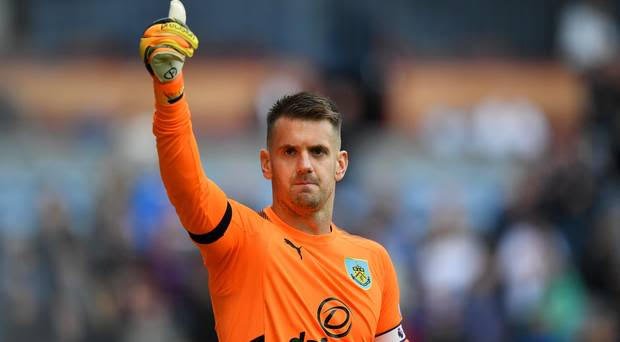 Thibaut Courtois (Real Madrid)
The potential for a remarkable coup, if the Belgian moves back to the English capital just a season after leaving Chelsea. The 26-year-old has been dropped from Real Madrid's last two games following Zinedine Zidane's reappointment as manager, with Zizou even opting to start his son Luca in goal in a narrow 3-2 win over bottom-place side Huesca in the latest gameweek at the Santiago Bernabeu. Keylor Navas also seemingly appears to be more of a personal preference ahead of Courtois.
Then decision to move Courtois on could come from him epitomising a lack of planning and forethought in Los Blancos' set-up, and a torrid season that has seen pitiful cup exits, a lack of title fight bite, and three managers take the reins.
Paulo Gazzaniga (Tottenham Hotspur)
Why need to shop around when you've already got a solid alternative waiting in the wings?
"Every time I watch Gazzaniga play, he's playing very well," Jenas stated on the BBC flagship football show.
"If you're Gazzaniga now, you're going: "It's time for me to get my opportunity". And I think he should do."