There's speculation that Madrid could recall him from his two-year loan spell early
10:42, 10 Oct 2019
It didn't take long for Martin Odegaard to be thrown on the wonder-kid scrapheap alongside the likes of Freddy Adu, Gael Kakuta and Kerlon. The 16-year-old was the most hyped young talent in European football when he signed for Real Madrid four years ago. When the Norwegian's impact wasn't instant, there was no shortage of detractors willing to write him off.
Such conclusions now look foolishly premature. Still only 20, Odegaard has flourished since joining Real Sociedad on loan, making his mark as one of the brightest stars in La Liga this season. The Norwegian is close to being the player he always had the promise to become. Some have even speculated that Real Madrid could recall him from his two-year loan spell early.
"I am in contact with Real Madrid, as sometimes they write to me to tell me how they see me," Odegaard revealed in a recent interview.
They have congratulated me and praised my good start in the league. They have told me that they are happy with me.
It's unsurprising that Real Madrid are so closely monitoring the Norwegian. They are desperate for a creative midfielder like Odegaard, someone who can dribble like Messi and pass like Andres Iniesta. However, the 20-year-old seems in no rush to return to the Spanish capital. "The idea is to respect [the loan deal]," he added. "I am happy at the team, and so I want to continue here until my two years end."
Martin Ødegaard (20) for Real Sociedad in La Liga this season - completed per 90 metrics:
74.3 touches
47.6 passes
2.9 shot assists
2.4 dribbles
1.9 long balls
1.4 tackles made
1.1 shots
0.3 assists
0.3 goals
On the ball.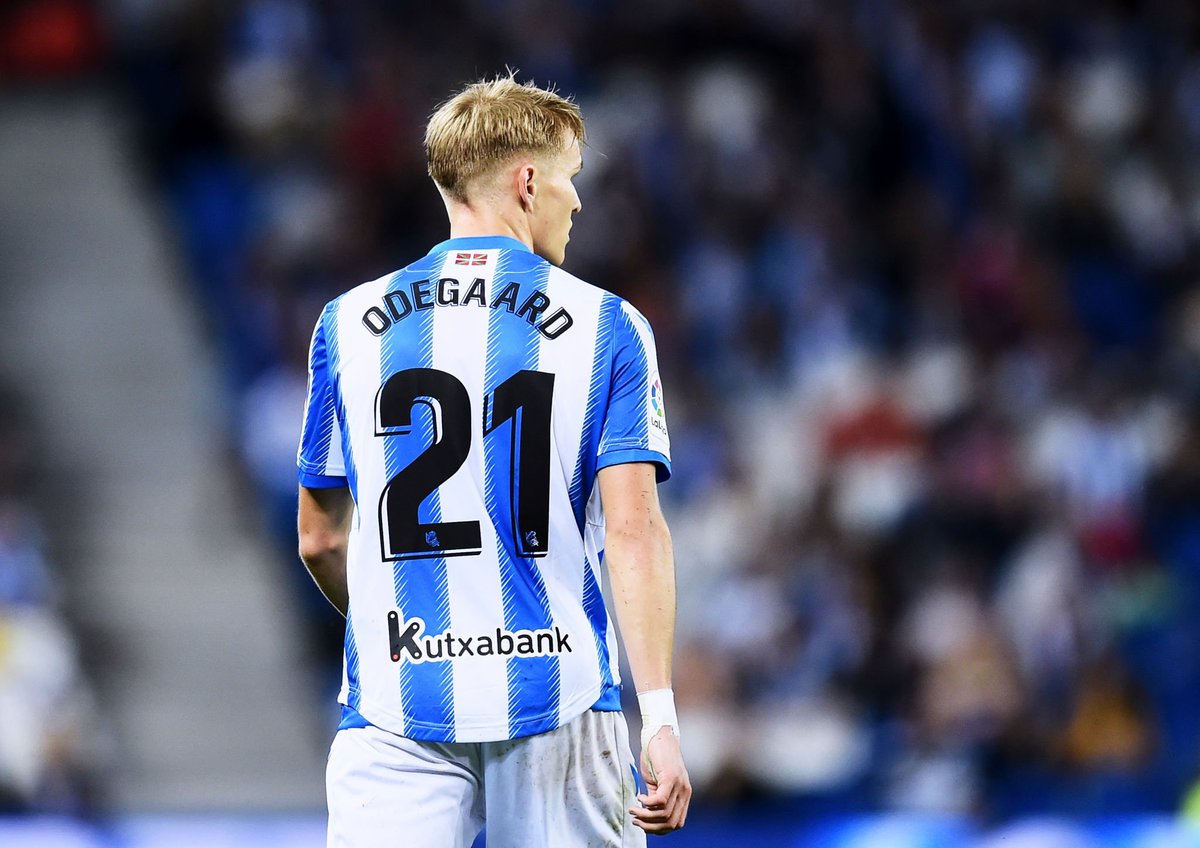 Only Santi Cazorla and Toni Kroos are averaging more key passes per game than Odegaard this season - 2.9 per game. On top of this, only Nabil Fekir, Denis Suarez and Arthur are averaging more dribbles per game than the Norwegian - 2.4 per game. For a central midfielder, his average of 1.1 shots per game also stands up well (he is Real Sociedad's fourth most prolific shot-taker so far this season).
Rather than weighing him down, Odegaard's experience over his teenage years seems to have hardened him. It may serve him well in the long run, especially if he is to one day call the Santiago Bernabeu home again. Real Madrid fans are tough to please and the notorious Madrid media even more so.
At just 20 years old, Odegaard already has 20 Norway caps to his name. He has played in three different countries and still owns the tag of being Real Madrid's youngest ever player. Now, on top of all this he might be one of the very best in La Liga. Odegaard should never have been on the wonder-kid scrapheap, but he has surely taken some joy from proving so many wrong.