Remembering When England's Michael Owen Took The 1998 World Cup By Storm
20:00, 13 Jun 2018
Club football has long taken precedence over the international game, but the World Cup still has an unrivalled ability to propel little-known players into the realms of superstardom. In 1998, at the tender age of 18, Michael Owen emerged as an almost overnight sensation and one of the most exciting sportsmen on the planet.
He was like nothing else on show in France, his blistering pace and directness seeming to represent the hyper-energetic future of football. Owen was utterly fearless and set about destroying the confidence of seasoned centre backs with impunity. Memories of their meeting no doubt still give Roberto Ayala sleepless nights.
It could all have been so different given the fierce competition for places. England went into the 1998 World Cup with arguably the strongest crop of strikers they'd ever had. As a leading target man and his country's captain, Alan Shearer was an automatic pick. Looking to rekindle their partnership from the Euros two years previously, Glenn Hoddle chose Teddy Sheringham as someone who could drop deeper and link the play. Les Ferdinand and Michael Owen were selected as back up.
Several others could consider themselves unlucky to miss out. Injuries had marred Robbie Fowler's season but he remained a great natural goalscorer. Ian Wright had helped Arsenal to a Premier League and FA Cup double while Andy Cole was cut from the provisional 30-man squad despite scoring 25 times in all competitions for Manchester United. So too was Coventry City's Dion Dublin.
Dublin, Owen and Chris Sutton, who had fallen out with Hoddle over his refusal to play for the England B team, had finished as joint-top scorers in the Premier League that year with 18 goals each. The teenager was the only one to be included after an outstanding breakthrough season. Expected to be used as a substitute against tiring defences, his raw pace gave the squad another dimension.
Starting the tournament on the bench, having only made his England debut four months previously, Owen forced his way into the starting lineup with an equaliser against Romania after coming off the bench in the second group game. With the ball turned back into the six-yard box by Alan Shearer, he pounced on a loose touch from Paul Scholes to find the net.
Paul Scholes, Michael Owen and Alan Shearer, 1998.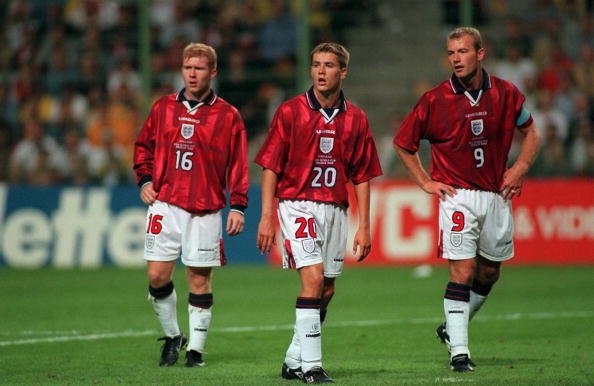 Owen later hit the post with a shot from range, and although Romania came back to win in the 90th minute through Dan Petrescu, he had made enough of an impression to start against Colombia. Teddy Sheringham was forced to make way. Driving forward with the ball at every opportunity, Owen terrorised the Colombian defence throughout the 90 minutes as a comfortable 2-0 win sealed England's progress to the second round, and a fateful meeting with Argentina.
The match was to be the making of him and go down in history as one of the World Cup's classic encounters. In a breathless first half where both sides shared four goals, Owen won the penalty from which Alan Shearer scored, taking a strategic tumble as he looked to burst between two defenders. Then, in a moment of sheer audacity that has been endlessly replayed since, and deservedly so, he scorched past two challenges to score an unforgettable goal.
England eventually went out on penalties after David Beckham's red card but they at least had a new hero to soften the blow. There were seemingly no limits to what Owen was capable of. He believed unquestioningly in his ability and, for an all-too-brief spell, the world did too. He would play in another two World Cups, and score two more goals, but never with that same intoxicating sense of endless possibility.
Injuries and burnout deprived Owen of his electric pace and meant that he never quite became the true great that he promised to that summer. Football evolved too and strikers were expected to live off more than just pure speed and their own instincts, however sharp. Despite Owen's subsequent decline, at least we'll always have Saint-Etienne.
This goal by 18 year old Michael Owen in 1998. Unbelievable.