The former Arsenal graduate netted four times in the 7-2 win over Tottenham
12:02, 02 Oct 2019
"You can knock me over with a feather," said a stunned Tony Pulis after Serge Gnabry scored four goals in Bayern Munich's 7-2 hammering of Tottenham in the Champions League on Tuesday night.
The Gnabry, banging them in for fun in Europe's elite competition for the German champions, is the same Gnabry who was deemed not up to the task of playing for West Brom by manager Pulis less than four years ago.
It's either a monumental turnaround or the Welsh coach got this one badly wrong. Either way, it's an astonishing rise.
As Gnabry powered in shots with pin-point precision, Pulis will not have believed his eyes, nervously hoping his blistering display was dampened as he stood in the Sky Sports studio, aware questions would come from behind knowing grins.
Of course, the German has more than proved himself back in his homeland, for Werder Bremen and, now, for Bayern, softening the loss of fellow wing wizards Franck Ribery and Arjen Robben at the Allianz Arena in the summer.
"You could knock me over with a feather!" 😅
Tony Pulis reveals what it was like working with Serge Gnabry at West Bromwich Albion following the German's stunning four-goal display against Tottenham in the Champions League tonight. 👏
Coming through the ranks at Arsenal, Gnabry was finally going to get his big chance in the Premier League, joining West Brom in 2015.
It was not to be. He made just a 12-minute cameo against Chelsea before playing two League Cup games. Signing on a season-long loan deal, he was back with the Gunners by January.
"Serge has come here to play games but he just hasn't been for me, at the moment, at that level to play the games," Pulis said two months into Gnabry's time at The Hawthorns.
"As a manager you pick a team that's going to win a game of football. You pick your best team - you don't leave people out because you don't like them, because of this, that and the other."
Why did Niklas Süle do Serge Gnabry like that?! 😂😩
Who kicked his hat-trick ball into the crowd?! 😭😭
Fast forward to Tuesday evening and Pulis was pleased for the player, if a little shocked.
"I'm amazed. We could never get him fit. He got taken off in an under-21 game," Pulis told Sky Sports.
"He went back to Arsenal and they sold him on. He was a good kid... didn't mind him at all. He's fulfilled his potential.
"Having worked with him at West Brom and seeing him there to what he's done is just absolutely amazing. When people show what they can really do... really knuckle down and become so good, as he's done, it's absolutely fantastic," Pulis added.
While things didn't work out with the Baggies, he has settled in and is shining with the Bavarians.
The butt of his team-mates' jokes at full-time, he's clearly well-liked in the dressing room with Nicklas Sule amusingly hacking him down as he raced away from him in celebration while Javi Martinez cruelly booted his hat-trick ball into the crowd.
Not that Gnabry will have cared too much as an ex-Gunner scoring four times on the home turf of Arsenal's fierce local rivals Tottenham.
He was quick to take to social media following the 7-2 annihilation, declaring proudly: 'North London is RED!!!"
To add insult to injury for Spurs supporters, Gnabry, in just one night, has scored the same number of goals at Tottenham's new stadium as Spurs' star man Harry Kane this season.
He was quick to show off his cooking celebration as he hit the net again and again.
North London is RED!!!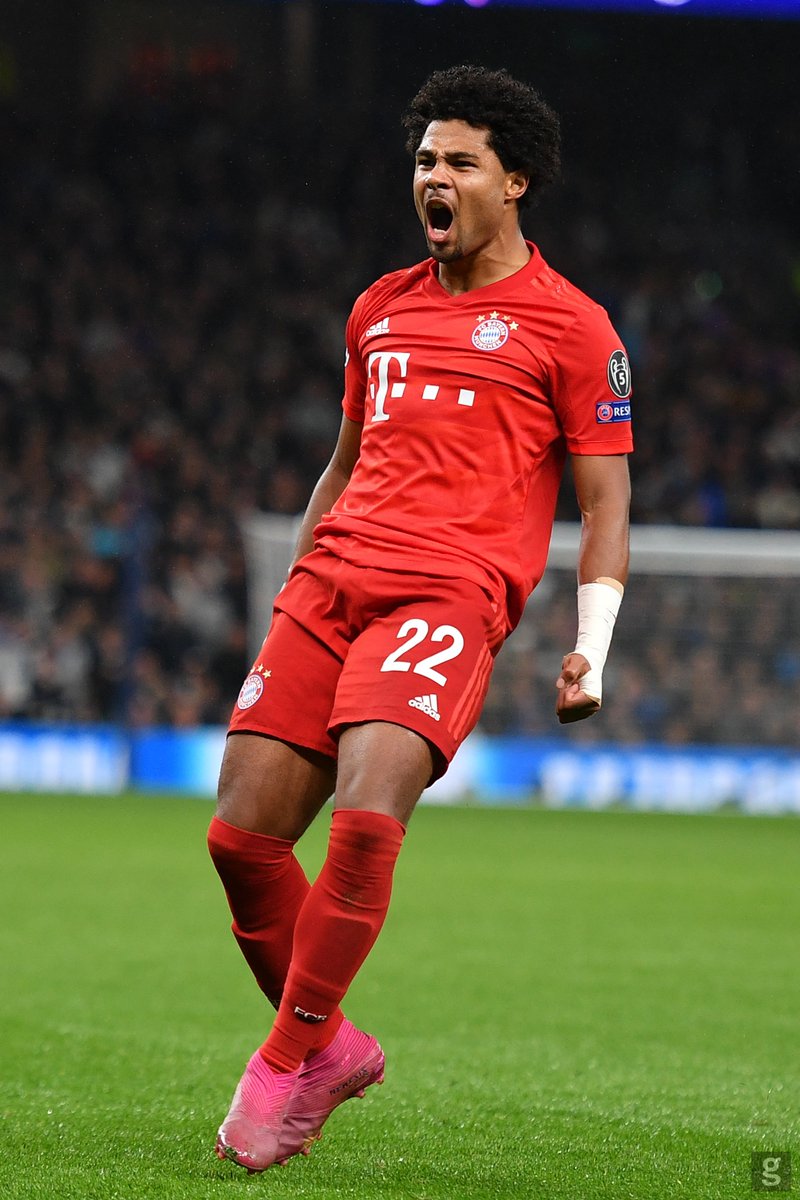 Inspired by NBA star James Harden, the wideman is gaining global attention himself and will soon be just as synonymous with the amusing stirring action.
"There's a video on YouTube where he's cooking after dropping, I think, a buzzer-beater and won the game," Gnabry told fcbayern.tv. "So he was cooking, stirring it up, and that's the celebration."
Having cooked up a storm, Gnabry has silenced his doubters once and for all.