The 5 Watford Players That Explain Javi Gracia's Tactical Success
14:28, 03 Sep 2018
Watford's run of three consecutive league wins at the start of the new Premier League season produced a collective shrug from most football fans, their relatively easy fixtures explaining a success that was – surely – fleeting. This is Watford after all, who tend to go through bursts of form thanks to their constant managerial changes and high turnover of playing staff.
But beating Tottenham Hotspur 2-1 at Vicarage Road on Sunday was a turning point in the public perception of Javi Gracia's side. Out-thought and out-battled, Spurs - a team usually defined by tactical cohesion and suffocating control - were made to look totally confused by the Hornets. Mauricio Pochettino's players won't know what hit them.
Watford's tactics under Gracia are similar to those of his predecessor Marco Silva, and indeed the smooth transition between these two partially explains why Watford have started in such composed fashion. The key is pressing as a unit, not constantly but in phases depending upon the stage of opposition attack. This often means deep into the opposition half, but not always.
Gracia plays in a very narrow formation to help the Hornets swarm, his 4-2-2-2 formation emphasising hunting in packs and attacking via quick short-passing football. Their four midfielders flit between the opposition lines to create numerous triangles to recycle the ball, another complex aspect of the Spaniard's positional coaching that is similar to Silva's. The only downside for Watford is that they are scoring a high number of half-chances, their xG reading just 4.75, but this should improve once Andre Gray hits form.
To explain their tactical success further, here are Watford's five most important players of the season so far:
True fan!!! Sir Elton going nuts after his beloved Watford win their fourth straight to go joint top of the
#PremierLeague
table at the international break 🇬🇧⚽️🦁
1) Roberto Pereyra
Clearly Watford's star player at the moment with three goals already, left-winger Pereyra is a vital cog for Gracia thanks to his ability to function as a quick winger despite years of experience playing in central midfield. Their 4-2-2-2 formation requires the wider men to constantly drift infield as part of the pincer press on the opposition midfield, and few in the Premier League can function in a dual role better than Pereyra.
However, he is also a crucial counter-attacking weapon from the left. His role this season is very similar to Richarlison's, in that Pereyra hugs the left touchline when Watford have the ball while the right-winger, Will Hughes, cuts infield. This means Gracia's team naturally lean to the left flank; statistically only Everton, with Richarlison, attack down the left flank more than Watford (43%).
SCOUT: No
#FPL
defender has delivered more successful crosses or created more chances than Jose Holebas this season
And he already has as many assists (four) as he managed in the whole of 2017/18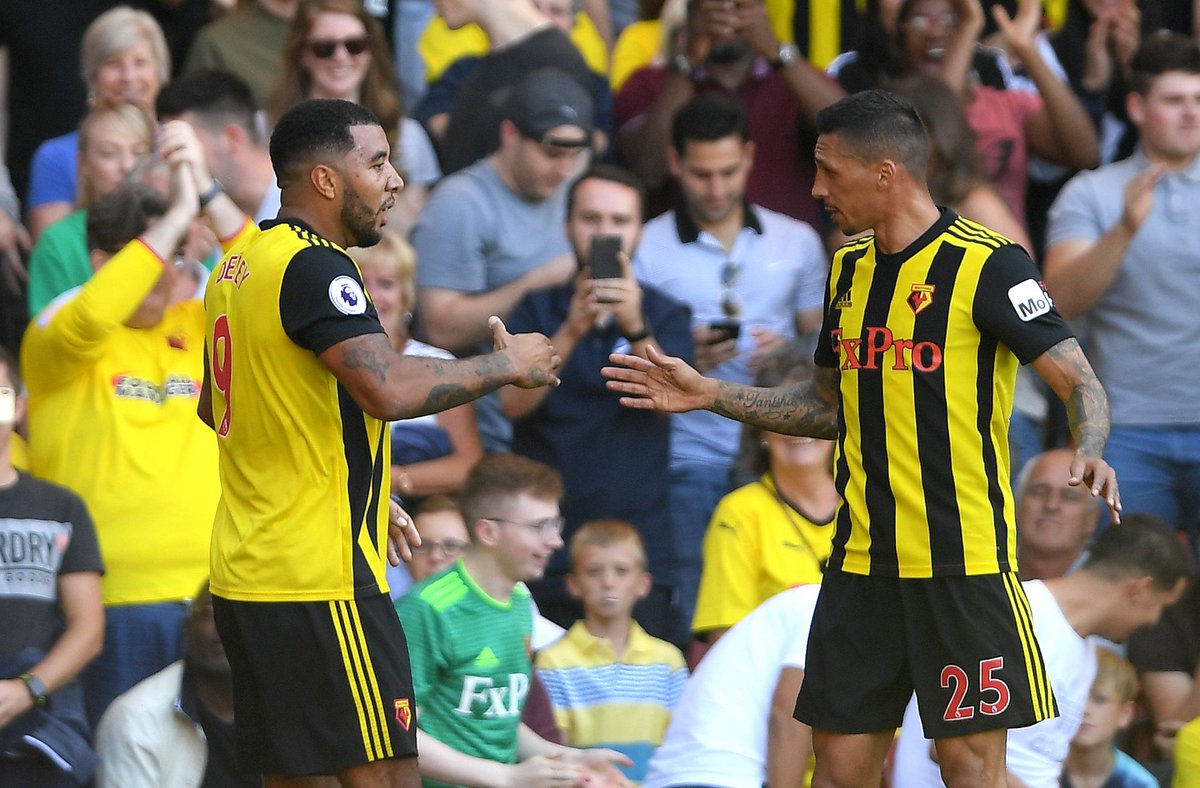 2) Jose Holebas
One of the most under-rated defenders in the Premier League over the last few years is 34-year-old left-back Jose Holebas. The Uruguayan has already grabbed four assists this season, equalling his best ever for Watford, thanks primarily to his overlapping interplay with Pereyra. The Argentinean tends to make runs inside the right-back and centre-back, cutting onto his right foot to get a shot away as he enters the final third, which draws bodies away from Holebas as he sprints outside on the overlap.
Gracia makes excellent use of attacking full-backs. Holebas and Daryl Janmaat alternate going forward to ensure Watford always have three at the back, and whichever goes forward usually ends up playing a key role. That narrow 4-2-2-2 sucks teams inwards after some neat triangles in the middle, at which point Watford look for sudden diagonal passes into one of the full-backs. This is a very modern, in-vogue tactical method of stretching the opposition that is used frequently by the likes of Mauricio Pochettino and Pep Guardiola.
3) Etienne Capoue
But surely the most under-rated Watford player, and perhaps the most unappreciated footballer in the division, is Etienne Capoue, a strong defensive shield with an eye for a killer pass. He is making more tackles (3.8 per game) and interceptions (2.8 per game) this season than at any other point in his career, although his outstanding sweeping-up is only half of the story.
Capoue also plays an important role on the ball as the main exponent of the long balls into the wings mentioned above. His outstanding distribution releases Pereyra into space and, from the very base of midfield, makes the Frenchman the perfect foil for Abdoulaye Doucoure.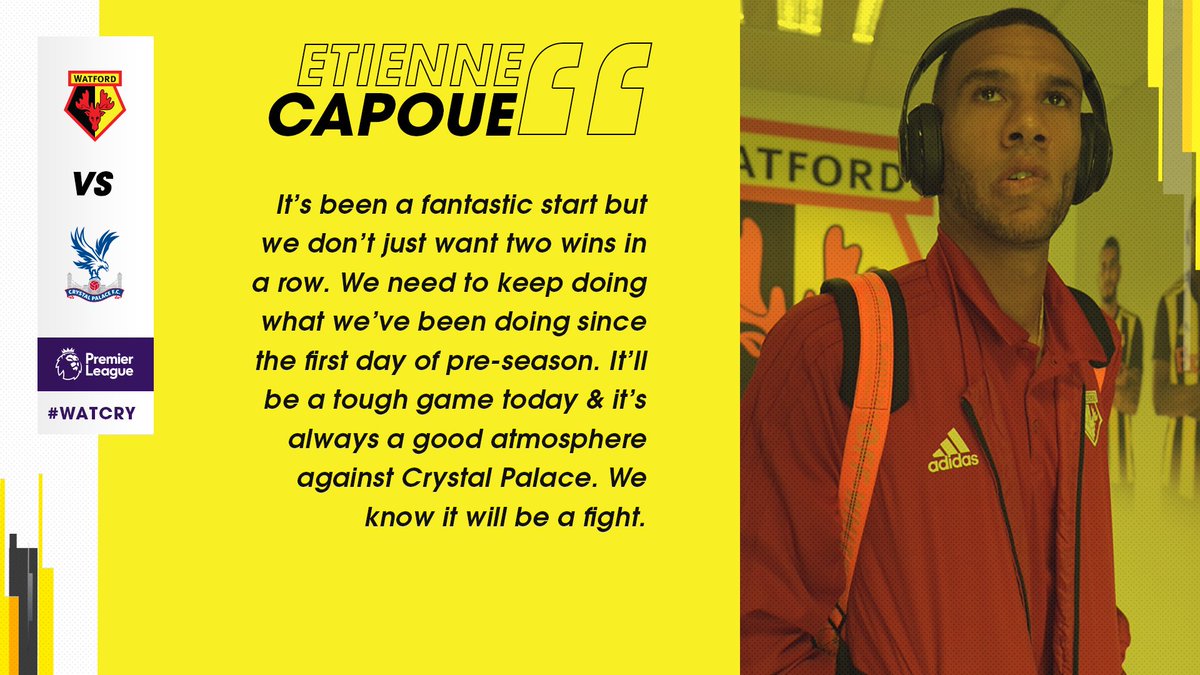 4) Christian Kabasele
Watford have only conceded three goals this season and rank second in the league for xG (2.86), reflecting the efficiency of their pressing system in protecting the goal. Ben Foster's performances have certainly played a part, but the most important member of the defence is 27-year-old Christian Kabasele. He wins more defensive headers (4.5 per match), makes more blocks (0.8 per match), and makes more clearances (6.0 per match) than any other Watford player.
Kabasele is a powerful and athletic defender leading by example under Gracia, and it certainly helps that he and Craig Cathcart have played every minute of the season together so far. This is another aspect of Gracia's strategy that has contributed to Watford's success; while other clubs struggle to bed in new signings or continue to experiment with their best 11, eight Watford players have played all 360 minutes of Premier League football. Foster is the only new arrival getting game time.
5) Will Hughes
The best short-passer in the Watford team is Hughes, excelling from a rightwing role that allows him to drift unseen into the number ten space. The young Englishman typifies Gracia's desire to play neat passing football in the middle of the park with an emphasis on a quick pass-and-move tempo; Hughes is very unlucky not to have been called up to the England squad last week.
But Hughes appears on this list primarily because he is the perfect example of Watford's transfer strategy, trust in youth, and ability to bring quality off the bench. Gracia still has Trevor Chalobah and Isaac Success as substitutes, two highly intelligent young players that will slot into the system just as easily as Hughes has. Having started just 11 Premier League games last season, Hughes's ever-present 2018/19 lets Watford's fringe players know that hard work will be rewarded.