The club captain is an integral part of what is considered one of the greatest ever Premier League teams
09:00, 03 Mar 2020
Liverpool were always going to lose at some point, but few expected their first defeat of the Premier League campaign to come at Vicarage Road. After all, Watford had lost five of their previous six outings in all competitions and found themselves second-bottom of the Premier League table come kick-off on Saturday.
What followed was a stunning performance from Nigel Pearson's charges. The Hornets began brightly and continued in the same vein throughout, ultimately triumphing by three goals to nil in front of their own fans. This was a major boost to their survival hopes, but the focus in the aftermath has understandably been centred on Liverpool, whose unbeaten run in the top tier came to an end after 44 matches.
The target of many Reds fans' ire was Dejan Lovren, who had a difficult time of it up against Troy Deeney. The Croatia international has never been the most popular figure in the red half of Merseyside, but Liverpool missed Jordan Henderson more than they did Joe Gomez, Virgil van Dijk's usual partner at centre-half.
Henderson is far from the team's most talented player, but few members of the champions-elect's squad have had a better season. Whether fielded in a No.6 or No.8 role – he started the campaign in the latter, before covering for Fabinho in the former – Henderson has been excellent. He brings drive, energy and an oft-overlooked passing ability to the engine room, and it is often he who sets the tempo of Liverpool's ferocious pressing game.
Henderson is also Klopp's lieutenant general on the field. He is forever encouraging his team-mates and barking out orders, something that was lacking in Saturday's limp display against Watford. The hosts outmuscled and outran Liverpool at Vicarage Road, with the lethargic league leaders a long way from their best. The manner of the visitors' performances underlined how important Henderson is to the team dynamic.
It would have been difficult to envisage such a scenario a few years ago. The former Sunderland man has come on leaps and bounds since he was almost sold in 2012. Fulham had a bid for his services accepted, and Henderson was told that no one at Liverpool would stand in his way if he wished to depart. The midfielder opted against moving to Craven Cottage, determined to prove himself in the northwest.
Jurgen Klopp: "If I had to write a book about Jordan Henderson, it would be 500 pages." 🙌🔴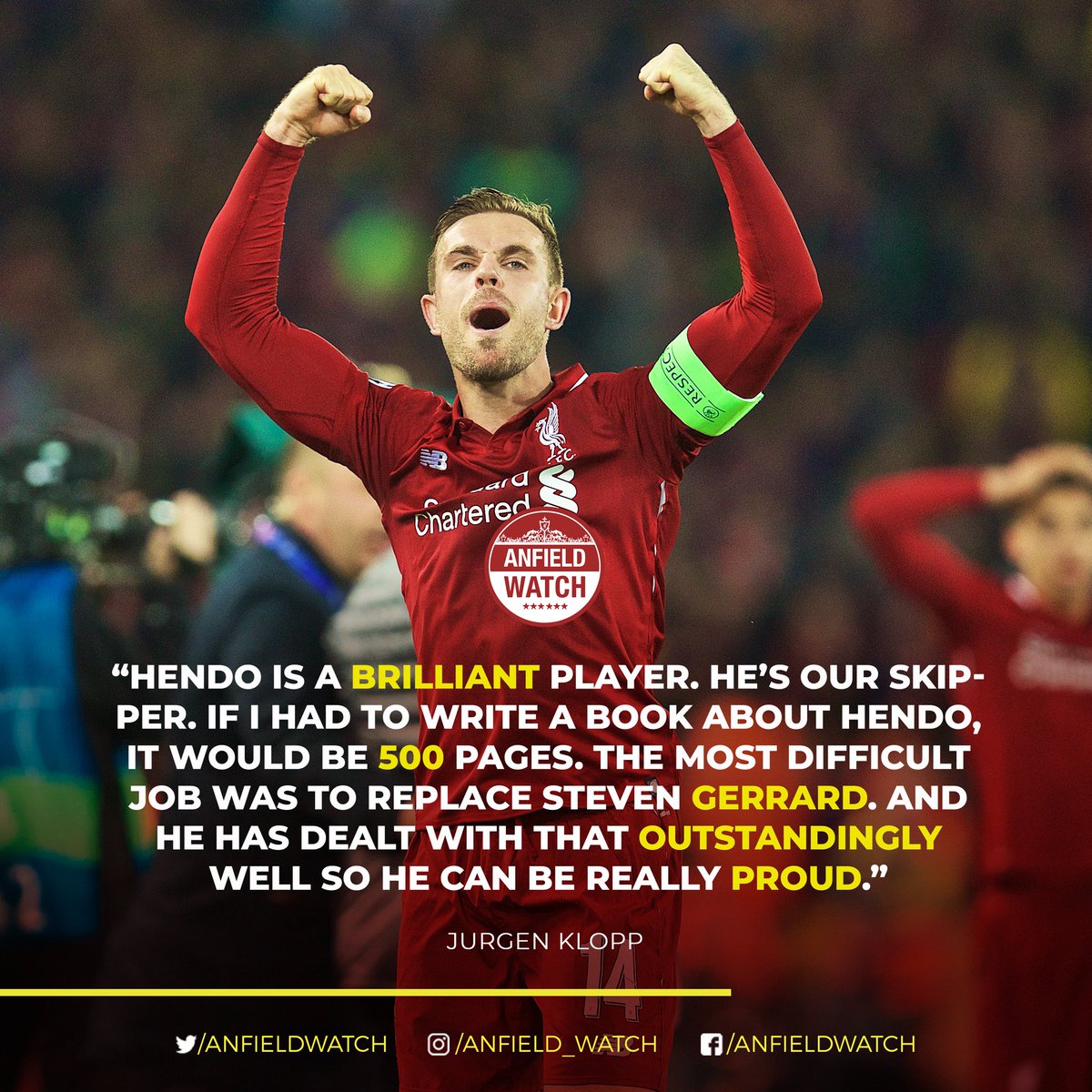 Back then the general consensus was that Henderson simply was not good enough for a club of Liverpool's calibre. And although he gradually grew in stature at Anfield, few would have predicted that he would be anything more than a squad player throughout his career at the club.
In fact, Henderson has gone on to become an integral part of what is widely considered one of the greatest Premier League teams in history. He lifted the Champions League trophy last year and will do the same with England's top flight this time around.
"Yes, he's exceptional, yes, he's outstanding," Klopp told reporters after Liverpool's win over Sheffield United in January. "I would have to say what Gini [Wijnaldum] and Hendo have done, with the number of games they've played, is absolutely incredible, I don't take that for granted for one second.
"If anyone who is with us doesn't see the quality of Jordan Henderson I can't help him. Is Hendo the perfect football player? No. Do I know anybody who is? No. Is he unbelievably important to us? Yes. You see, in life character and mentality helps always. In this case especially."
Liverpool missed those qualities of Henderson's – and more – on Saturday, and Klopp will be keen to have him back in the team as quickly as possible.