Italy are making huge strides under the former-Man City boss
13:43, 15 Oct 2019
In November 2017, the future of the Italian national football team looked bleak. Under then-boss Giampiero Ventura the Azzurri had failed to qualify for a World Cup for the first time in 60 years, and veteran stopper Gianluigi Buffon shed tears on live television as he realised his chance for a winner's medal was over.
When the tournament kicked off in Russia in summer 2018, it was strange not to see those famous Azzurri shirts taking to the field, but it at least allowed for a team who had been overly reliant on veterans to take a fresh look at its ethos.
In has come former Manchester City boss Roberto Mancini who, slowly but surely, is turning things around. Wiping the slate clean and starting again was never going to be easy. Yet, the coach has managed to integrate those who had been overlooked for too long as well as attempting to blood in some of the young players who had been starring at club level in Serie A.
Chelsea midfielder Jorginho had been incomprehensibly ignored by both Antonio Conte and Ventura, but he is now sitting in his rightful place in the heart of the Azzurri midfield. Mancini has a plethora of talented youngsters to deploy alongside him, the choices ranging from Inter Milan duo Stefano Sensi and Niccolo Barrella, Sandro Tonali of Brescia and AS Roma's Lorenzo Pellegrini.
The boss can also call on the experience of PSG star Marco Verratti, proving that the depth that Italy have in this position is more than enough for the side to succeed.
With this in mind, Italy's 2-0 win over Greece on Saturday saw them entered into the forthcoming Euro 2020 tournament with three qualification matches to spare. If you compare that to the despair felt by an entire country just 23 months ago, it clearly highlights the great work carried out by Mancini and his staff at their Coverciano base to rebuild a tattered side.
That victory was the boss' eighth in a row, and he stands just one win away from equalling the Azzurri record of nine set by legendary boss Vittorio Pozzo in the 1938/39 campaign.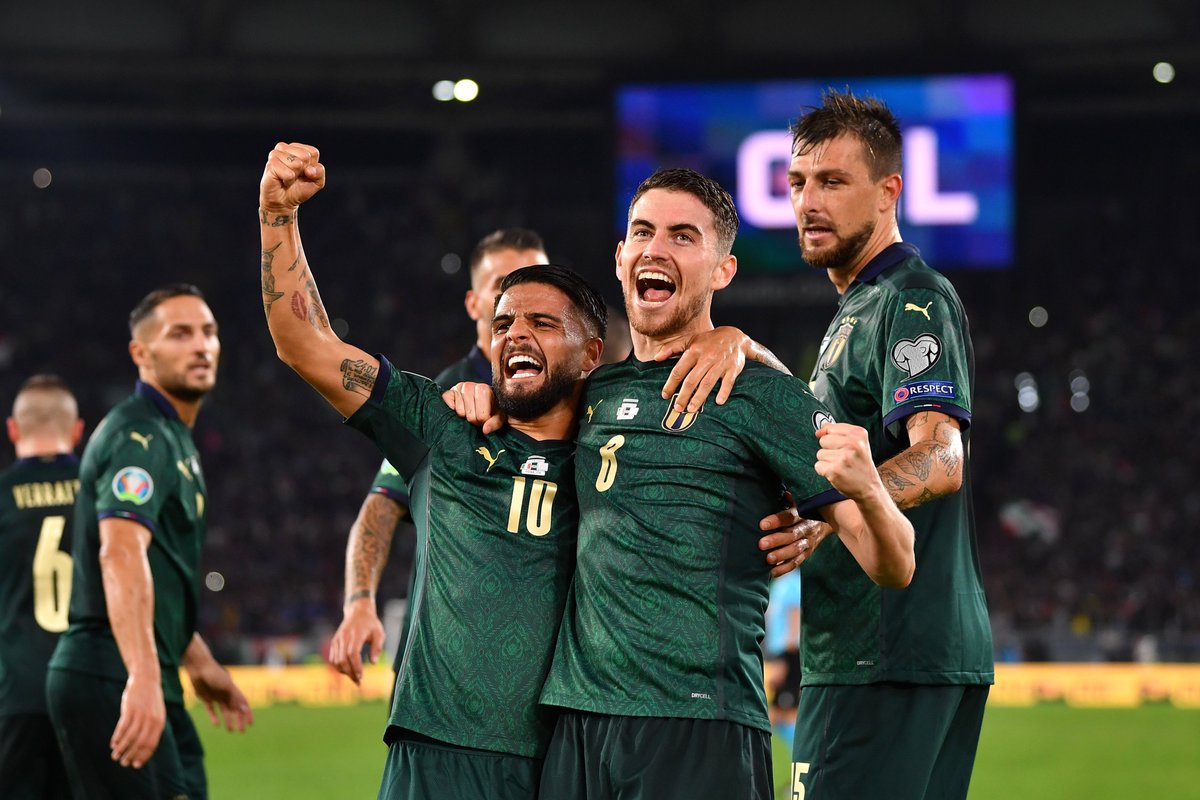 "Under [Roberto] Mancini, we have played a high-pressing game from the start," revealed defender Leonardo Bonucci to Corriere dello Sport last weekend. "We have shown a little bit of fear, but he always believes in us. Credit to the boss, because he gives us the ideas and we just try to put them into practice.
"When you enjoy yourself, everything becomes easier and you remember things that you have tried in training. If it works on the pitch, it's even better. We have enjoyed ourselves so much with the national team this year, and have rediscovered our enthusiasm after losing in Euro 2016 and missing out on the World Cup. Now we have an identity, so we must ride the wave and improve match by match."
While there are plenty of positives, there are still some problems to iron out before the Euros begin in the summer. Italy have regained the winning habit, but their performances are still a way off what is expected from them. They will need to work hard on improvements before facing much more difficult tests when knockout football begins.
Mancini also still seems a little undecided in terms of who to deploy in the striker role, having tested Ciro Immobile and Andrea Belotti as the number nine without a great deal of success so far. His ex-Manchester City striker Mario Balotelli remains on the fringes of the squad, and will have to do great things at Brescia this season in order to stand any chance of making the final cut.
Despite the areas still to improve, it is patently obvious that Italy have made huge strides forward in terms of integrating some of the talented youngsters that have been ignored for too long.
Now that they have reached Euro 2020 with time to spare, it's time for Italy to start preparing for the tournament and part two of their rebuild.