Football /
The Kids Are Alright: Bayer Leverkusen Show Signs Of Life With Stuttgart Success
Kai Havertz Impressed for Leverkusen On Friday Night
Leverkusen, Germany. "Are there any pubs around here, mate?" asked the man with an English accent at Leverkusen Mitte train station.
It was a difficult question. There's not a lot in Leverkusen. Most football fans tend to gather in nearby Cologne or Düsseldorf before making the short train ride to the BayArena, but the man from Nottingham and his three friends had arrived about two hours before kick-off. The Sportsman was stumped.
Hundreds of British football fans travel over to Germany every weekend to sample the mythical Bundesliga experience. Good food, good beer, cheap tickets, full stadiums, raucous atmospheres and attacking football – but it was all in short supply in the Rhineland on Friday night.
The BayArena was a sorry sight ahead of kick-off as singer Dirk Maverick, dressed in cowboy hat and boots, sang the club hymn to a half-empty Nordkurve. "Not in Cologne, not in Düsseldorf. No, this is our home," he sung. "Come round and find out for yourself."
But barely more than 20,000 had taken him up on the invitation, and they had to wait until the final quarter of an hour for a Kevin Volland brace to seal an unspectacular 2-0 win over struggling VfB Stuttgart.
The Bayer Dilemma
Expectations are never particularly high when the bottom club faces the club fifth from bottom, but with both Stuttgart and Leverkusen having both shipped 24 goals in eleven matches so far this season (only Nuremberg have conceded more), surely there would be something to cheer?
A quick glance at the Leverkusen line-up also offered reason to hope. It always does. With young German talents Julian Brandt and Kai Havertz leading an attack which also included Volland and Karim Bellarabi (seven goals in five games), plus Lucas Alario and Leon Bailey on the bench, Leverkusen boast one of the most exciting offensive units in Germany.
"Fan-friendly kick-off times" demand the
#Bayer
#Leverkusen
ultras, in a half-empty stadium.
Not sure Friday night is the problem this time though. Maybe the 5 Celsius. Or their team's second-worst
#Bundesliga
start ever.
#b04vfb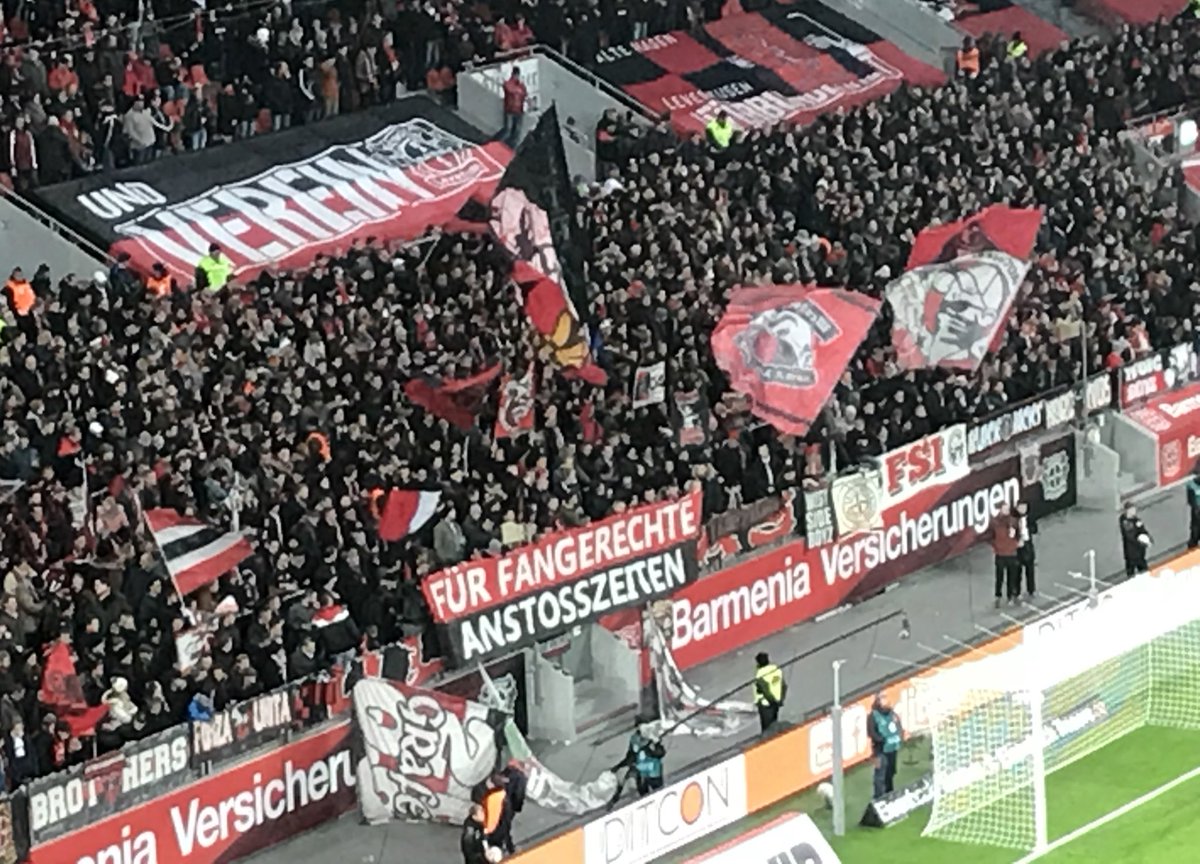 This is a team which only missed out on Champions League football on goal difference last season. A team which hammered high-flying Werder Bremen 6-2 in the league and Borussia Mönchengladbach 5-0 in the cup – both away from home. Back in September, they were the width of a post away from taking a 3-0 lead against Borussia Dortmund.
But this is also a team which was beaten 4-1 by Hoffenheim recently and which sunk to a 3-0 defeat away at Red Bull in Leipzig. As for that game against Dortmund, they went on to lose that 4-2.
The kids are alright
Such is the riddle that is Bayer Leverkusen, a riddle that coach Heiko Herrlich doesn't seem any closer to solving. Fortunately for the 46-year-old, it looks like he'll be given all the time in the world, with sporting director Rudi Völler reportedly in no mood to sack a tenth head coach of his tenure.
Until then, it's down to Leverkusen's young stars to step up and show the form they have done for their countries. Left-back Tin Jedvaj impressed for Croatia during the international break, as did Havertz on his full debut for Germany.
So it was no surprise that Leverkusen's best chance of a tedious first half came as a result of a combination between the two, the German floating a delicious chipped ball into the path of the advancing Croatian who put his sliding effort over the bar.
Leverkusen's better moments all featured Havertz, acting as the pivot conducting his team's counter-attacks with neat control and clever passes. With fifteen minutes remaining, and the Stuttgart defence asleep, the 19-year-old collected Brandt's short corner inside the box, turned and crossed for Volland to nod home.
Ten minutes later, he was involved again, playing in substitute Lucas Alario whose cut back was expertly finished by Volland to make it two.
It may have been a grim, cold night in Leverkusen but Havertz was a light in the darkness that never went out.
Bayer Leverkusen 2-0 VfB Stuttgart
A Kevin Volland brace gives the Werkself all three points on an otherwise unspectacular evening.
#b04vfb
#bundesliga