Football /
The Sportsman On The Road In Zwickau: Football Without Fans Is Nothing
Braunschweig fans' firework display
Zwickau, Germany. The snow had been falling all night and all day in southern Saxony and was showing no sign of stopping.
On Sunday, the nearby Bundesliga 2 fixture between Erzgebirge Aue and 1.FC Köln had already fallen victim to the weather, meaning that several hundred traveling fans from Cologne had made the 1,100-kilometre round-trip in vain.
And now, FSV Zwickau's home game against Eintracht Braunschweig in the 3.Liga was also in danger.
"Wanted: Helping hands!" tweeted the club on Monday morning, after the snow storm had finally given way to clear blue skies. "We're still on schedule but any volunteers to help clear the pitch would be warmly welcomed! Bring a spade if you can ... "
A couple of hours later, around 40 fans had made their way up to the Stadion Zwickau and were busy shoveling snow into wheelbarrows, obediently following the instructions of Jimmy, the Irish ground keeper who has been living in the town for 30 years.
"Our fans are always right behind the club and they always get involved," said press officer Daniel Sacher. "Whatever needs doing, whether it's shoveling snow or any other difficulties which might crop up during a season, they always get stuck in."
The Zwickau fans weren't alone. Several fans wearing the black and yellow bobble hats of neighbours Dynamo Dresden, with whom Zwickau's ultras share a close friendship, were also busy shoveling, as was Hendrik from Cologne.
"Our game was called off, so I'm determined that tonight's game will take place!" he laughed, helping The Sportsman heave another load of snow from the centre circle into a wheelbarrow. What else are you going to do on a Monday morning in Zwickau?
International effort on here in
#Zwickau
to get tonight's game on!
Zwickau fans, Dresden fans, Cologne fans (after yday's game called off) and a Mancunian all working under the command of Irish greenkeeper Jimmy.
#FSVEBS
🇩🇪 🇮🇪 🇬🇧 🇪🇺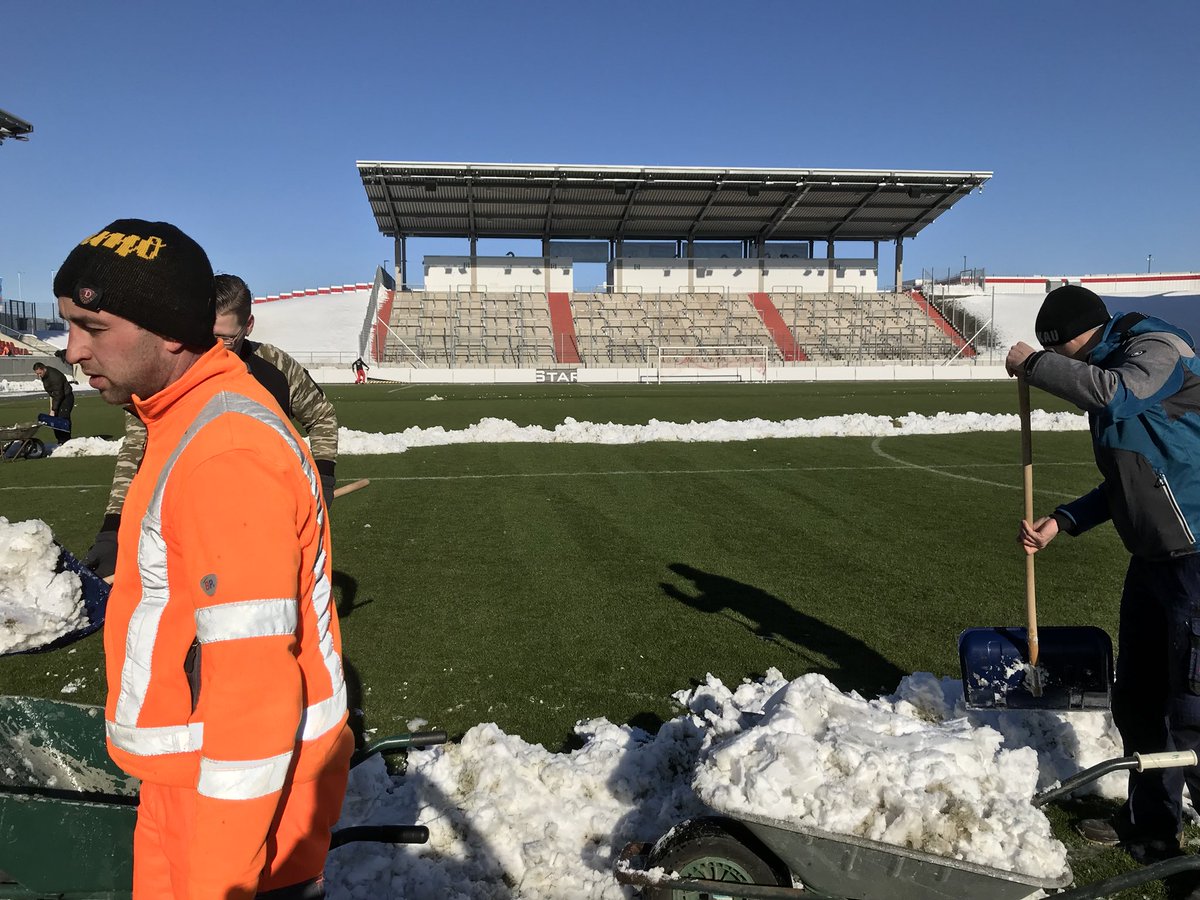 BSG Sachsenring Zwickau
Like many smaller cities in this part of Germany, Zwickau has struggled economically since the re-unification of the country in 1990. Formerly home to the automobile manufacturer Sachsenring, which produced the German Democratic Republic's iconic Trabants, Zwickau's population grew to 150,000 - around 12,000 of whom were employed by Sachsenring.
But while re-unification saw East Germans finally liberated from the dictatorial regime of the Socialist Unity Party (SED), it also saw businesses and brains flood westwards. The population has sunk to 90,000.
"Most of the young people here are forced to move away, leaving an ageing population," explains René Frieß, a taxi driver who has lived in Zwickau his whole life, as we pass a large, dilapidated factory complex. "They used to produce cabling, wiring and rope there," he says. "But not anymore."
As well as producing the iconic "Trabis," Sachsenring was also the carrier company which funded the local football team, then known as BSG Sachsenring Zwickau.
In 1975, they won the East German Cup, qualifying for the European Cup Winners' Cup where they saw off Panathinaikos, Fiorentina and Celtic before losing to ultimate winners Anderlecht in the semi-final.
"There were over 36,000 people in the stadium for the second leg," remembers René – but by the new millennium, average attendances at the re-named FSV Zwickau frequently dropped into triple-figures as the club, like many in the former East, nose-dived.
Making a lot out of little
"We're always in a fundamentally difficult situation," explains Sacher in his office at the club's modern 10,000-capacity stadium. "It's difficult to compare us to the rest of the competition in the 3.Liga, especially in western Germany, where many clubs are based in a very different economic climate."
Nevertheless, the Swans, named after the historic symbol of the city, finally returned to professional football in 2016. The club now has over 2,200 paid up, voting members with an average attendance of almost 5,500.
"We're really happy with our attendances but we have to make a lot out of very little, and that's not likely to change any time soon," says Sacher. "But we'll keep our feet on the ground and make the very most out of what we have in order to keep professional football in Zwickau."
Eintracht
#Braunschweig
supporters away at FSV
#Zwickau
.
Protest against Monday games. Match interrupted briefly again.
"It's only just begun …"
That aim was made more difficult on Monday night however as 13th-placed Zwickau lost 1-0 to surprise strugglers Eintracht Braunschweig – a club which lost a Bundesliga promotion play-off against Wolfsburg just two years ago but now finds itself propping up the third tier.
Zwickau's "Red Kaos" ultras – one of the oldest and most iconic ultra groups in Germany – boycotted the first half in a continued protest against Monday night football, while the 600 visiting fans interrupted play by littering the goalmouth with fruit.
"We've brought something for you - oranges!" they chanted cheekily; famously, certain fruits weren't always widely available in these parts back in the GDR.
In the second half, play was interrupted again as flares, strobes and fireworks lit up the away end. As in many stadiums across Germany this weekend, a banner aimed at the football association (DFB) and football league (DFL) read: "It's only just begun."
The nationwide protests against the perceived over-commercialisation of the game are showing no sign of stopping in Germany, with match-going supporters still feeling that their game is being taken away from them.
But as the Zwickau, Dresden and Cologne fans – and groundkeeper Jimmy – showed as they cleared the pitch of snow on Monday morning, there can be no football without fans.