Football /
Timo Werner Is Almost Single-Handedly Keeping Red Bull Leipzig In The Bundesliga Title Race
Timo Werner is one of Europe's most exciting young talents right now
A collective groan rumbled out around the Red Bull Arena in Leipzig on Saturday when Hannover took an unexpected lead in the 56th minutes. A wonderful through ball from Ihlas Bebou had found Brazilian forward Jonathas, who calmly knocked the ball home to put his side 1-0 up over the potential title challengers.
However this was a side that had scored nine goals in four games at home this season and it wasn't long before Ralph Hasenhuttl's team had the ball in the back of the net. Not just that; it was also through the expertise of Timo Werner. A talented striker but also a key player that has personally made sure Leipzig keep on winning and stay close to Bayern.
After a wonderful through ball, Werner took the ball down the right side of the box before cutting it across the goal to Yussuf Poulsen at the back post, who kindly obliged his teammate with a simple tap-in. A little over 15 minutes later, Werner had gone from playmaker to goalscorer, when he volleyed home an impromptu cross from Emil Forsberg.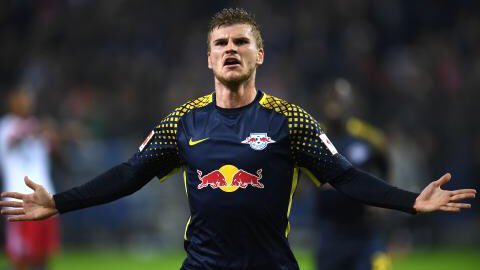 Although football can never, truly be a game of individual talent single-handedly winning games, Werner is doing is absolute best to ensure his side's success from one week to the next. Saturday's win was the fourth time in just 11 leagues games that the 21-year-old's goals or assists have directly contributed to his side picking up points.
Against Borussia Monchengladbach, his opening goal ensured a draw against the Foals, against Eintracht Frankfurt his goal and assist made sure of a 2-1 win, and Leipzig's victory over Stuttgart was only possible through his solitary strike. Without any of those key contributions, Leipzig would be much further than six points off Bayern and nowhere near a possible title race.
With six goals in the Bundesliga so far this season, Werner is not only Leipzig's leading talisman with twice as many goals as the nearest rivals - Poulsen and Jean-Kevin Augustin - but he's also scored no less than 33 percent of his team's total league goals. A degree of reliance only bested by Robert Lewandowski and Pierre-Emerick Aubameyang at Bayern and Borussia Dortmund respectively.
Every top team needs their goalscorers and match winners yet in Leipzig they have both of those roles wrapped in to one player. Werner is not only the best player in this young, talented squad but he's also single-handedly keeping them near the top of the table.