Top-Five Highest Paid Managers 2018/19: Thierry Henry A Shock Inclusion But There's No Room For Jurgen Klopp Or Mauricio Pochettino
15:16, 03 Apr 2019
Salaries are the source of much debate in the football sphere. How much a player banks a year is a topic that sparks frenzied discussion, even outright fury, especially if they are underperforming.
The income of managers also represent a category of fascination, after all they are the most important men in football.
The legendary Sir Alex Ferguson revealed in his book 'Leading' that he was once asked by Man Utd's (then) chief executive David Gill what he thought about Wayne Rooney's imminent blockbuster pay rise.
"I told them I did not think it fair that Rooney should earn twice what I made," said Sir Alex.
"It was simple. We just agreed that no player should be paid more than me. We agreed in less time than it takes to read the previous sentence."
That set the tone as the world's most high-profile managers now command staggering salaries, which often results in huge compensation fees when they've inevitably been sacked. Jose Mourinho being a case in point; £15m was dropped in his bank account after Man Utd have him the boot.
New figures unveiled by France Football - including salary, bonuses, pay-offs, and endorsements - have revealed that it's Diego Simeone that leads the way in the list of the highest paid gaffers (2018/19) having taken home an eye-bulging £35m. The Argentine, who is constantly linked with a move to the Premier League, committed his future to Atletico Madrid in February after he opted to renew his contract until 2022.
Mourinho may have been axed by Man Utd in December, but he is the second-highest earner with £26.6m, largely thanks to the aforementioned pay-off.
Same idea but for managers.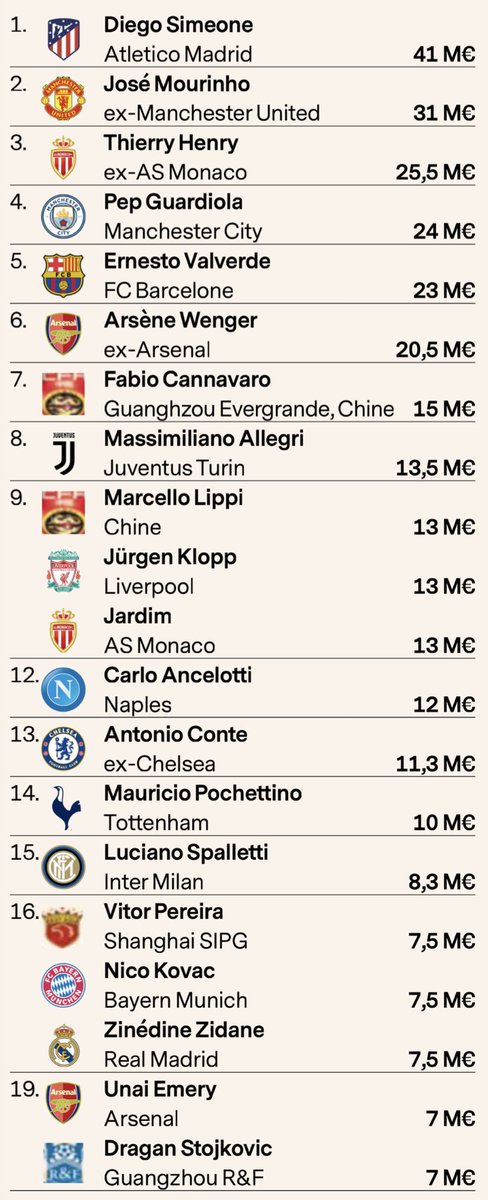 But, it's the manager that ranks third in the list that will leave you flabbergasted: Thierry Henry.
You what?
The Frenchman ventured into management in October with Monaco in what he would have hoped was the start of a successful career in the dugout.
It did not go to plan.
Henry was sacked three months and 20 games later, after mustering just four wins, but on the plus side for the Arsenal legend he earned £21.9m, that's a ludicrous £5.4m per win. Wow. The Sun reports that this was thanks to a mega pay-off along with a multitude of endorsement deals.
This puts Henry ahead of last season's Premier League record-breaker Pep Guardiola (£20.6m), arguably the best boss in the world today, who is currently chasing an unprecedented quadruple.
Making up the top-5 is Barcelona manager Ernesto Valverde (£19.7m) who has his sights set on a treble this term.
If we look beyond the top echelons, Liverpool's Jurgen Klopp is joint 9th (£11.2m) in the standings, Tottenham's Mauricio Pochettino is 14th (£8.6m), the returning Real Madrid head coach Zinedine Zidane is 18th on £6.4m, Arsenal's Unai Emery and 19th (£6m), while Chelsea's Maurizio Sarri doesn't even feature. Ouch.
To be honest we are still dumbstruck at Henry.