Toulouse reach the Betfred Super League with a 34-12 win over Featherstone Rovers
20:04, 10 Oct 2021
This Toulouse Olympique side is something special. They completed their perfect season with a lively 34-12 win over Featherstone Rovers in the Million Pound Game to book their place in next season's Betfred Super League.
This means that for the first time ever there will be two French sides in the top flight of rugby league, as Toulouse join Grand Final runners-up Catalans Dragons amongst the elite. However, it is hard not to feel for James Webster's Featherstone Rovers.
They only lost one game in the regular season, to Toulouse, and have missed out on the riches that a win in this game would have provided, circa £2m according to chief executive Martin Vickers. Fev have been a joy to watch this season, and have had 'almost' the perfect season, but unfortunately they have come up against one of the finest teams we have ever seen at this level.
The home side got their noses in front early on as Toulouse saw a gap in the Featherstone defence and went for it. Mathieu Jussaume was the man who was wrestled to the ground but still managed to get the ball down for the French side who made the perfect side to the million pound game. Mark Kheirallah made no mistake with the boot to make it 6-0.
Kheirallah's boot took the score to 10-0 after Featherstone were punished with two penalties and the scoreline looked even more handsome as a clever kick allowed Latrell Shaumkel to just about ground the ball. That try was given in slightly controversial circumstances and Fev can count themselves unfortunate as it did appear as if he had lost control of the ball before grounding.
A 14-0 lead after the first quarter, Sylvain Houles couldn't have dreamed of a better start from his side and they made it 16-0 by half-time. To the visitors' credit they did launch attacks of their own but could not break through in the first 40.
TOULOUSE ARE PROMOTED TO SUPER LEAGUE!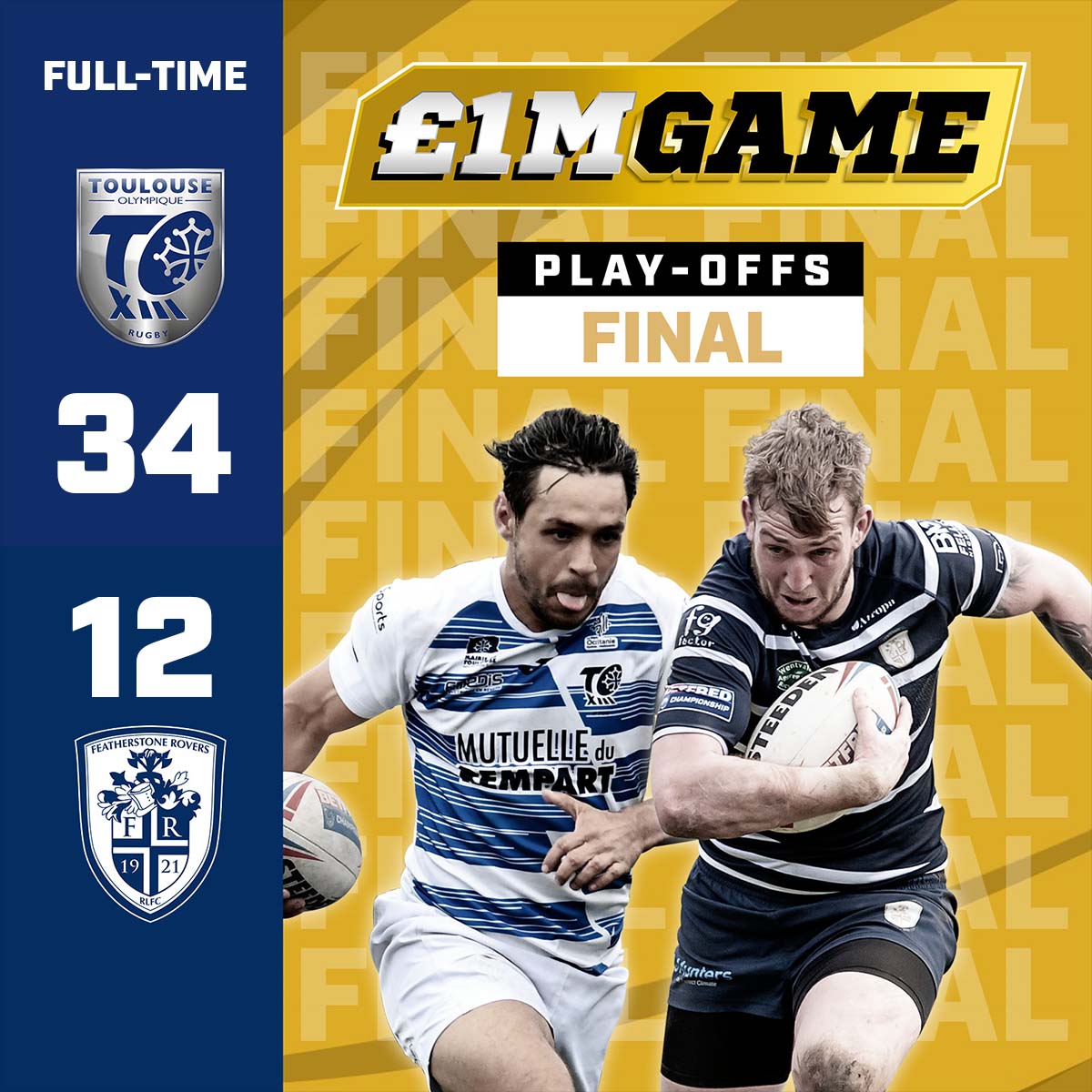 Featherstone had to score first in the second half and thanks to Brett Ferris, the got their wish 13 minutes in. He made a darting run against the grain to cross and bring the score to 16-6. The visitors were suddenly playing like a team that had nothing to lose. Time and time again they would intercept or break through the lines of a Toulouse side who looked like they were waiting for the game to end rather than going out to win it.
Ferris though he had his second after a nervy error let him in but it was ruled out and then they were hit, after 25 minutes of second half dominance. Another try for Jassaume made the score 22-6 but when it looked like they were down and out, back came Fev as John Davies responded. 22-12 with ten to play. Another penalty took Toulouse's lead to 12 before Harrison Hansen scored the decisive try before Johnathon Ford scored with the last touch of the game to give the scoreline some glamour.
A tiring defence gave him a yard of space and he crossed from close range to confirm Toulouse's place in the 2022 Betfred Super League.
A thrilling encounter from both sides, but there is no doubting that the French side have thoroughly deserved their win, and will be a welcome addition to the Super League next season. This promotion also opens a world of possibilities for the sport...