Underrated Cyril Thereau Proves To Be An Unlikely Hero For Fiorentina
The Experience Of Thereau Has Been Invaluable For The Viola
A mixed bag of results was to be expected for Fiorentina this season. There was extreme turmoil in the city last summer, the club selling off almost the entire squad and forcing supporters to come to terms with the departure of its most long-standing and popular players. Federico Chiesa – a 20-year-old product of the club's youth system – became the talisman of the new-look side, a team constructed by sporting director Pantaleo Corvino with the idea of making the Viola both younger and more Italian.
Whilst new boss Stefano Pioli always said that this season would be one of transition for his newly-assembled squad, it has been nonetheless difficult for fans of the club to evaluate his progress with such a topsy-curvy campaign. Six wins, three draws and six defeats in the opening 15 matches shows that this is still a work in progress and that this band of youngsters still have much to learn.
However, if there was one man signed this summer that broke the mould of the club's new vision, it was unquestionably the last-minute arrival of Udinese forward Cyril Thereau. The 34-year-old Frenchman has emerged as a real leader in the side, and his importance this season cannot be underestimated.
In the five matches he has missed this season, the Viola have managed just one point – in a draw with struggling SPAL – while suffering defeats in each of the other four games. All six of their wins so far this have come with Thereau in the side, and one of the two losses with the veteran in the lineup was away to league holders Juventus.
It's not only his play that has helped Fiorentina this season either, his experience and his personal attributes also coming to the fore. A deeper examination of the player reveals he is the perfect man to assist with the development of young forwards Giovanni Simeone and the aforementioned Chiesa.
Fiorentina look SO much better with Thereau back in the team
This was perfectly illustrated during two recent home matches, the first against his former side Udinese in which he fired in a brace, and the second last Sunday versus Sassuolo when he contributed two vital assists. One was a superb through ball for Chiesa, while the other was a sublime cross for Jordan Veretout to simply tap in, each showcasing Thereau's awareness, vision and skill in different ways.
"He is a physically strong player who can play multiple roles," said Vice President and club legend Giancarlo Antognoni shortly after the Frenchman arrived. "But above all he scores goals, which is the most important thing."
After Thereau's vital but understated start to life in Florence, perhaps club officials are realising that his goal scoring might not be his most important attribute, his assists and leadership skills lifting his young colleagues to a higher level of performance.
"I knew Simeone at Genoa, he has a lot of physical qualities and I will try to help him and [Khouma] Babacar," said Thereau in an early press conference. "I did not come here to be a teacher but I will try and make the youngsters understand the difficulties of Serie A. I will try to help them with both their play and by providing assists."
The fans too may have raised their opinion of this player who arrived having spent the last seven years in the lower parts of the division with Udinese and Chievo. He has taken time to understand the importance of the city to them, revealing so later in the same interview.
"I was close to joining Sampdoria in the summer but then the Coach called me and told me about Fiorentina," Thereau said. "After having played in their stadium many times, I chose this city and the fans, who I've always liked. When Pioli called me, I dropped everything and I can't wait to repay the trust they showed in me."
Of course many players say similar things after joining new teams, but after Lazio-Fiorentina at the end of November, he proved he had not forgotten a side he played for ten years ago. That was Steaua Bucharest, and he was pictured signing a shirt outside the Stadio Olimpico to auction for one of their fans who had fallen on hard times.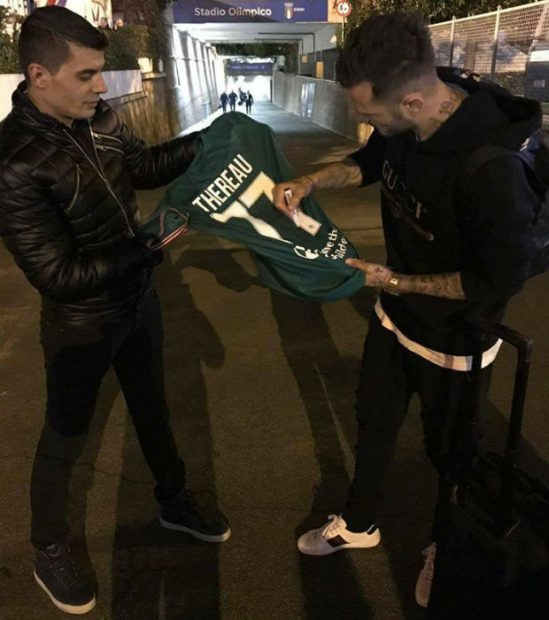 "Steaua was the first club where I felt like a football player, in the sense I felt I was appreciated by the unique feeling the fans give you," he said in an interview that discussed his former side. "For example, approaching the fence when you score, before the match and when you stop on the street to take a picture with them. It raises your confidence and binds you to them."
A player that is willing to enjoy that kind of relationship with fans and who will help the side's younger players is exactly what is needed in Florence after the summer of discontent. No-one expected that Cyril Thereau would be that man, yet he has already gone a long way towards putting the smiles back on the faces of those Viola supporters.
Fiorentina travel to Napoli for Sunday's Serie A match (Kick-Off 2pm BST).
Want to read more
Football articles
?
Register
with The Sportsman to personalise your news feed with your favourite sports and football team.