Football /
Watch Out Pep Guardiola And Ole Gunnar Solskjaer: Artificial Intelligence Football Coaches Are Real And Could Soon Be All The Rage
Could managerial robots take the football sphere by storm?
Picture the scene. It's a pivotal Premier League duel between Manchester rivals City and United, the title is up for grabs as the fierce foes go head-to-head in a blockbuster battle played out in front of a global audience.
The camera pans from one world class player to another, before switching focus to the dugout.
But, there is absolutely no sign of either Pep Guardiola or Ole Gunnar Solskjaer. Instead, in their place are two Artificial Intelligence Football Coaches; bellowing instructions, switching formations, making tactical adjustments, and firing out a motivational message or two.
The future of football?
Not just yet, but over in the seventh-tier of English football - the Isthmian Premier League - Wingate & Finchley FC could be set to revolutionise football when they become the first ever club to employ a managerial robot, well the world's first Artificial Intelligence Football Coach (AI Coach) as it prefers to be known, in their crunch clash against Whitehawk on Saturday.
What is an AI Coach and how does it function?
The introduction of a robotic football manager has unsurprisingly captured media attention as the London based hosts, Wingate & Finchley, trial the AI Coach who will play an integral role in picking the team, deciding which formation to use, and what tactics to utilise.
You're probably wondering what on earth an AI Coach can do? Fortunately Ronald Ashri, CTO at GreenShoot Labs which created the innovative system, was on hand to fill The Sportsman in on the functioning aspect.
"The football coach can provide tactical advice before a game. It asks a series of questions regarding the readiness of the team (physical, tactical, morale) and the coach's view of the opponent team (strengths, weaknesses). Based on the answers and past performance it provides one or more tactical strategy suggestions.

"Just before the game and during the game the coach can provide some relevant inspirational phrases (based on the status of the game) and it also collects key information around the progress of the game (through voice input from the coach) so as to update a performance score for the team and shape future responses."
How can the AI Coach benefit Wingate & Finchley on Saturday?
Fans of Wingate & Finchley await with eager anticipation ahead of the AI Coach's debut this weekend as the club bids to end a run of eight matches without a win.
"It is there to assist the management team by offering insights and advice, though how ready it is now remains to be seen and we are excited to find out," Paul Lerman, Wingate & Finchley's Director, told The Sportsman.
"What it does now is take in a series of inputs, such as the unique strengths and weaknesses of each team as well as the exact match scenario minute by minute.
"It plugs all this into its algorithm which is based on global historic football scenarios, and then provides suggestions for formations tweaks and substitutions for us. The managers can then choose to use this advice/insight or to ignore it."
Marcelo Bielsa eat your heart out.
The AI Coach was created by GreenShoot Labs and commissioned by The Big Bang Fair, which Lerman hopes will help inspire youngsters to unlock their technological potential.
"What is really important to us is how it can inspire students to take STEM (tech careers) seriously and become intrigued and inspired by their potential.
"We are delighted to be able to give it a platform in partnership with the Big Bang Fair to help enthuse students to go into tech careers by showcasing what fun projects and inventions can come from them.
"Looking into the future, a fully developed AI Coach can also help to train young coaches to learn more effectively."
Just FOUR days until the
@BigBangFair
AI Technology makes its world famous debut as we host
@HawksFCOfficial
.
When: Saturday 9th February
Kick off: 3pm
Where: Summers Lane, N12 0PD
Price: Adults £12, Concessions £6, U16 £3, U12 FREE
Be there to witness history...
#TeamWingate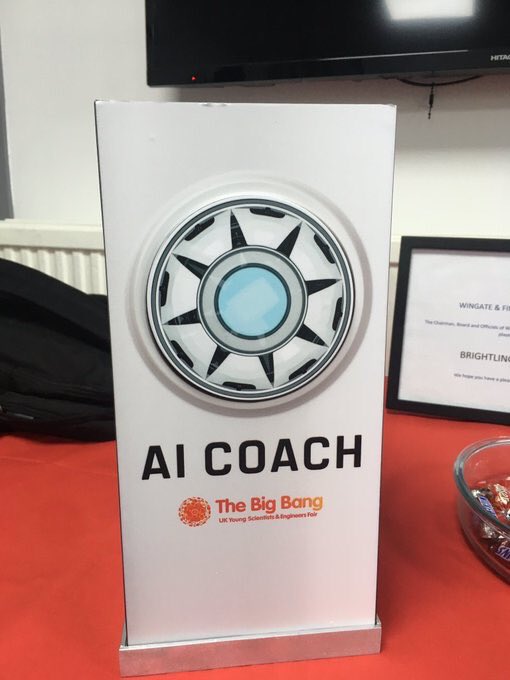 The future of football managers
Innovations are changing the way the game is both played and viewed. We've already seen the introduction of Goal-Line Technology and Video Assistant Referees, but could we soon seen AI Coaches play a prominent role at football clubs?
"I think that systems like the AI football coach will absolutely become an integral part of teams in the future," said Ashri.
"I can see them become extremely knowledgeable assistants that serve as the team's memory and knowledge but I cannot see them substituting the human element to become the actual manager.
"A team is more than a sum of metrics and a large knowledge base and there is currently no path to an AI system that will be able to deal with the complexities of human relationships and their interplays in a team.
"Given the amazing response we've had so far there are plans to make this a publicly available Alexa skill for any team to play with, it will be especially useful for amateur teams."
It looks like Guardiola, Solskjaer and co are safe in their jobs for now, but who knows, one day the future batch of world class stars could be managed by an Artificial Intelligence Football Coach.
In terms of the approach Wingate & Finchley will take going forward, Lerman told us:
"We are well aware that it is limited at the moment. Technology is increasing its role in football year on year and this without doubt will be a success across the sport in the future, and it is up to the manager to decide if he keeps it in the short term beyond the first match. If we get three points on Saturday then he might be tempted!
"We are proud to be at the forefront of innovation and helping to shape whatever it becomes in the future. It will undoubtedly become very sophisticated in years to come at which time it will be completely ingrained into all clubs, at least at professional level.
"Analysing opposition clubs is time-intensive and is currently done manually, and letting automated technology do that for you and then providing analysis on that scouting is certainly within the AI Coach's scope."
The Sportsman would like to thank both Paul Lerman @WinFinchleyFC and Ronald Ashri @greenshootlabs for providing in-depth information on the Artificial Football Intelligence Coach.