Still only a teenager, Jude Bellingham has played in a massive 31 games this season
12:35, 13 Feb 2020
This time last year, Jude Bellingham was just a schoolkid. Today, he's a seasoned Championship performer with 31 appearances for Birmingham City, all at just 16 years of age.
A prodigious talent, the Blues have been relying on this teenager to make them tick this season and its little wonder. He has four goals from 21 starts which is no mean feat for one so young. Direct, skilful, full of running, brave, energetic, bullish, he has it all. He may still be a kid but, marauding across the Birmingham midfield, he's a man when he crosses that white line.
His talent is clear to see and already Manchester United, City and even Real Madrid have all been linked with making a move for him this summer.
Still a scholar, signing terms on a two-year stint last summer, he currently earns only £145-per-week, according to The Sun. Only when he turns 17 in June will he be able to sign a professional contract.
Playing this game in 2020, any move would surely see his wage climb to six figures. Birmingham, meanwhile, will no doubt be eager to up his terms in a desperate, yet perhaps futile bid to keep hold of the whizzkid. However, having been at the club since the age of eight, many will advise him to stay put and learn the game in one of the most physical and demanding divisions in Europe.
In August, Bellingham became the youngest first-team player in Birmingham's history just 38 days after his 16th birthday, beating the record held by Trevor Francis for the last 50 years. He's remained in the team ever since.
Jude Bellingham vs Barnsley
88 minutes
1 assist
3 key passes
2 shots
1 dribble won
4 tackles won
1 interception
2 aerials won
16 years of age! One of the best and most mature U17s in Europe. Huge future ahead. ðŸ"µðŸ´ó §ó ¢ó ¥ó ®ó §ó ¿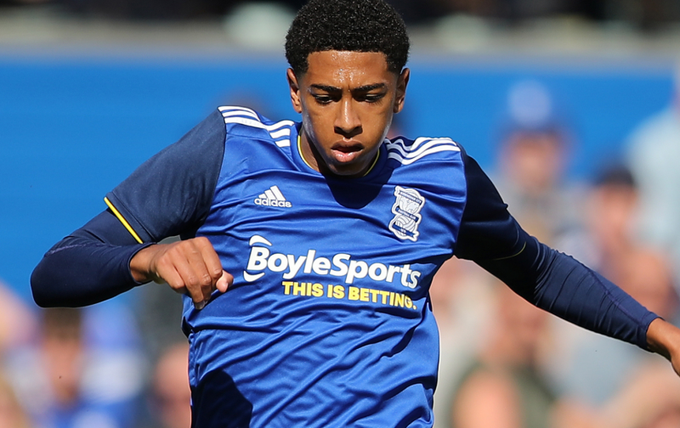 Similarly to Wayne Rooney's emergence at Everton at the start of the century, he is just too good not to pick.
On Tuesday night, it was Bellingham's willingness and desire to chase a lost cause that led to striker Scott Hogan netting the winner at Barnsley. Blues boss Pep Clotet has been mightily impressed with the youngster and told the club's official website after the game: "He is very grounded. The family has done a fantastic job on him. We are working together with the family to make sure that stays like it is.
"All the lads in the locker room keep an eye on him as well because at the end of the day all the players are very down to earth and hard workers. To be fair, all the players have more trust in him than even myself! They all believe in him and help him."
The Birmingham manager has noticed huge progress in the last six months and added: "Jude is a very modern player. When we put him with us in pre-season, he was the not the player he is now. But he did have that mentality to grow and grow and grow and realise what was working and what wasn't.
"He started to mature, physically, a lot. He is very modern because he can play any position in the midfield. He has played centre midfield, on the wing, as a striker. He performs everywhere.
"Normally a young player gets stuck in the football they can produce rather than put himself at the service of the team. Jude puts himself at the service of the team. I am very happy personally to help him on his development as much as I can and the club is happy to support him. I think we are doing something not only good for Birmingham but also for English football."
The future is bright for the boy Bellingham.