Football /
Why Ole Gunnar Solskjaer Is Still Loved By Manchester United Fans
Ole Gunnar Solskjaer remains a favourite with Manchester United fans who still sing his name at matches today
As Ole Gunnar Solskjaer is linked with a return to Manchester United, we revisit this article about the Norwegian which first appeared on The Sportsman in 2017
Surely even the most stubborn of Manchester United fans would admit to wondering how things might have panned out if Alan Shearer had joined their ranks instead of Ole Gunnar Solskjaer in the summer of 1996.
After all, there was once a time when Shearer leading the line under Sir Alex Ferguson had seemed a genuine possibility.
That said, with the dust of time long since settled and history decided, it's easy to imagine that not a single Red Devils fan would go back and change how things worked out even if they had the chance.
Before making the daunting move to Britain, the Norwegian star had forged a decent reputation for himself in his native land, scoring over 30 goals in 42 appearances for FK Molde, as well as netting over a century of strikes for Clausenengen FK.
However, his arrival in Manchester was fussed over very little at the time and whatever name he had built for himself outside England was hardly recognised, and certainly not shouted about, something the player himself put best in an interview with Inside United magazine a few months after signing on the dotted line for the first time.
"I knew there was a United scout at my game, but I didn't think he was watching me. I thought he was there for one of my team-mates. I said yes, yes, yes! There was no way I would say no. It was a wonderful feeling to join them. When I arrived to sign the contract, there were no media or fans. I just turned up, signed it and went home."
It speaks volumes about how transfer announcements have changed over the past 20-odd years.
For many, Solskjaer was an unknown quantity – a footballer who would need to produce spectacular displays of skill on a regular basis if he was to win the Stretford End faithful over. Thankfully for the player who affectionately became known as the "baby-faced assassin" by the fans, he was up to the challenge of appeasing them.
Secured for as little as £1.5 million on Jul 29, 1996, Solskjaer made an immediate impact by coming on as a 64th minute substitute for David May to score against Blackburn Rovers in his first appearance to help United to a solitary point in a 2-2 draw.
It had taken the little-known Norwegian less than six minutes in a United shirt to prove his worth, and all just 27 days after joining the club, thus setting in motion an irreversible trend that would see him become arguably the most famed super-sub in the history of the Premier League.
In his debut season at the club, Solskajer netted 18 league goals, becoming the highest-scoring squad member in the process. The fans could not have asked for a more whirlwind introduction from their new man. He had done everything and more needed to win them over as Fergie's troops claimed the title ahead of Newcastle United, something not even Shearer's Golden Boot exploits for the Toon Army could prevent.
⌚️ Solskjaer is the 4th different favourite for the United job since
#Mourinho
was sacked this morning...
- 10:08: Michael Carrick, 1/3
- 11:10: Zinedine Zidane, 6/4
- 11:34: Laurent Blanc, 2/5
- 13:42: Ole Gunnar Solskjaer, 11/8
@Oddschecker
#MUFC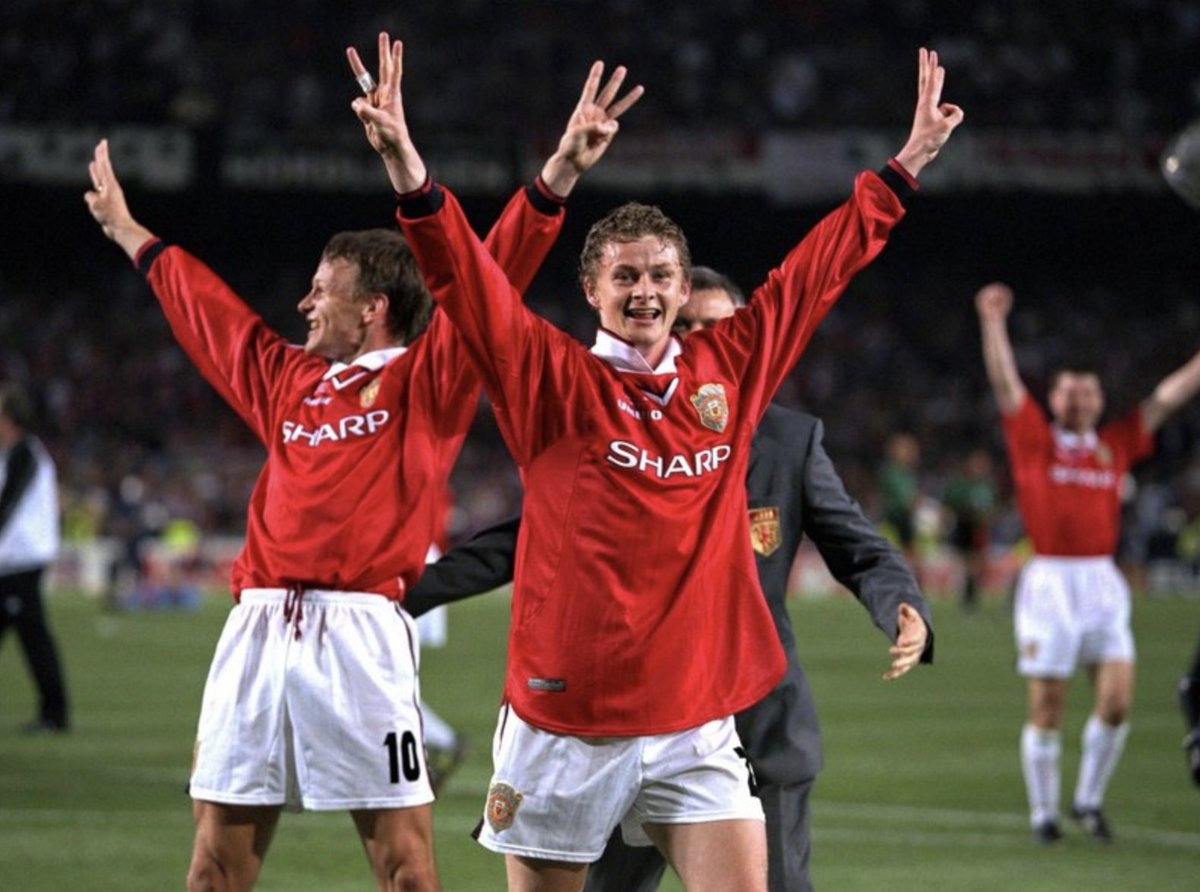 From the get-go, then, Solskjaer had endeared himself to those that mattered and although he was far from the star attraction (something he got used to over time), he was nevertheless an irreplaceable cog that everyone knew was vital to the team's overall success. Without him, United lacked a certain resilience; Solskjaer could nearly always be counted on to produce the goods when they needed a goal from the bench.
Obviously, his UEFA Champions League final heroics in 1999 against Bayern Munich at the Camp Nou stand out. So significant and so famous, his contribution that night hardly needs embellishment. He created arguably the most dramatic moment ever seen in a major cup final and did it all under such extreme pressure – but it was vintage Solskjaer, almost as if the stage had been set by some divine power for him to have his eternal moment of glory.
Because while he often made the most of the opportunities handed out to him, his run-outs were limited compared to the likes of Andy Cole, Dwight Yorke and so many others.
And so, there was an emphatic sense of poetic justice in the fact that he would be the one to star in the most replayed moment in United's history. He might have warmed the bench more than the rest, but that strike against Die Roten has no doubt captivated the fans for many more minutes than any other United striker has done over the years.
That same season, indeed, in the league, he netted four times against Nottingham Forest after coming off the bench to set a record for the most goals scored by a substitute in a PL match. In fact, he pocketed as many as 17 goals from the bench in the English top flight (29 in all competitions) during his time at the club, because he was consistent in what he did.
Ferguson didn't start him as often as Solskjaer ideally would have liked, but he knew his role and he acted it out with tremendous nous and authority so many times during his United career that it became an integral part of his club identity.
Injuries forced him to miss chunks of time – particularly towards the final couple of seasons – so that he had to team up with the reserves and wound up, for different reasons entirely, sitting on the bench once again.
Still, his impressive 12 honours, 11 seasons and 126 goals with the Lancashire club's senior side helped him cement his status as a club legend and all mean that he will always be held in the highest regard in the red half of Manchester.