Why Silva Is Already Manchester City's Greatest Ever Player
14:06, 10 Apr 2017
Ask any Manchester City fan who the best player they have seen is and they fall into two camps. Those who saw Colin Bell and those who did not.
Whilst nostalgia plays a part in any fan's view there is no argument among the vast majority of fans who were not fortunate enough to see 'Nijinsky' in his pomp that only David Silva is worthy of the title.
All City fans rightly laud over Aguero, Toure and Kompany, but it is Silva who is without doubt the greatest player ever to pull on the blue shirt. On Saturday he chalked up his 300th appearance for the club in the 3-1 win against Hull and it was a performance very typical of the man they call Merlin. He dominated the game without being noticed.
I would surmise that it is exactly how Silva likes it – understated, classy and to the point. Since he joined City from Valencia in 2010 for £26m he has topped the Premier League charts for assists, (63) chances created (598) and most chances created in open play (485). In the same period he has won two premier league titles, an FA Cup and two League cups as well as becoming Spain's fourth highest goal scorer with 30 goals (only David Villa, Raul and Fernando Torres have more) and racked up 111 caps to date (not to mention a World Cup winners medal and two European Championships).
Special day today, very proud of my 300 games with our club. A needed win for us. Thanks to all the fans for the support as always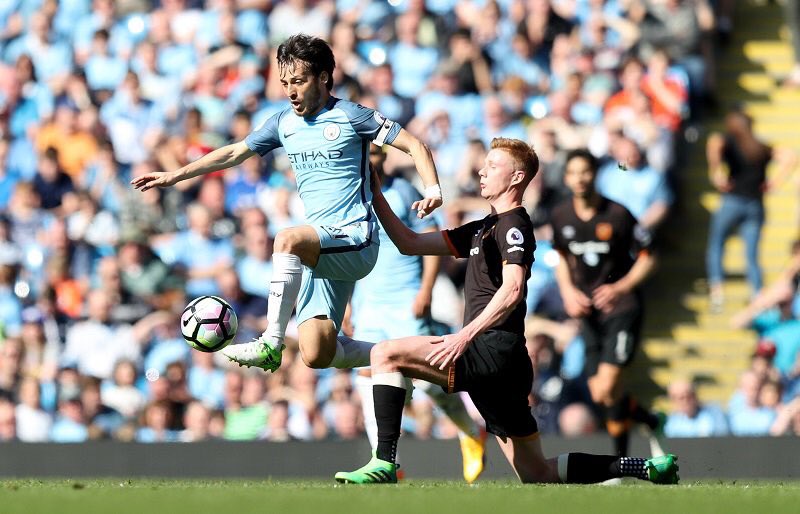 And yet, for all that he has only once been chosen in the PFA team of the year, won only one Player of the Month award and had less praise heaped upon him than many players who have played only a handful of games in the Premier League.
Would Silva care? Probably not; throughout his time in England he goes about his business without fuss, dominating games, regardless of the opposition. He can thread a ball through the eye of a needle (that pass for Dzeko's sixth goal against United in 2010) and find space anywhere on the pitch, but there is more to his game than just that. Behind his diminutive figure lies the heart of a lion and he is not afraid to put his foot in and let his opponents know he is around (something his cheeky smile often lets him get away with) when needed, while there fewer more unenviable tasks than trying to dispossess him.
And yet there is little said of Silva in the media, seemingly ignored by journalists and pundits alike. Probably because he shuns the limelight and is rarely interviewed he is often forgotten, but it is more probable that it is because he is so consistent.
Every time he takes to the pitch he very rarely puts in a performance that is anything other than excellent. It has become expected rather than appreciated, yet ask any manager and they would unanimously say he would walk into any team in the league past or present. And that is the little magician's greatest trick of all. We will be lucky to see somebody as good again.