Football /
Analysing The Art Of The Managerial Handshake
Something so simple, yet so complex in the footballing world...
Some Premier League controversies burn twice as bright for half as long. This late-summer glut of dangerously high boots, for example, won't be remembered by November.
Only one source of outrage manages to perennially expose the inherent pettiness that exists at the very core of elite-level football. Where pride and prejudice collide (or not) in the space of a fleshy, clammy half-second. We're talking about Handshakegates.
The sheer managerial turnover of the Premier League ensures a steady conveyor belt of under-pressure egos, which virtually guarantees some post-match, technical-area tension at some point, but the evergreenness of Handshakegates rely on there being a permanently dissatisfied, slightly old-fashioned Proper Football Man. That man is Mark Hughes.
"I offered my hand but Jose didn't want to take it, maybe he was a bit upset about the result" 🎣👀
"In fairness, I have my history with handshakes," Said Hughes on Saturday evening, having added to his CV of pantomime masculinity by being snubbed by another noted handshake specialist Jose Mourinho. "Maybe it's me."
In truth, the managerial handshake (either pre-game or once the final whistle has blown) is a minefield for any Premier League manager. Let us examine each step of the process to see where these pitfalls lie.
Location, Location, Location
Such is the sheer depth of backroom staff these days, a manager often has to wade his way through a phalanx of clipboards and polyester to reach the intended handshake target that is his opposite number at full time.
Before the game, though, it's usually just a matter of hanging around - between the technical areas and/or somewhere near the mouth of the tunnel, but without looking too much like you're hanging around - waiting for the other manager to stroll out. This is mostly just a formality, unless there is an unresolved Handshakegate between the pair, in which case it becomes very awkward indeed.
This moment is an oddly symbolic box to tick for the broadcasters, so there's usually a cameraman at close quarters to capture the embrace (which can range from either a cursory handshake to a full clinch of solidarity). Whatever words they exchange, though, are unrecorded - as sacred as the little joke a substitute shares with a fourth official before trotting on - but we can assume it's the unabridged version of "good luck, but not today ahahahahahahaha!"
First pressing
The post-match handshake is where the real drama is to be found. If three points have been claimed, the unwritten Hughesian rule here is that the winner - no matter how unexpected, and how happy - must pause from their celebrations to keep a straight face and offer their hand to the loser. This must satisfy a minimum threshold - decided by Mark Hughes - of sincerity and commitment to the handshake:
Within those parameters, there are still ways of maintaining control of the handshake under one's own terms. Jose Mourinho, most notably, favours the 89th-minute handshake, which has irritated less irritable people than Paul Lambert and Roy Keane.
Even if the handshake is completed according to the unwritten Laws of the Handshake, there always remains the potential for the post-match Little Word in the Ear to spark something altogether more unsavoury.
Second-Strike Capability
But there more layers to the standard post-match handshake than you might assume. Once the initial handshake is completed, then begins a cold war of condescension about whose body language can quietly humiliate the other.
Because the handshake is designed to be a mutually respectful gesture, the only way to gain an immediate non-verbal edge is to try and incorporate what is known in the trade as the Patronising Head-Pat (PHP), most commonly deployed against a lower-league manager after a 4-0 FA Cup third-round cruise.
Once again, we have Mark Hughes - Eternal Grandmaster of the Managerial Handshake - to demonstrate just how unwelcome an attempted PHP can be.
Knowing the Limit
What Mark Hughes has not clarified yet is just how many members of backroom staff must have their hand shaken by the opposition manager. That ambiguity in the rules led to perhaps the most amusing Handshakegate of all, Clive Allen's dogged pursuit of Arsene Wenger's hand after the north London derby in 2011.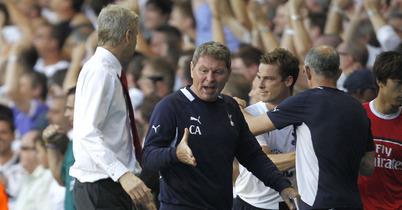 Having shaken the hands of both Harry Redknapp (manager) and Kevin Bond (assistant manager), Wenger drew the line at Allen (assistant first-team coach), which went down very well indeed.
"He refused to shake my hand," fumed Allen. "He says he didn't see or hear me. But he's two-bob, he is, two-bob."
Wenger took his usual studious look at the situation. "I shook the hand of the manager and the assistant manager," he said. "How many people do I have to shake hands with? Is there a prescription?"
Perhaps he should ask Mark Hughes. They probably get on quite well, don't they?