Dillian Whyte has also got very personal about Wilder's wife on Instagram
11:14, 20 Feb 2020
The tide has turned. The niceties between Deontay Wilder and Tyson Fury are well and truly over. Just two sleeps away from the biggest fight of their careers, the pair faced off in their latest news conference and did not hold back on the verbal warfare.
"I brought you back, put food on your table," Wilder said as he looked to rile up the Gypsy King.
"And I'm doing it for a second time," he continued. "Don't you forget that. I found you when you were strung out on coke, as big as a house and contemplating killing yourself."
That was the sentence that drew audible gasps from the gathered audience. In 2020, where all the talk is about promoting mental health and being kind to each other, boxing seems to still be a place where anything goes. Trash talk has always been an important part of boxing but even still, it appeared Wilder had crossed the line. He finished with a final jibe at Fury, "I brought you to big-time boxing. I rehabilitated him back."
Although the pair have engaged in some dramatics on stage before, it all felt a little forced. This time around there certainly seemed an underlying bitterness between the pair which came to a head at the end of the press conference as they shoved each other on stage.
That physical tussle came after Fury had the chance to reply to Wilder's torrent of abuse. The Brit appeared unfazed.
"He is spouting rubbish saying he gave me an opportunity," Fury hit back.
"I gave him the biggest payday of his life, brought him to Las Vegas and this is how he thanks me. He has a lot of appreciation for someone who put millions in his account.
"I will put you into permanent retirement, don't you worry about that.
"This is a big act for him. He is nervous underneath, I can see his heart beating through his jumper, he is terrified and he is getting knocked out."
The pair will meet again in the ring on Saturday night and this bout gives Wilder the chance to truly become a world star, something that has eluded him despite all of his knockouts and punching power. But it isn't just this duo who will be meeting in Las Vegas who have waded in on the war of words.
British boxer Dillian Whyte has been involved in a feud with Wilder with the American claiming Whyte enjoyed calling out big fighters, but not actually fighting them - before stating he had slept with his 'old b*tch'.
😳 Dillian Whyte brutally blasts back at Deontay Wilder on Instagram with their feud now getting very personal…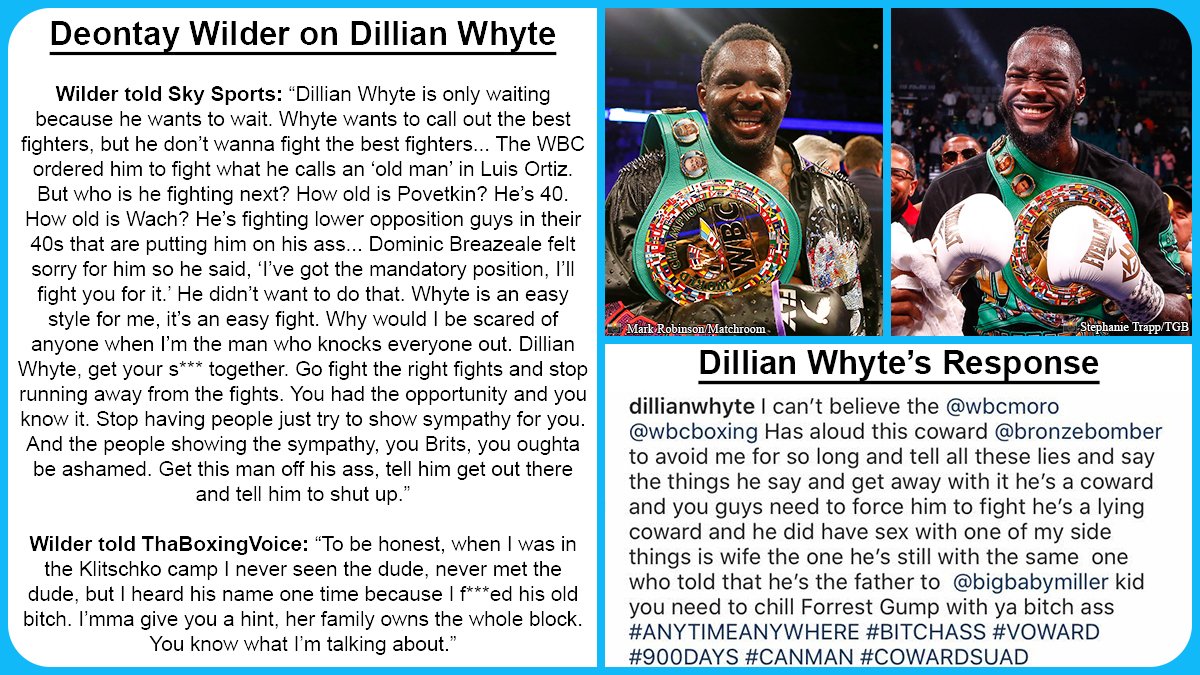 Unsurprisingly, Whyte did not take this lying down, firing back on Instagram wildly claiming the WBC champion was avoiding him before claiming he had slept with his wife, while Jarrel Miller was the father of one of Wilder's children. Boxing, hey?
Both Fury and Wilder are experienced enough not to be affected by any words said ahead of Saturday night. The scores will be settled inside the ring and any slight advantage the pair are trying to gain mentally will pale into insignificance when the gloves are on. Bring on the rematch.