Thomas Tuchel's side have issues heading into their fixture against Liverpool
14:00, 31 Dec 2021
At the time of writing, two Premier League games have been called off so far this weekend, with a depleted Norwich having their match at Leicester postponed due to a Covid crisis - while Southampton's game against Newcastle is off. Given the slimmed down schedule we have witnessed over the past few weeks, it at least for now looks as if the New Year is going to get off to a flying start with some cracking matches. Let's make sure your FPL teams do too, with these three tips to get you green arrows.
Steer clear of Chelsea
With Reece James confirmed to have torn his hamstring, Ben Chilwell out for the season and Romelu Lukaku complaining about manager Thomas Tuchel, Chelsea look to be in a sticky situation heading into this weekend's match against Liverpool.
FPL managers should move quickly to get rid of James, who was sent off in the reverse fixture, with the likes of Virgil Van Dijk or Ruben Dias sensible replacements, but Chelsea's defence is likely to struggle as they get to grips with new personnel, or even a change in system. With an FA Cup tie and a League Cup semi-final to come this month, it would be wise to see how they take to this new challenge, before pinning your hopes on the Blues.
Wait for the double gameweek
This week, more than ever before, you need to be sharp when making transfers. With so many postponements over the past month we are likely to get PL fixtures either side of the FA Cup weekend, so it is likely gameweeks 21 and 22 will contain double fixtures for some teams.
Here are my updated predictions for the DGW fixtures in GWs 21+22
Hopefully the next time I post this spreadsheet will be after the DGW fixtures are announced
If possible, hold your transfers until 10 mins before the GW21 deadline which is at 11am (UK time) on New Year's Day 😬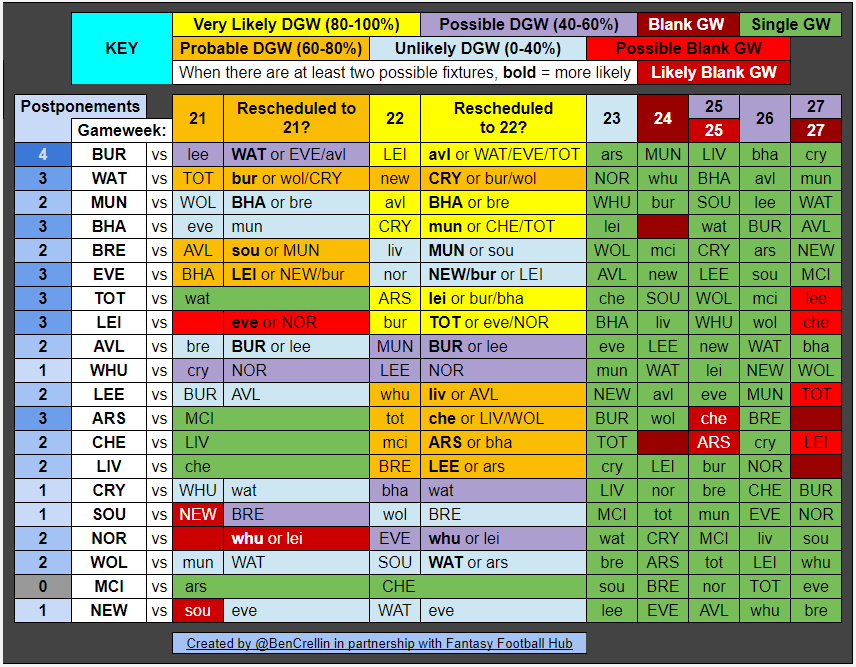 Burnley and Watford have the most games to make up, and these rescheduled matches are likely to be announced on New Year's Day. Forget those hangovers and make sure you are up before the 11am deadline to double check the fixtures, potentially change your captain and get those players in for the next two weeks.
Emmanuel Dennis can stay!
Everyone's favourite striker will not be going to the AFCON, according to reports. Dennis reportedly did not get the assurances he wanted from his national team that he would be starting and after discussions with each party, including Watford, it now looks as if he will not travel.
As the top scoring striker so far in the game with 91 points, this comes as a welcome relief to the 38% of managers who own the Nigerian, and with Tottenham, Newcastle and Norwich to come over the next three fixtures - we can expect that the points will continue to roll in.