From Dental Technician To Superstar: The Rise And Rise Of Josh Warrington
09:01, 15 Jun 2019
World champion Josh Warrington has come a long from school drop-out to dental technician to featherweight superstar. Now his journey takes its latest turn this Saturday.
Hard work comes naturally to Josh Warrington. Raised by a single father, he left school at 16 and worked in a dental lab.
But the boxer is nothing if not determined and he went to university, combining his studies with training, and received his qualifications. His time in the ring has been equally a hard slog.
It all started in 2009 when he made his professional debut against Delroy Spence. For nine years, the Leeds local slogged away, beating opponent after opponent, collecting belts with the goal of an eventual world title in mind. Often underestimated because of his workmanlike and busy style, not flashy but effective, Warrington went about his business quietly.
Twenty five times he had fought and 25 times he had won until he met Dennis Ceylan. When he dispatched the Dane in the tenth round on October 21, 2017, that earned him a shot at the IBF world title.
Few gave him much chance against Welshman Lee Selby. A world champion from Barry, Selby had held the IBF strap for three years and was highly rated. Skilful, fast, entertaining, daring and with just one loss in his career, Selby was promoted by Eddie Hearn and Matchroom Sport and seen as a rising star in the boxing world.
It mattered little to Warrington. The Yorkshireman frustrated and pummelled Selby, smothering him from start to finish in a brutal battle last year. His courage and bravery were on show as he had fully arrived. A split decision handed him the IBF belt and finally, in front of his fanatical fans, Warrington was world champion.
This granted him a clash with Carl Frampton. A world champion in two weight classes, the Belfast brawler has done it all in boxing. Frampton had fought and won around the world, from Texas to Manchester to New York and London, and beaten the likes of Leo Santa Cruz, Nonito Donaire, Scott Quigg and Kiko Martinez.
Thanks to all those who turned out at the presser today. The talkings done now.
Weigh in Friday and then it's go time...🥊💥
#andstill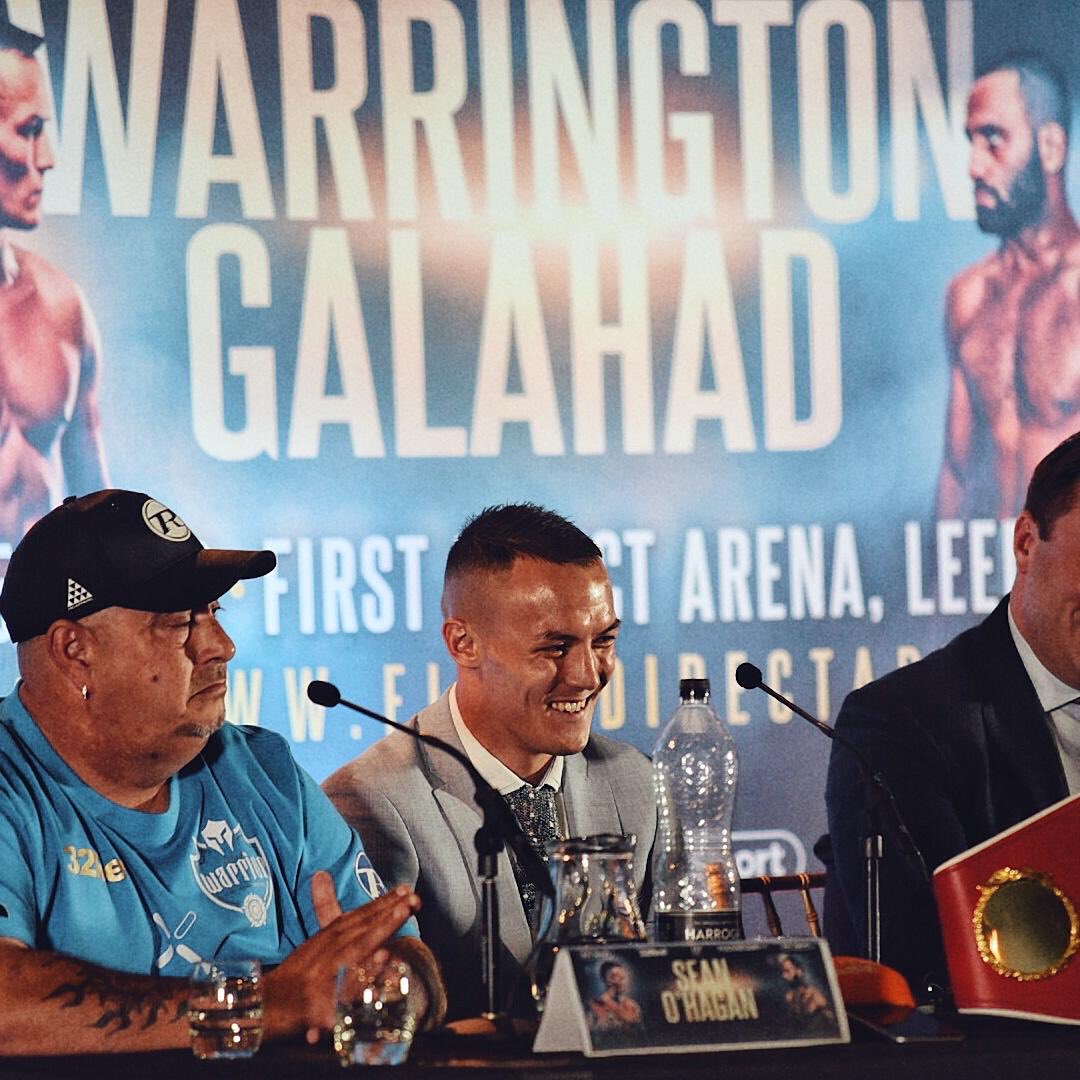 If Warrington was the underdog against Selby, he had even less of a chance against Frampton. But again the 28-year-old rose to the occasion, defied the critics and retained his world champion status. After another blistering start, his all-action style and relentless pressure were too much for the Irishman to handle. Six months on, Frampton has not fought again since.
For Warrington, who defends his world crown against Kid Galahad (real name Barry Awad) this weekend, his confidence remains sky high. But on Saturday the tables have turned – Warrington is the favourite and champion, with Galahad the underdog. How he handles that reversed status will be intriguing.
The featherweight is adamant his hunger and desire remains as strong as ever.
"The hunger has not died one little bit," Warrington told reporters. "Because my lifestyle has changed over the last year or so does not mean I am about to roll over and let me title go away. It is my title by merit, I won it fair and square and no-one is coming to Leeds and taking it off me.
"I've set myself little goals about unifying the division and I am not looking at Barry as someone who is getting under my skin anymore. I am just looking at him as an opponent, I've got to get through him then we go Stateside for big world title fights.
"Barry can keep talking about it being his destiny and it sounds like he is saying the same things as me in my press conference against Lee Selby. It is not Barry's time. The title will be staying here."
Back on home turf, at Leeds' First Direct Arena, Warrington has the chance to go global and earn the right to be on the biggest and brightest of boxing stages in the United States – Madison Square Garden, the MGM Grand, the T-Mobile Arena.
He has the opportunity to announce himself as one of Britain's biggest and best athletes. All indications are that Josh Warrington will take that chance.