The Polish star has won the first two WTA 1000 events of the season, including Indian Wells at the weekend
15:35, 22 Mar 2022
Whatever Iga Swiatek's still relatively new coach Tomasz Wiktorowski said to her after scraping past three-time Grand Slam winner and former world No1 Angie Kerber in the last 16 at Indian Wells in March, the words were clearly absorbed and executed to perfection during a march to the title.
The 20-year-old from Poland, having battled to come from a set down in each of the first three rounds, did not drop another one on her way to back-to-back titles and a second successive WTA 1000 success, subsequently seeing off Madison Keys, Simona Halep and then Maria Sakkari in tricky, windy conditions in the final.
Yet watching Swiatek struggle against her far more experienced and wily German opponent that day earlier in the event told you almost everything you needed to know about the Pole's almost unlimited potential, a simply awesome power game…but also the only things that might prevent her from achieving truly phenomenal feats in the game.
At times the 34-year-old Kerber, who has won Slams at Wimbledon, the US Open and the Australian, was being run ragged. But some heroic defence, the old adage of making your opponent play just one more shot, was keeping her in it. Because on so many occasions that 'one more shot' was uncompromisingly blasted wide or long by Swiatek.
Although Swiatek, already with a French Open Slam title to her name in 2020, eventually came through 4-6, 6-2, 6-3 the unforced error count of 48 told its own story – that the win should have been far more comfortable than it was, and that against the very top players currently such a high tally of mistakes would be more costly.
But the three matches that followed saw Swiatek combine all the winners with a far more stingy attitude to giving up cheap points, and that was simply all too much for those in her path.
Swiatek has scorched out of the blocks this season. The win over Sakkari in the final in the California desert was a fifth title in total, a second this season, and took a winning streak in matches to 11-0 ahead of the Miami Open which is next on the calendar – a run that lifted her to a career-high No 2 in the world rankings.
🏆 It has been more than a day since I won the
@BNPPARIBASOPEN
and it is still challenging to describe how important this one is to me and the way I achieved it...
More ➡️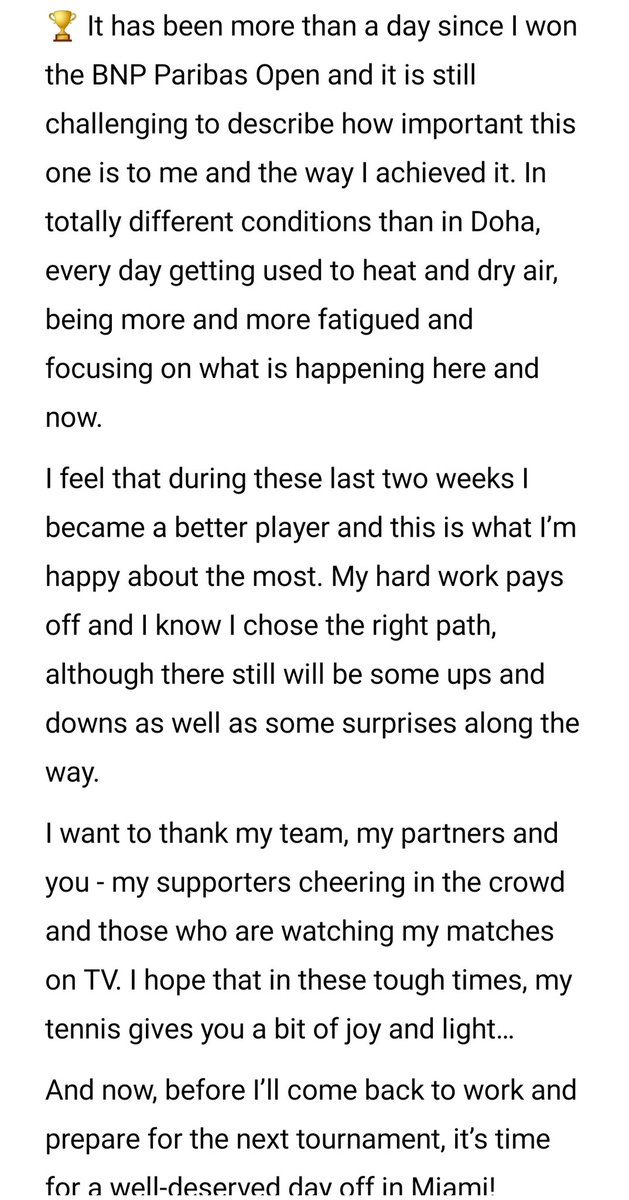 And come the end of 2022, if the mantelpiece at home is as full of silverware as currently appears might be the case, then the decision in the off-season to switch coaches away from Piotr Sierzputowski, who was with her for that Roland-Garros triumph, to Wiktorowski - who worked successfully with compatriot Agnieszka Radwanska – will look both courageous and judicious.
And Wiktorowski's main jobs look to be to harness Swiatek's incredible power off either wing, but particularly the forehand; to further develop the second serve, with the first serve already a real weapon; improve elements of the mental side including concentration; and impart a wider awareness of all aspects of the tactics best employed against individual opponents.
If as expected these facets of Swiatek's game, which is already devastating at its best, continue to be enhanced she will be a frightening prospect at all the big tournaments this year and beyond, and world No1 Ash Barty and the rest of the top 10 will have their hands full. Because the stark reality is that Swiatek can only get better.
Shortly after making the coaching change, Swiatek said: "I felt it was a good time for a next step and a change to maybe, like, reset a little bit. I'm pretty happy that Tomasz was free because I also felt like I wanted to work with someone who was from Poland.
"We are using tournaments to get to know each other a bit. We're talking a lot about tennis, even off-court stuff. I feel like I just need some time to build that relationship. I can see the experience he has, and that he's been through a lot on tour because he's been there for many years. That gives me more comfort and stability."
The victory at the BNP Paribas Open came after claiming the title in Qatar with a dismantling of Anna Kontaveit in the final for the loss of only two games. And Swiatek acknowledged her growing ability to find ways to win even if the winners are not all flying in from the start.
She said: "I think just getting older and more experienced helps because a few years ago I didn't even get the idea of being happy about winning ugly. Now I want to use the experience of other players. I watched a lot of tennis in the past two years and I've seen many times where Rafa Nadal, for example, wasn't playing his best tennis but still he was finding solutions.
"That's a lesson for all of us that we must keep pushing, keep fighting and keep wanting to get the solutions and getting better. That inspires me."
Already with the knowledge she can thrive on the clay in Paris and having got to the semi-finals in Melbourne this year, Swiatek will now be looking to do herself justice at Wimbledon and the US Open. In neither has she progressed beyond the last 16 to date – but expect that to change this summer.