Jacob 'Stitch' Duran has worked with the Klitschko brothers and has even appeared in three Rocky films
13:00, 23 Jan 2020
Tyson Fury has recruited legendary cut-man Jacob 'Stitch' Duran ahead of his rematch with Deontay Wilder.
The British heavyweight will use the American's expertise as he looks to prevent another mid-fight crisis after suffering a bad cut above his eye right last time around.
He overcame the gash to get the better of Sweden's Otto Wallin on points last September but the injury initially cast doubt over his bout with Wilder.
The pair will fight in Las Vegas on February 22 and 'Stitch' Duran will be on hand in Fury's corner as the 31-year-old challenges Wilder's WBC heavyweight title.
Duran's appointment will be welcomed in the boxing community after concerns were raised over the injury against Wallin.
Eddie Hearn told Sky Sports after Fury's victory: "He's very lucky not to lose the fight with that cut.
"I think any other country in the world, they would have stopped the fight."
➕ Tyson Fury has brought cutman Jacob 'Stitch' Duran into his corner ahead of the Deontay Wilder rematch…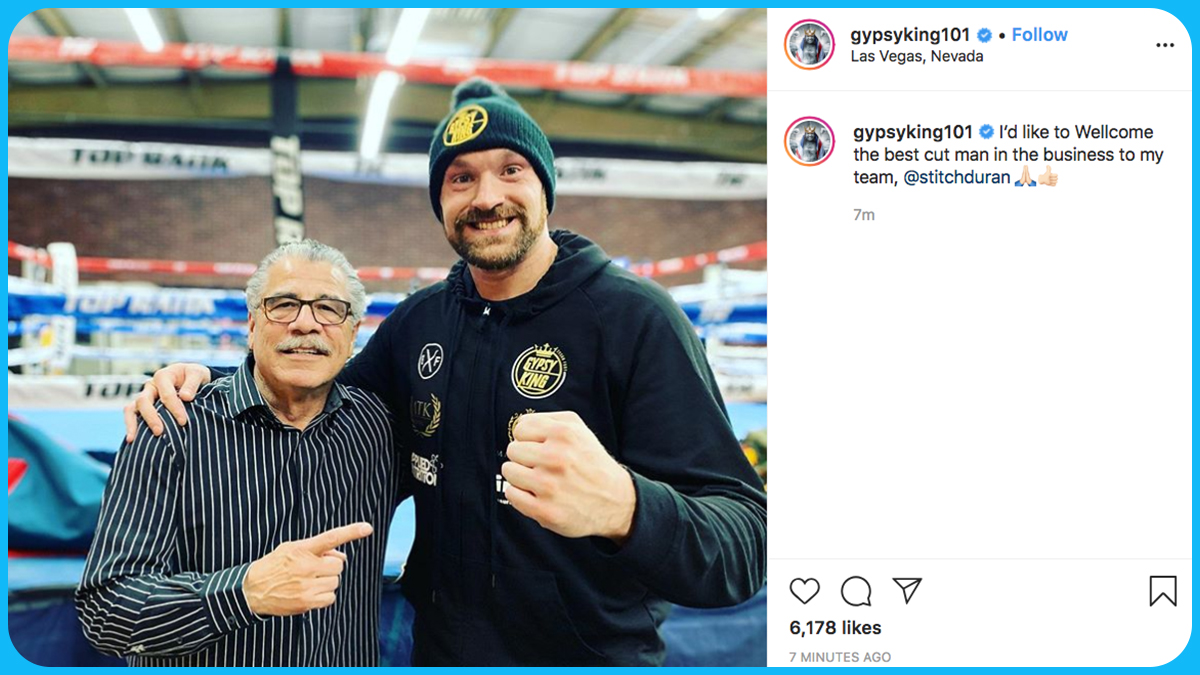 Speaking to Sky Sports, Duran has described the link-up with Fury as an "honour."
"A doctor stops a fight when a fighter is at a disadvantage. My job, first and foremost, is to eliminate any disadvantage," he explained about his role. "My job is to give them one more round.
"I focus on the cut and look into a fighter's eyes - if I notice he is not capable, then I make recommendations [to stop] to the coach. You have to make split-second decisions.
"My job is not to give instructions but usually, when I say something, guys know there's a lot of truth to it."
Regarded as one of the greatest cutsman of all-time, he previously worked alongside KSI as he took on Logan Paul in their rematch last year.
Speaking exclusively to The Sportsman in Los Angeles, the Californian great backed his man for victory in the rematch and his man proved him right, winning on a split decision.
Previously, he's made his name working with some boxing greats, including Andre Ward and the Klitschko brothers. He has even appeared in three Rocky Balboa films.
Duran has also featured in MMA, looking after names such as Cain Velazquez and Forrest Griffin.