The calendar grand slam is still on for the Spaniard
21:11, 06 Jul 2022
Somehow, fitness permitting, it is still on for true tennis warrior Rafa Nadal – the Holy Grail of a calendar grand slam, after he hauled his battered body past the powerful challenge of young American Taylor Fritz and into the semi-finals at Wimbledon on Wednesday evening in a five-set epic on Centre Court.
The 36-year-old Spaniard was suffering with his usual and long-term chronic foot pain and also with a stomach injury, and his dad and team were even gesturing to him to retire at the end of the second set – but yet managed to outlast his big-serving rival who is 12 years his junior and playing on the biggest stage of his own career.
Nadal twice came from a set down but ultimately edged through 3-6, 7-5, 3-6, 7-5, 7-6 – and will now need every minute of rest and treatment to get his aching limbs and muscles ready for what is a mouth-watering semi-final against bitter rival Nick Kyrgios.
READ MORE:
The Australian has a few tennis feuds going on at any one time, and the one with Nadal goes deeper than many. Everyone will hope Nadal, who could not even guarantee he would be fit to take part in that clash, will make a good recovery before Friday.
There have been bust-ups on court, shots deliberately ,launched at the other, insults thrown off it and Kyrgios has on at least one occasion has started taking off and mimicking during play some of Nadal's idiosyncrasies and habits as the Spaniard prepares to serve.
So to extend his own record of 22 grand slam singles titles and keep alive the hope of emulating the only men to do the 'calendar slam' - Don Budge in 1938, and 'Rocket' Rod Laver [twice] in 1962 and 1969 - with the Australian and French already tucked away, and the US Open still to come, Nadal will need his best tennis and his highest levels of discipline.
He leads the head to head against Kyrgios 6-3, but knows that the maverick from Down Under is neither afraid of him, or inclined to hold back from any tactics, behaviour or mind games that might help him win the biggest match of his life.
But all that is for Friday, and he had to come through an almighty battle against No11 seed Fritz to get there. Nadal left it all out there on Centre, and will just be concerned at how much there is left in the tank physically. Because if he does beat Kyrgios and then faces Novak Djokovic in the final, Nadal is going to need to draw on every remaining bit of fuel and guts to be left lifting the famous gold trophy for third time.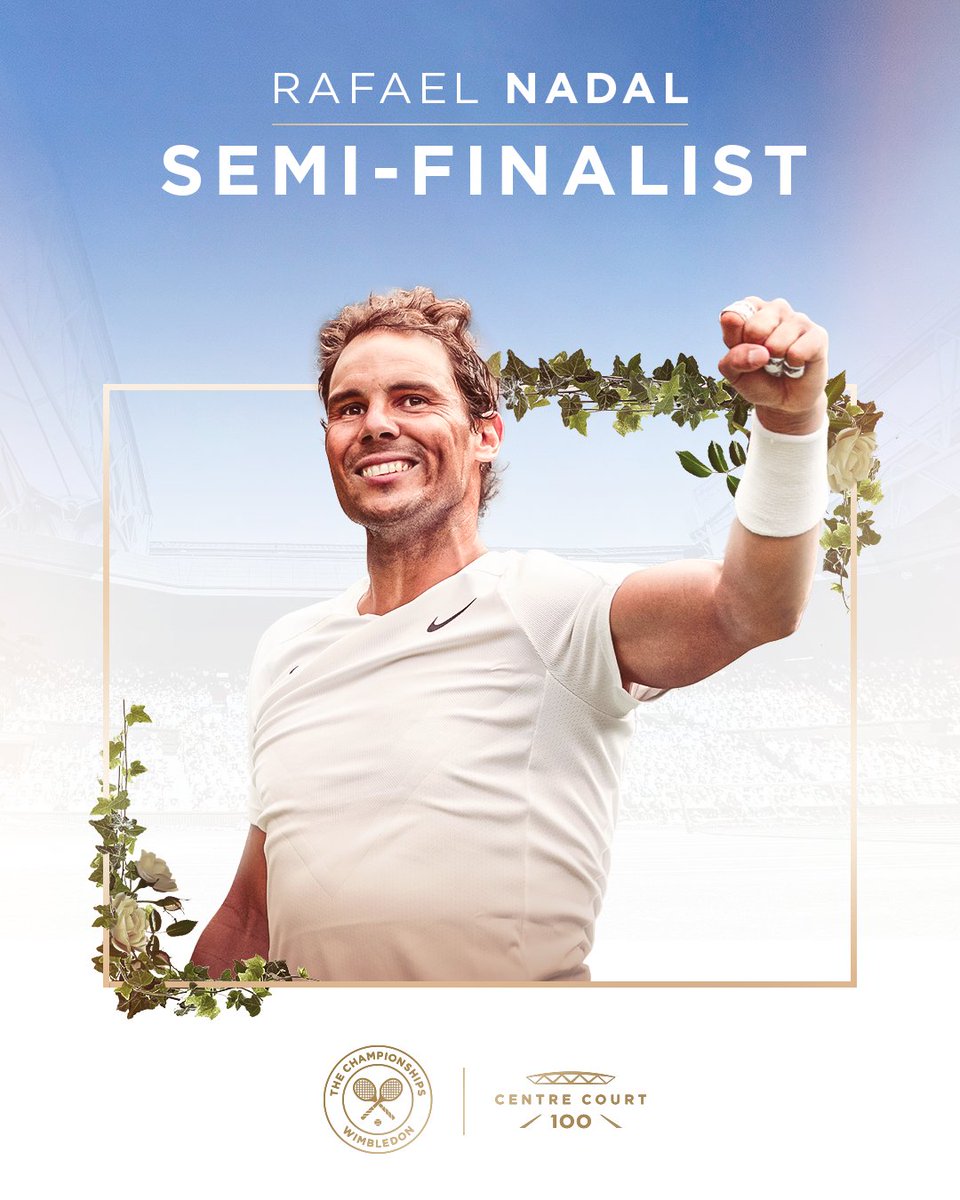 He had a medical timeout at the end of the second set, and appeared to struggle with his movement for much of the contest. It looked like sheer will to win and bloody-mindedness were the keys to a famous victory that for long periods looked strong odds-against, as Fritz played a blinder in the biggest match of his career. He let no one down – but there are good reasons that Nadal is a legend of this sport, and many of them including endless reserves of courage and determination were on show even with the Mallorca man not at his best, and with his powers on the wane.
After setting up the tiebreak in the decider at 6-6, you just expected his experience to kick in and so it proved – racing into a 9-3 lead to leave him with six match points. Fritz, who arrived on the big stage in this contest, saved the first one but the damage had been done.
Nadal admitted on court afterwards that "something in the abdominal is not right" and revealed that he even considered quitting during the match.
Later, he said: "I can't say things now and make decisions now. I am trying to be honest and I have no decision about the semi-final. There are some things that are more important than even winning Wimbledon, so we'll have to see.
"I have retired from matches in my career, but it is something that I hate to do. I don't know if I can properly recover for the next match. I will have some more tests, but I am used to having problems and pain. With the abdominal today, I felt something wasn't right. There was something the last couple of days, but today was the worst. The doctor gave me some anti-inflammatories, and the physio just helped me to relax.
"I fought, and I am proud of the fighting spirit I showed. My level of tennis is good, and I am feeling the ball great. I am worried now, but that is part of the business. An abdominal is not just something that happens on grass, it can happen on any surface."
*18+, terms and conditions apply, odds subject to change.