Boxing /
Social Media Erupts At News Of Amir Khan's Next Opponent (And It Isn't Kell Brook)
Reports Suggest Amir Khan Will Fight In New York On 20 April
Reports are suggesting that Amir Khan's next bout has almost been finalised and it is fair to say that the boxing public are torn on his decision...
According to Boxing Scene, Khan is set to take on the brilliant Terence Crawford and will challenge for the American's WBO Welterweight title, with the fight set to take place at Madison Square Garden, New York, on 20th April.
Khan, 32, boasts a career record of 33-4 and has informed Eddie Hearn of his decision, which might not go down well with everyone.
It is no surprise to see that Khan has already been priced up as a 7/1 underdog with bookmakers ahead of a bout with Crawford, whose own career record stands at 34-0 (including 25 knockouts).
Before the news of the Crawford fight broke, there had been plenty of rumours suggesting that Khan would take on Kell Brook in an all-British encounter. It would have potentially been a money-spinning clash for the two men, which could have earned Khan an eight-figure sum.
The Bolton-born boxer has instead chosen to take on arguably one of the best boxers in the sport, a move which has earned plenty of praise from some Twitter users...
Amir Khan seeking out the best available fights yet again. Electing to face arguably the best P4P fighter in the world rather than a washed-up Kell Brook. A credit to the sport
Amir Khan has taken the more difficult fight for less money. Kell Brook's last big win was against Shawn Porter in 2014, so he must share some blame. Khan seems intent on proving he's world class. Can't knock a fighter for fighting the best.
#khancrawford
However, the move has also drawn criticism from others on social media as the hype about a possible clash with Kell Brook had reached fever pitch levels. There was the possibility that Khan could have taken on Brook before lining up a clash with Crawford, although he has obviously seen things a little differently...
Fact is; I don't want to see Khan get sparked quickly by Crawford. I want him and Brook to fight. Much closer fight and they hate each other. I genuinely feel Amir doesn't want to risk losing to Kell. That's what ducking is... [@seanhunt310]
We all wanted to see Khan/Brook but I gotta agree with this.. Plus Khan/Crawford is one hell of a fight! [@KieCassin93]
Hope Khan knows what he's doing. I don't think his last two were good enough to go on to Crawford, I think he gets stopped. Maybe he thinks the Brook fight is there after if he does lose then call it a day at end of year? [@Larry_LightsOut]
Avoiding Kell Brook and getting in the ring with the future
#hof
NEW YORKER - Terence Crawford will put Khan's health at serious risk, someone who is technically the best Amir Khan will ever step in the ring with, A formidable relentless fighter who will hunt Khan down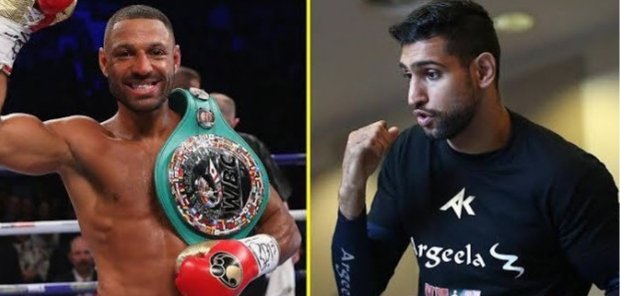 Few give Khan any chance against Crawford on 20th April, with one Twitter using Dereck Chisora's recent diarrhea pill analogy (he said he'd go through Dillian Whyte like such a pill before their pre-Christmas bout)....
@AsylumTommy
Amir Khan went life and death with Samuel Vargas. Crawford goes through Khan like Chisora's diarrhea pill.