The Doncaster De La Hoya: Dave Allen's Best Moments Ahead Of Showdown With Lucas Browne At The 02
09:05, 20 Apr 2019
Dave Allen is fast becoming one of British boxing's most popular figures and ahead of his heavyweight showdown with Australia's Lucas Browne this weekend, we've taken a look at some of The Doncaster De La Hoya's best moments…
Hung Like A White Rhino
Dave Allen became an internet sensation when he confronted his opponent David Howe at pre-fight weigh-in with a sock stuffed down his pants.
The 27-year-old's stunt left him inundated with messages from admirers on social media and even Howe had a check grab at Allen's surprise package.
On the prank, Allen said: "I seem to be pretty popular right now which is a difficult thing to get my head around really. I'm just a fat kid from Conisbrough. I don't see anything amazing in me."
Teamed Up With Mick Foley
'The White Rhino' had the chance to share some screen time with WWE legend Mick Foley as he began preparations for his 02 headliner against Browne.
Dude Love, Cactus Jack and Mankind were all on show as Allen met one of his childhood heroes in Foley - leaving a remarkable set of photos.
Maybe there's a career in professional wrestling when the big man hangs up his gloves.
🎥
@davidthewhiter1
meets the three faces of
@RealMickFoley
feature coming soon! 👀🤣
The White Rhino will be in attendance
@SUFC_tweets
's Platinum Suite tonight for 'An Evening with Mick Foley'
Tickets on sale via
👊🧦🕺🌵🦏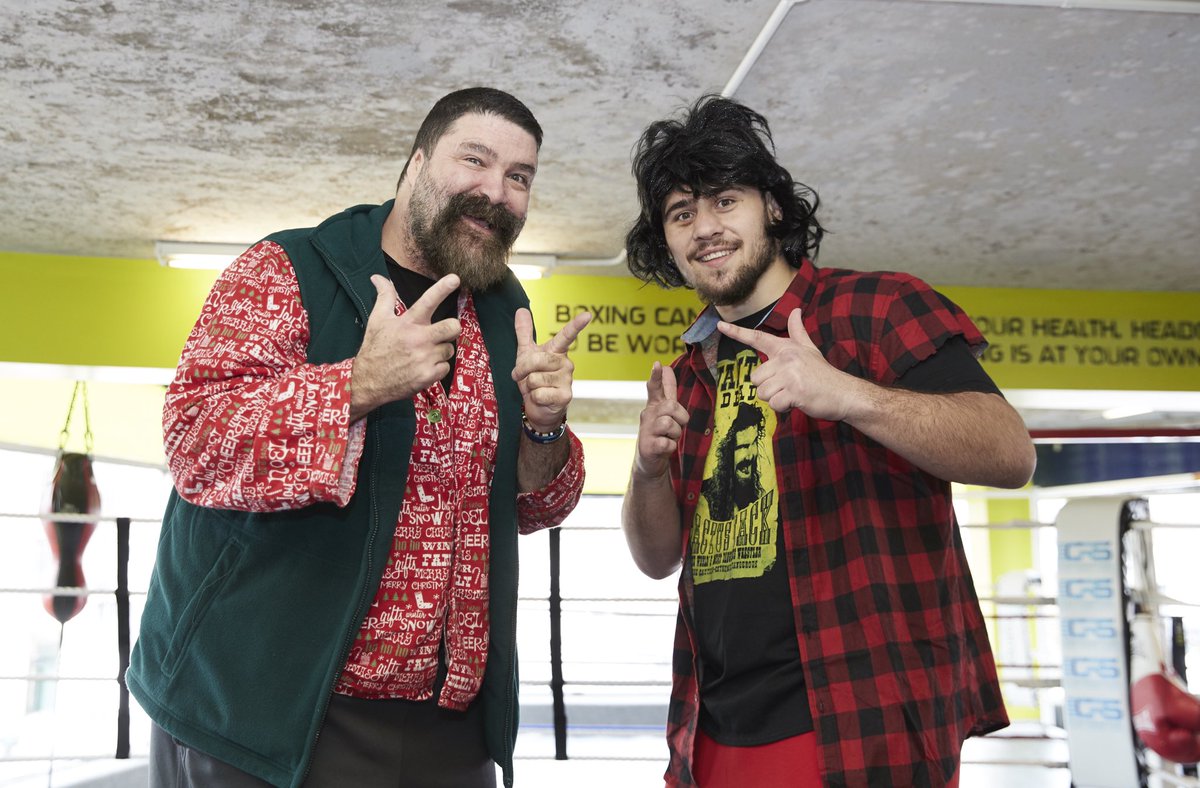 Babestation Cameo
"I'm going to Babestation and I'm f**king buzzing."
Dave fulfilled a childhood dream last year when he was invited to the Babestation studios to meet up with some of the channel's biggest stars.
He went on to thank his parents for his love of the channel due to their going to bed early and paying for the Sky subscription.
He obviously left a good impression whilst there, with the girls sending him a good luck video ahead of his fight with Nick Webb on the Dillian Whyte v Joseph Parker undercard.
His Actual Boxing
Jokes aside, Dave Allen can box. A lot has been made of his humorous attitude to boxing but he'd be the first person to tell you he's not a comedy act - he's a fighter and he does it well.
Always willing to mix it with the best out there and at short notice too, he hasn't always come in at his physical best but there's a renewed vigour around him ahead of the weekend's fight.
We're pretty confident Allen will come out victorious against Browne this weekend, but whatever the result we love 'The White Rhino' and we'll be fans for years to come.