Promoter Bob Arum is eager to pit the UFC superstar against the American in both a boxing and MMA fight
11:50, 22 Jan 2020
Conor McGregor could be set for two scraps with WBO welterweight champion Terence 'Bud' Crawford.
Top Rank promoter Bob Arum is eager to pit the UFC superstar against the American in both a boxing fight and an MMA duel.
The 88-year-old is keen to turn Crawford into a huge star both Stateside and in Europe, and a match-up with McGregor would be huge.
While a quality fighter, he is one of the more quiet boxers on the circuit so does not generate as much spotlight as rivals like Deontay Wilder and, turning 33 this year, time is running out for him to take on a stellar name.
In his favour though, is wrestling experience meaning he would be able to go toe-to-toe and glove-to-glove with McGregor in the cage and in the ring.
Arum is well aware the Irishman is looking for his next big bout in 2020 and is keen to throw Crawford's name into the mix.
"You see Conor McGregor talking about Mayweather and talking about Pacquiao," Arum told Talkboxing Podcast.
"I'd love to have Crawford fight Conor McGregor, once MMA rules, and once boxing rules.
"I think Crawford has a wrestling background, and he wouldn't be averse to fighting McGregor with MMA and UFC rules," he revealed.
One fight in boxing 🥊
One fight in MMA 🥋
Bob Arum wants to make a couple of huge fights between Terence Crawford and Conor McGregor 🤯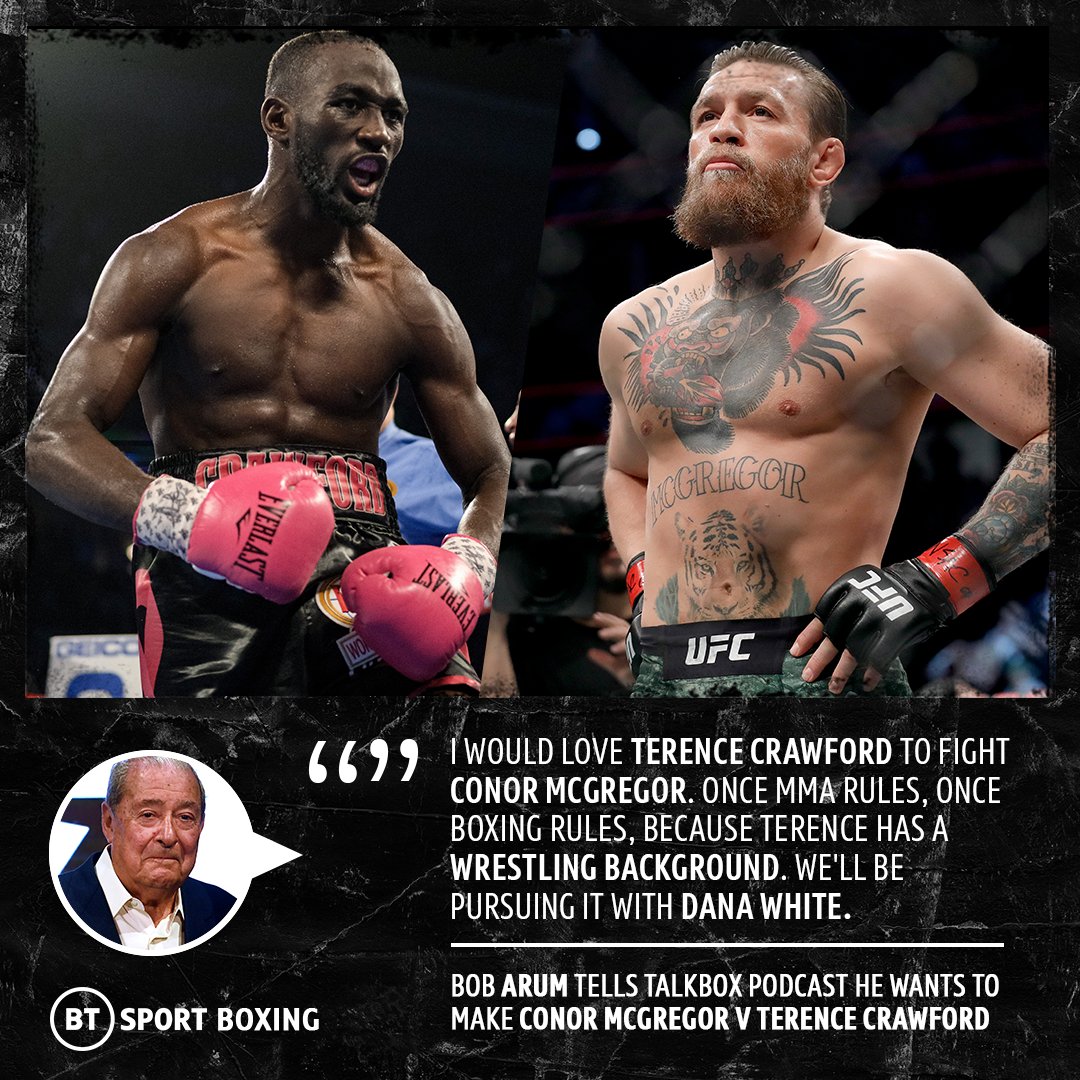 "So that's something that has occurred to use in the last couple of days, and we'll be pursuing it with Dana White."
McGregor would almost certainly plump for a rematch with Floyd Mayweather or a fight against Manny Pacquiao, both huge money-spinners though Crawford would certainly be an immense challenge.
Not only has he won world titles across three different weights but he is also among the best fighters, ranked number three on the Boxing Writers Association of America's pound-for-pound list.
McGregor, meanwhile, made more serious money at UFC 246 as he defeated Donald Cerrone on Saturday.
While the victor was guaranteed a £3.6m prize, the 31-year-old predicted huge financial gains ahead of the clash.
"It's going to be a good paycheque, probably the most ever in my mixed martial arts career," he told ESPN in the pre-fight build-up.
"I'm estimating a good £60m. We have Australia, Canada and England and Ireland... it should be a good one. [I made] £38.5m [against Khabib Nurgamedov in 2018]. They think I'm toast but I'm still the bread."
He certainly is and Bob Arum knows it.