West Ham United face AZ Alkmaar in their Europa Conference League semi-final
14:00, 11 May 2023
West Ham United's Europa Conference League semi-final against AZ Alkmaar comes at the perfect time. The Hammers have all but secured their Premier League status for another season after a run of impressive results, and can now put their full focus into reaching a major European final.
They came close last year. Their Europa League semi-final defeat to eventual winners Eintracht Frankfurt was painful, but it was also played alongside an incredibly successful league campaign, in which they finished 7th. That league finish got them qualification for this season's Conference League, and although it was derided by many at the start of the season, it has been a constantly glowing glimmer of hope for West Ham fans.
Most of the season has been a tough watch. The side that flirted with the Champions League places one year ago were relegation candidates and many were calling for David Moyes to be sacked after some tepid performances. But over the last couple of months, when all the other relegation-threatened sides have pushed the panic button, the gaffer has calmly guided the Hammers away from danger.
READ MORE:
Wins over Southampton and Bournemouth and a point against Arsenal helped keep their heads above water before that crucial win over Manchester United all but mathematically got them over the line. They will be in the Premier League again next season and will hope for a return to the top half but before that comes something far more important.
They got a taste of it last season, but reaching and potentially winning a major European trophy would make this one of the best in West Ham's recent history. They've played in the Europa League three times over the last decade, with their semi-final run last season their best performance, but major finals don't come around all that often.
The London club won the Championship play-offs in 2005 and 2012, but that isn't classed as a major trophy while their Intertoto Cup in 2000 remains their only silverware since the FA Cup win in 1980. They came close in the 2006 FA Cup final, only for Steven Gerrard break their hearts with a wonderstrike.
David Moyes isn't far off making the first European final of his career! 🙌
And you can expect to see some dance moves if West Ham do make it... 😂
#UECL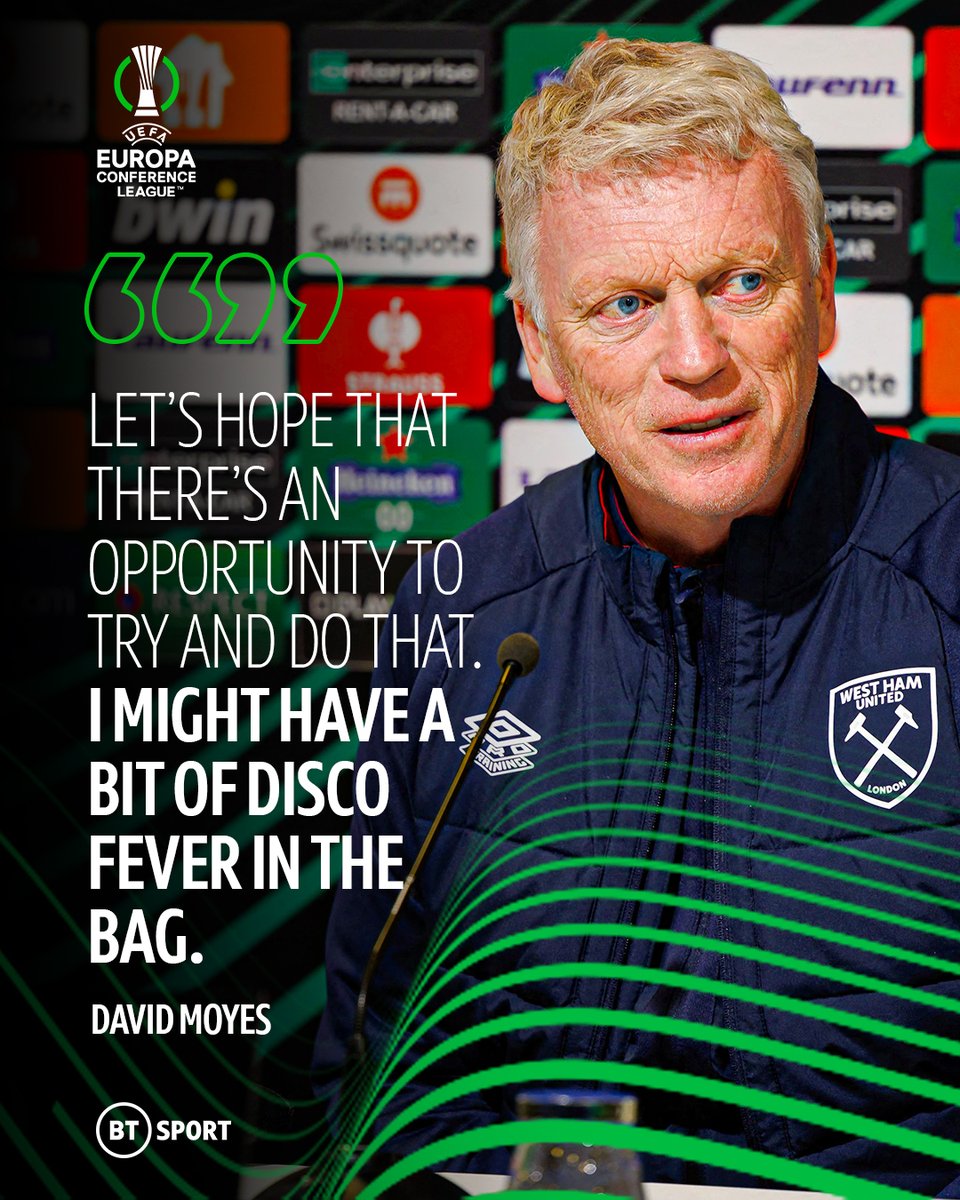 Across a 43 year period, there's been an awful lot of misery, only broken up by the odd European adventure. This is why the Conference League is so good. It isn't for teams like Manchester United. It's for teams like West Ham. They aren't part of Europe's elite but they deserve to have memorable European adventures.
Supporting a football club isn't really about where you finish in the league. The difference between finishing 10th and 16th in the Premier League really isn't that big and, aside from enjoying a couple of extra wins per season and the club benefiting financially, that isn't what creates lifelong memories. Those memories, those intangible, unforgettable moments that make all the pain worthwhile, tend to come in cup competitions.
West Ham have a chance to win major silverware this season, and there is no doubt that this competition has taken on increased significance as the campaign has progressed. We saw last season how Jose Mourinho used the Conference League as a springboard for future Roma success, and having lifted the inaugural competition last term, they have flown into the semi-finals of the Europa League this time around.
These are the moments that West Ham fans must treasure. They are three games away from making their own slice of history and winning their first major trophy of the century. Cherish these moments, Hammers. Your imperfect season could have the perfect ending.