Interest in the fight has waned since the two heavyweights fought to a draw in December 2018
19:00, 13 Jan 2020
All eyes will be on Tyson Fury and Deontay Wilder tonight as they resume their rivalry as the first press tour for their long-awaited rematch kicks off. Given the fact that the target for both boxers is to bring in more pay-per-view buys than 325,000 they sold for the first fight via Showtime, we could see Fury and Wilder at their irritable best on the stage tonight.
It has been 13 months since their last meeting, and it is fair to say that the interest in this fight has waned slightly. We have seen Fury face Tom Schwarz and Otto Wallin in fights that have generated peanuts in comparison to the Wilder fight while the American has defeated Dominic Breazeale and Luis Ortiz for the second time. So now both fighters have work to do to stoke the fire and raise the profile of this rematch, starting tonight.
Rumours are swirling that Wilder may not even turn up for the event which has already given Fury the ammo to attack him on social media:
"Don't want any part of the Gypsy King, do you? You're going to get smashed. Tomorrow, I begin living in your head rent free, you little b—-. See you there"
Both fighters are unbeaten and Top Rank are aiming for two million buys across both American networks. This will be the first time the pair have gone head-to-head since Fury rose from the canvas in the twelfth round in December 2018 to secure a controversial draw in Las Vegas when many thought he had won on away soil.
This time the rivalry will resume with a war of words as they are introduced to the press and each other tonight in a trash-talk filled Q and A which should see sparks fly. The first press conference ahead of the second fight will take place today and is scheduled to start at 10 pm UK time.
It will take place in Los Angeles, with proceedings getting underway at 2 pm local time. However, it may be a little more subdued than first expected as no fans will be in attendance, with only media allowed into the event. Despite this, we are hopeful of seeing the two heavyweights at the top of the division build the anticipation ahead of their long-awaited rematch.
The first fight saw Tyson Fury, look to prove he could still compete with the best in the world after a three-year absence that saw him battle with depression and saw his weight spiral out of control. Having taken a year to get back into shape, he taught Wilder a boxing lesson over eleven rounds and was clearly winning the fight heading into round twelve.
That final round will go down in boxing history as one of the greatest ever, as the American finally landed one of his infamously powerful right hands and followed it up with a crushing left, that sent the Brit tumbling the canvas. He was flat out on the canvas but somehow, channelling the WWE icon 'The Undertaker', got back to his feet to fight on.
'Gypsy King'
@Tyson_Fury
is pumped ahead of tonight's press conference with
@BronzeBomber
.
Shots have been fired...
⏰ 10pm (UK time)
📍 Los Angeles, USA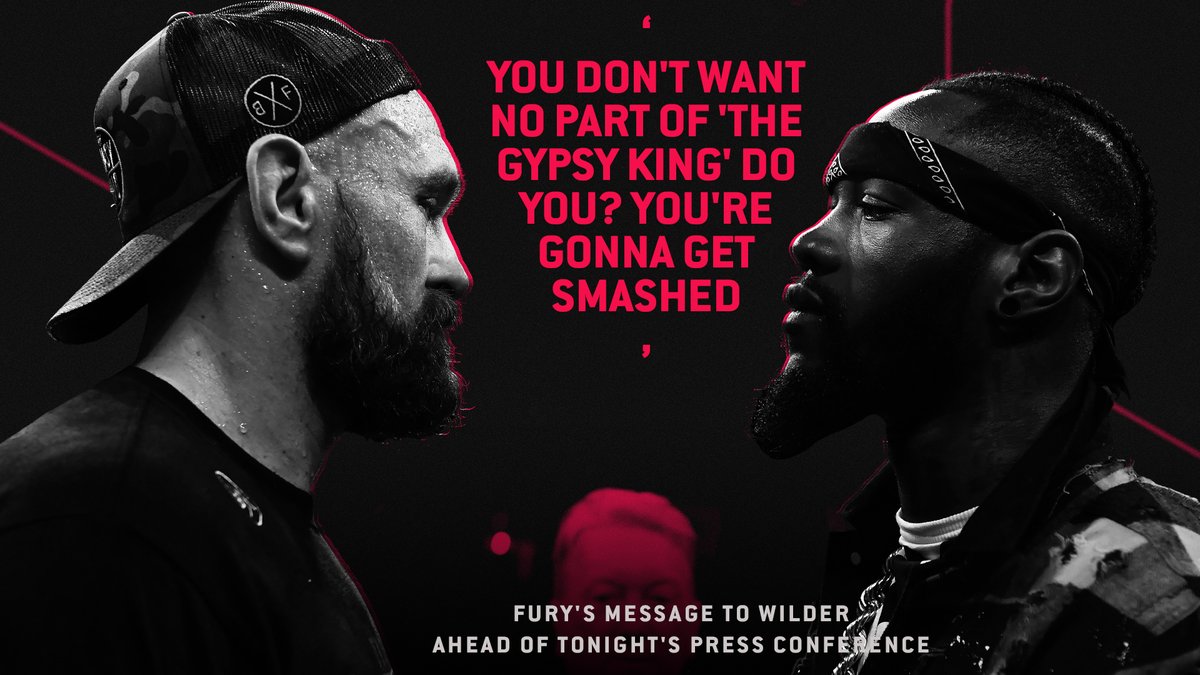 When Wilder looked to finish him he landed a well-timed combination of his own which instantly saw the pendulum swing as Fury found his feet once more. It was a thrilling finish to the fight which in the end, the judges scored as a draw.
Fury felt he was robbed on the night and will be desperate to right those wrongs this time around. We are now just six weeks away from the rematch and these two are likely to be sick of the sight of each other by the end of 2020 as a trilogy fight is already being considered, according to Frank Warren.
Wilder, now 34, has spoken about a potential fight in the UFC once his boxing career is finished. He told ThaBoxingVoice:
"I feel MMA, they allow you to get on top of your opponent and bash his face in with velocity and speed coming downwards.
"Four-ounce gloves, I already talk about getting people out of the ring, but that would definitely be the sport where I show it, man."
But his next focus will be on this match-up with Tyson Fury, one which he will be desperate to win. Surely we won't witness another draw...