The German beat Daniil Medvedev in Sunday's final after knocking out Djokovic 24 hours earlier
20:05, 21 Nov 2021
Alex Zverev stormed to a second ATP Finals title in grand manner, beating world No2 and defending champion Daniil Medvedev in straight sets in the final on Sunday after knocking out world No1 Novak Djokovic in a thriller in the semis less than 24 hours earlier.
The 6-4, 6-4 win meant a sixth title of the year for the 24-year-old German now based in Monaco, including a singles gold medal at the Tokyo Olympics and other successes in Acapulco, Madrid, at the Western and Southern open and in Vienna. There was also a nice cheque for around £1.4million.
But this victory was particularly sweet against Russia's Medvedev, who had beaten him in their previous five meetings over the past two years – one of those coming in the round-robin group phase of the Turin event just days earlier.
Zverev is at a career equal-best world ranking of No3, and will now be targeting the next logical milestone – a first Grand Slam title to elevate him to the next level. He is not far away – having got the to the semi-finals of both the French and US Opens this year, after losing to Austria's Dominic Thiem in five sets from two sets up in the final of the New York event in 2020.
Zverev came into the Finals claiming that the Red Group was the tougher of the two, along with all the other vindication from the tournament that was another one as he beat the group winner in the final and trumped Medvedev's earlier round-robin phase three-sets victory. However, group wins against Matteo Berrettini, who had to retire a set down early in the second set, and then Polish event debutant Hubert Hurkacz in straight sets, were enough to propel him into the semi-finals and the meeting with tournament favourite Djokovic.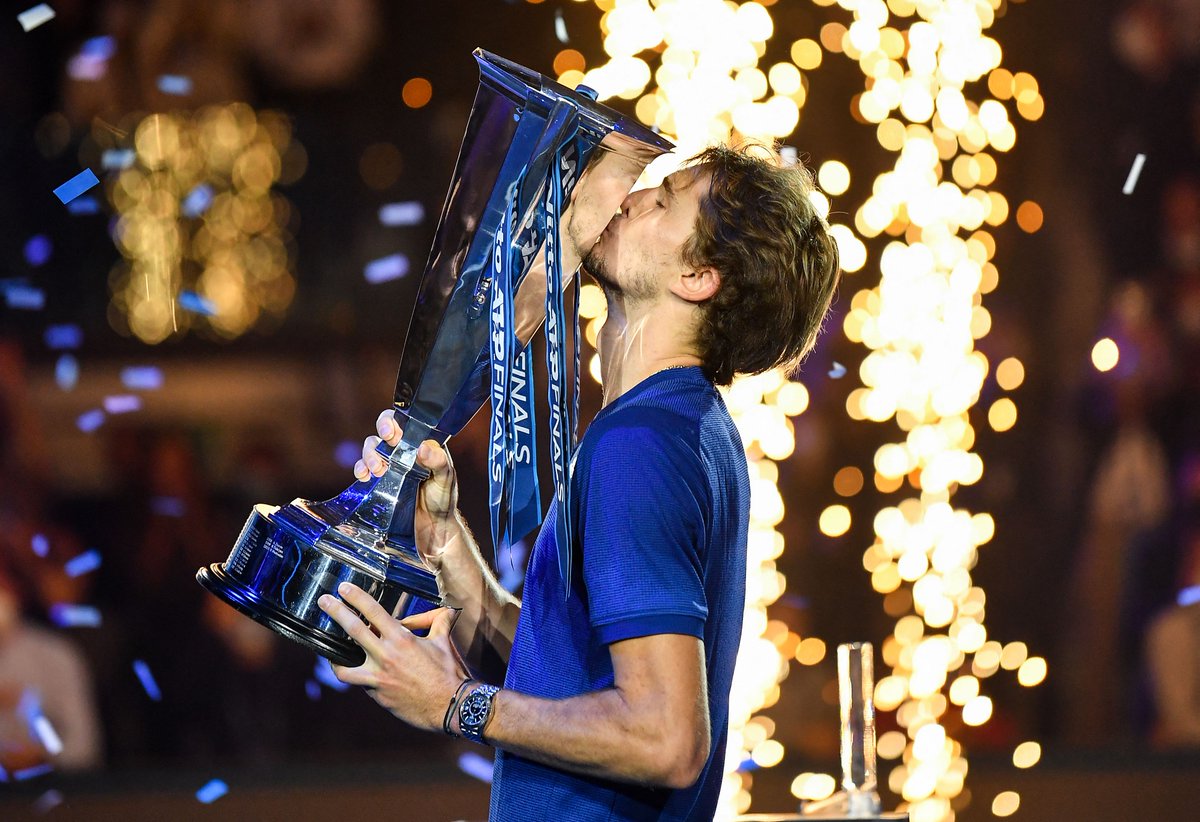 After winning the 19th title in all of his career, Zverev said: "People ask me about playing the perfect match – but the important thing is I won the ATP Finals beating in the final someone I had lost to five times in a row. So I knew I had to play one of my best matches, I am happy about that and happy to be going on holiday now.
"I am super happy and thrilled right now. There is no better way to end a season on tour than this, but I am also already looking forward very much to next season.
"London did a great job with this event but for me personally – and I am standing here with the trophy – Italy has topped it. The fans have made it very special, they are so loud and enthusiastic.
"My family were all here apart from my dad and we all hope he will be back on tour with us soon, that we can celebrate these wins together as a family and that hopefully this is not the last time we can lift a trophy together.
"I would like to say well done to Daniil who had an incredible season, winning a first Grand Slam and being the leader of our generation. He had beaten me five times in a row, so it was good to get one this time."
MEDVEDEV WAS THE DEFENDING CHAMPION
Medvedev said: "I would like to congratulate Sasha who played an amazing match – both today and also on Saturday night against Novak. It's not always easy to go out and beat someone you lost to in the group but he did it very well. Hopefully there will be a lot more finals to come between us.
"I also hope to be part of many more ATP Finals tournament here in Turin and I would like to win this one more time."
Meanwhile Former British No1 Tim Henman, watching from the TV studio, said: "That was absolutely out of the top drawer from Zverev today, and you could see by his reaction at the end how much this means to him. He was so clinical in this final, giving so few opportunities up and when he got the break point chances managing to take them.
"And I think it sets things up really well for 2022. I thought Medvedev had got into Zverev's head and become a bit of a bogeyman, but Zverev executed all aspects of his game to perfection and this tees him up for next year and will motivate him to do the hard yards in the off-season. And at the forefront of his mind will be winning that maiden Grand Slam."
Though Zverev has enjoyed a fine year in playing terms, his reputation has taken a hit away from the court with allegations from former junior player Olga Sharypova of a series of assaults, first surfacing in late 2020, currently being investigated by the ATP. Zverev has always denied there is any truth to the allegations and announced he would be taking legal action of his own in response.