The most popular novices in boxing can't do this forever
13:00, 27 Jul 2022
Say what you want about the Paul brothers, and believe me I have, but the infamous internet influencers have made an impact. Jake and Logan's success in building their unique brand of combat-tomfoolery was writ large when the latter tweeted a picture of the iconic Madison Square Garden. On one side there was a banner promoting WWE Monday Night Raw, with a big picture of Logan in amongst what are now his fellow WWE superstars. On the other side of the legendary arena was a poster trumpeting Jake's latest boxing bout, a fight with actual pro boxer Hasim Rahman Jr. The Paul Brothers are on top of the combat sports and entertainment world, adorning the New York mecca of wrestling and boxing. But what next for the brothers Paul? Now their journey has reached its apex, is the end in sight?
Ultimately, despite the costumes of professional boxer and wrestler seeming to fit them fairly comfortably, Jake and Logan are social media influencers. The social media realm is all about deliverables planned out to a schedule with a clear end goal in sight. The Paul brothers are keenly aware of this, having built followings that have turned them from YouTubers into international celebrities. Logically, their foray into the combat sports entertainment world would have been approached in this same way. Jake and Logan know how all this is going to end even if we do not.
For Logan, the path is perhaps clearer than that of Jake. A Division I amateur wrestler in high school, the elder brother has apparently long-harboured ambitions of performing in the WWE. The company has a long tradition of gifted amateurs excelling in the pros, with the likes of Brock Lesnar and Olympic gold medalist Kurt Angle going on to become WWE legends. Logan could conceivably make the WWE his permanent home, parlaying his online notoriety into a successful career in the ring.
The reality is less simple though. Old habits die hard, and even while Logan is preparing for his first WWE singles match against The Miz at SummerSlam on Saturday, he is still calling out legitimate combat athletes. Paul's long-running feud with Dillon Danis, Conor McGregor's training partner, continues to rumble on. It seems likely they will fight at some point, with Logan confident he can go on to face McGregor if he wins. The WWE star has also targeted a bout with Paddy 'The Baddy' Pimblett, the UFC's rising Scouse star. It seems like Logan is not done with fighting just yet.
Jake is even further down that road, having a 5-0 professional record. Those wins were racked up against opponents with a combined 0-1 boxing record. The only bout Jake has had against a fighter who had boxed professionally before was his rematch with Tyron Woodley, whose only previous experience was his first fight with Jake. But his 6th August bout with Rahman Jr is a gear-change for the younger Paul sibling. Rahman Jr, the son of former world heavyweight champion Hasim Rahman, is 12-1 as a professional heavyweight. On the surface it looks like a stern test, perhaps even the end of the Jake Paul boxing era. I mean surely a novice pro like Paul, who has never met a legitimate boxer in combat, can't win?
My brother and I are on both sides of Madison Square Garden. Wtf is going on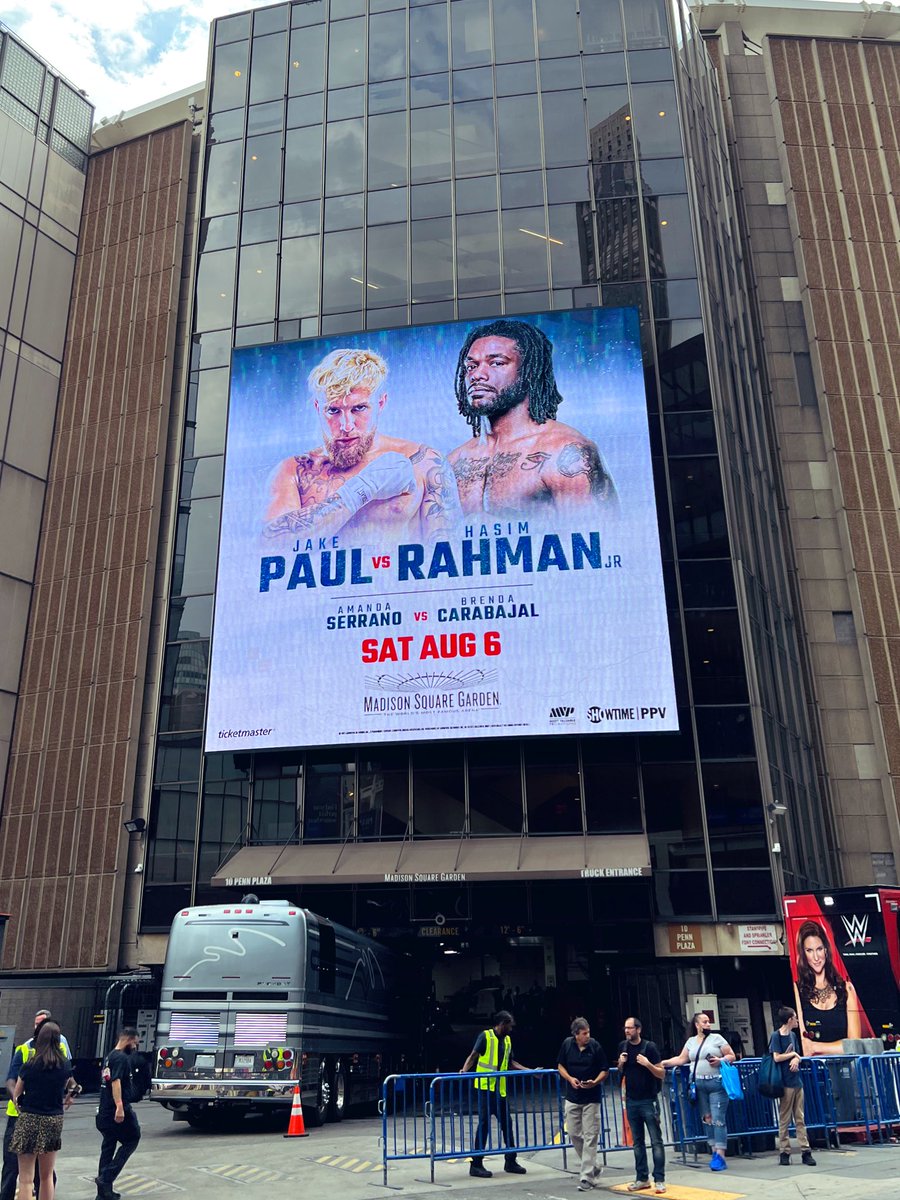 When you start to pick away at the layers though, it becomes clear that all may not be what it seems. Rahman has won 12 fights and lost one, but that loss was in his last bout. It arrived against James Morrison, the 32-year-old son of former WBO champion Tommy Morrison. While Morrison is 19-0-2 in his career, those fights have come at a very low level. A loss against such a fighter probably puts paid to Rahman Jr's world-level aspirations, particularly given the fact he's 31 himself.
Therefore, what is the most lucrative path for Hasim? Go back to fighting at raceways and tiny casinos like he has for the majority of his career, hoping for one last big break? Or fight the world's most notorious sort-of-boxer at the most famous arena in the world? This might seem like a situation where Rahman Jr has everything to gain and nothing to lose. But it is by losing that he stands to gain the most.
If Rahman Jr knocks out Jake Paul, the viral fame will sustain him for a while. But what comes next? A rematch if he's lucky, another pole-axing against an opponent at the level of James Morrison if he's not. But if Rahman loses, he gets the bumper payday and, as someone who has already sparred Jake ahead of previous bouts, a continued seat on the Jake Paul hype train. It's a choice between toiling at DeCarlo's Banquet & Convention Center in Warren, Michigan or a slot on the undercard of Paul's next big arena excursion. This is not to suggest there is anything illegitimate about this upcoming bout, just that those involved have a wealth of options available to them.
Assuming Jake is victorious, where does his boxing career go next? What is the aim of it all? With the "beat a real boxer" box ticked, is there anything left to prove. There is surely no way Paul can enter title contention. Neither he nor his audience have the patience for him to start working his way through journeyman, fringe contenders and eventually world-ranked prospects to try and engineer a title shot.
A sympathetic world body might allow him a chance at one of their belts sooner, but even for the credibility-challenged WBA that seems like a fatal blow to their reputation. The lesser belts might touch him, with alphabet organisations like the WBF, WBU and GBC probably keen on giving him a strap. But these might be beneath Paul. He'd get laughed out of the sport for calling himself a world champion while wearing one of those costume jewellery belts.
So if genuine contention isn't an option, then what can Jake do next? The Tommy Fury fight probably isn't going away. The bout has the spice of featuring a legitimate boxer but also having the soap opera elements that fans of YouTubers crave. Jake has reignited the Paul family vs KSI rivalry this week, riling the British influencer on Twitter. The fight would sell, but feels like a step back even from the shopworn UFC fighters Jake has built his flimsy record on.
Realistically, there is only one fight left for Jake that's worth seeing. It is a bout that comes against someone from an almost identical background to him. Someone whose fame is comparable to his own. Someone who has become a factor in boxing despite not being any good at it. That man is Logan Paul.
Wladimir and Vitali Klitschko always refused to face off in the ring, content to rule the heavyweight division by holding all four major belts between the two of them rather than crowning an undisputed champion. Something tells me the Paul brothers would not be so reticent.
Logan has talked about the prospect in the past, and has insisted the bout would not harm their relationship. Jake called it "the biggest fight out there" on the FLAGRANT podcast earlier this month. While Tyson Fury and Anthony Joshua might have something to say about that claim, there is no doubt that Paul vs Paul sells tickets and pay-per-views.
The Paul era can't last forever. There is only so long an audience will turn out to see these two non-fighters face off with competitors from other sports or declining UFC fighters and boxers. Eventually there comes a time when it's time to step up in class or leave the sport. Given Jake and Logan don't have that step up in them, unless it's a gentle exhibition with a compliant Floyd Mayweather, the only option is civil war. Paul vs Paul might just be the biggest selling pay-per-view of 2023. You heard it here first.
*18+ | BeGambleAware | Odds Subject To Change