Always leading by example, the midfielder is Liverpool's Mr Professional
13:26, 05 Feb 2020
Liverpool dispelled all criticism that had mounted from the absence of key personnel - none more high profile than manager Jürgen Klopp - to progress through to the fifth round of the FA Cup with a 1-0 victory over Shrewsbury Town at Anfield.
The marching Reds, perched atop the Premier League tree and set to end their long, long, long title drought, were forced into playing a replay against the League One outfit, the subsequent fixture interrupting the scheduled winter break. Klopp adhered to his initial plans and allowed his first team to enjoy the time off instead of administering FA Cup duties. Duly social media has been flooded by pictures of sun-kissed footballers enjoying warmer climates after a strenuous and demanding fixture list, with duties set to resume away at Norwich City.
It meant Liverpool, under the charge of Neil Critchley, fielded their youngest ever side in their history, with 19-year-old Curtis Jones captaining. Joe Gomez had set sail for the US West Coast, Fabinho swapped Merseyside for the Maldives, Trent Alexander-Arnold swanned off to Miami, and the man with the million-dollar smile, Giorgino Wijnaldum, could be seen practicing his photography against an azure backdrop.
There was one notable exception, however.
Veteran James Milner remained in the North West to watch the youthful Liverpool squad in action, primed with a duffle coat and a 1000-yard stare. The Yorkshireman is currently sidelined through a hamstring injury which has kept him from playing since the start of 2020, but prioritised witnessing the Liverpool second (or is it third?) string.
"He trained with us yesterday and he asked whether he could come along," Critchley said in a press conference after the game, "I was like, 'I think the answer is yes to that one. Of course, you can.' He was very respectful to ask.
"He has achieved so much in the game because of who he is; he was giving words of advice to the players, he was getting right behind them, he was vocal in the dressing room and animated behind me."
James Milner on his mid-season break and still supporting
@LFC
's youngsters is exactly why he's so admired 🔴
#FACup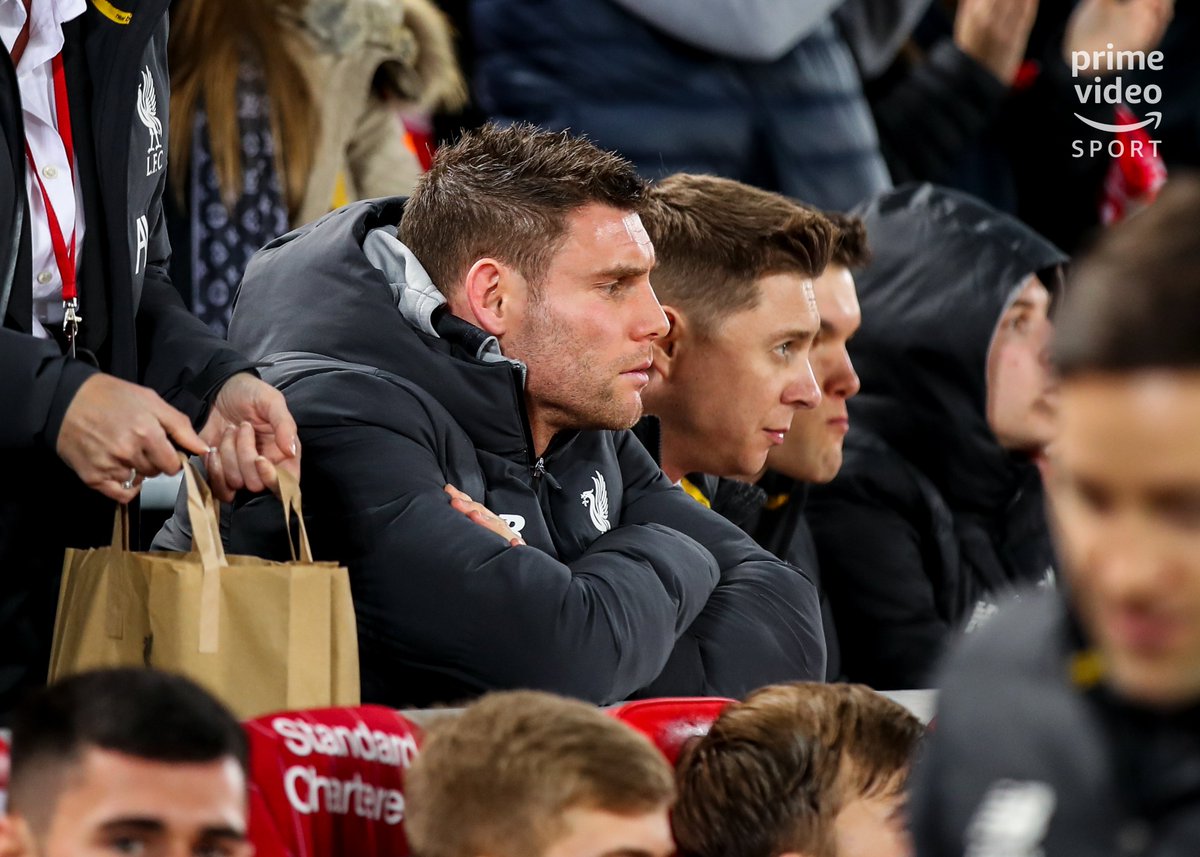 For Critchley, it was also evident that without his German boss in the dressing room, that Milner's presence and experience was indeed welcome: "He was animated. He was vocal, I could hear him. I can't thank him enough."
It is yet another example of Milner's sterling credibility as Mr Professional: Milner needn't show any allegiance to Liverpool, this is his fifth top club, he's only won one major trophy with them so far, he's no longer guaranteed a first-teamer. Yet the dedication from their vice-captain remains exceptionally admirable, a man, a midfielder, proving time and time again his willingness to go the extra mile.
A smörgåsbord of reasons will be written to try and identify Liverpool's already successful 2019/20: is Jürgen Klopp actually the best manager in the world? Was it breaking the bank for Virgil van Djik and goalkeeper Alisson (both record-signings for their individual positions at the time)? Were competitors just simply not up to the task of challenging?
One of the fundamentals remains, however, that whilst rivals are crying out for for a visible, powerful, influential figure to call on among their on-pitch ranks - Manchester City, Manchester United, Arsenal to name a few - Liverpool are currently blessed with three: Milner, the imposingly dominant centre-back van Dijk, and captain Jordan Henderson.
Milner already offers to the Liverpool set-up a versatile midfielder (and occasional left-back/right-back) with nearly 18 years experience at the highest level, 532 Premier League appearances at the time of writing (the sixth-highest of all time) and a brace of successful championship-winning seasons with Manchester City, the club he moved from on a free transfer in summer 2015, three months before Klopp's arrival.
His notorious fitness explains his longevity. Speaking to media ahead of the Champions League Final in 2019, Milner remarked on his physical prowess: "I feel good... I think you can see from the way we're playing we're feeling fresh. Personally I feel good. I've played at this level for a long time. The body gets used to it. The numbers I'm putting in during games is as good, if not better, than anyone else's at times. I feel good and this is the time of the season where it matters most."
"He trained with us yesterday... He was giving words of advice to the players, vocal in the dressing room. I can't thank him enough for being here tonight."
Neil Critchley on
@JamesMilner
's support for the young Reds.
He then, naturally, went on to smash the club's pre-season fitness tests for the fifth year running.
It doesn't harm that he's Mr. Professional when it comes to penalties as well: he's scored three from three this season to add to his tally of 30, one (against Leicester) decisively for the win.
Despite the talk that his visibility in the stands on Tuesday night will undoubtedly generate, Milner has previously revealed to The Sportsman that his future is undecided and that coaching is not necessarily the set direction but remains appealing:
"I'm open to anything, I'd be interested in going abroad and experiencing a new league, a new style of football, new lifestyle too, but that all just depends on where it is and also on my family too. I think I'd be more interested in coaching than the media side. I see people going into punditry all the time but I think, in terms of who I've played for and with and what I've learnt as a player, it would be a shame not to pass that on within football to young players. Then again you see coaches and managers that are doing well for a time and then it doesn't go so well and the amount of stick they then get week-in, week-out."
With the Premier League procession now well underway, Milner will claim his third English top tier title and become just the tenth player to do so with two different clubs. What other silverware is forthcoming seems Liverpool's to choose from, but he's helped them go that little step further to recapturing the FA Cup without even playing.
Milner is leading by example and Mr. Professional is showing that hard work - and going the extra mile - does in fact pay.