Owens fought his childhood hero in front of 77,000 fans at WrestleMania 38 in Dallas
19:05, 08 Apr 2022
The well trodden adage surmises that heroes are worth avoiding, should you ever be presented with the opportunity to meet them. For Kevin Owens, however, a chance 2005 encounter with his childhood idol led to a 17 year journey which would culminate in the pair of them making history together.
This past weekend, Owens headlined the first night of WWE's biggest event of the year, WrestleMania 38. Over 77,000 people inside Dallas' AT&T Stadium witnessed the Canadian brawler top the bill at the 'Grandaddy of 'em All' for the first time in his career and, as far as first times go, it was as historic as they come.
Said history was written because Owens' opponent was competing in a match for the first time in almost two decades. It would also be his opponent's final ever match in a career that is unsurpassed within the industry of professional wrestling. His opponent was Stone Cold Steve Austin.
Nineteen years prior to the events of 2nd April, 2022, Austin stared at the lights of Safeco Field in Seattle, Washington as The Rock finally vanquished him at WrestleMania 19. Unbeknownst to fans at that moment, it was to be the Texas Rattlesnake's curtain call. Plagued by knee and neck issues, the six time WWE Champion privately called time on his in-ring career and, despite an incessant stream of rumours and reports linking him with comeback matches against everyone from John Cena to CM Punk to Randy Orton and Brock Lesnar, Austin's appearances inside the squared circle were limited to on-screen authority roles and special guest appearances. More often than not involving a few Stone Cold Stunners and about three dozen beers.
So, how did we get here? How, at 57 years of age, was WWE Hall of Famer Steve Austin stomping a mudhole in Kevin Owens and walking it dry in the main event of WrestleMania?
In storyline mode at least, Owens had spent several weeks running down the state of Texas, where 'Mania 38 was to be held. Without a match to his name, the former Universal Champion expressed his relief that he wouldn't have to wrestle in the Lone Star State, where a certain Rattlesnake hails from. It wouldn't be long until these verbal cheap shots became a lot more pointed, though, with Owens finally calling out Austin by name on the March 7th episode of Monday Night Raw. He wouldn't have to wait long for a reply, as Austin dropped a video message back to his newfound foe less than 24 hours later on social media. The Bionic Redneck confirmed that he would be making his way to Dallas to unleash 'one last can of whoop ass' on The Prize Fighter.
In reality, the date between the two had been set 17 years ago, when Austin bestowed a snippet of timeless wisdom upon a young, impressionable independent wrestler by the name of Kevin Steen.
Speaking during a pre-WrestleMania press junket, Owens explained to me how Austin's advice during this fortuitous meeting had been something he had followed ever since, in particular when it appeared as though creative had nothing for him on the road to WrestleMania.
"I actually met him in 2005 at an airport on my way to an independent show and he gave me the best advice of my career. He told me to never stop running my mouth and that's what I did. When it looked like I wasn't gonna be on WrestleMania I started running my mouth and look where it got me. So all I did was put his advice into practice. So I'm gonna do some more of that on Saturday and I'm gonna get to do it with him in the ring at WrestleMania so it's a pretty incredible way to come full circle."
[email protected]
met
@steveaustinBSR
in 2005 as an independent wrestler. He took his advice and tonight got to face his childhood hero in the main event of
#WrestleMania
, 17 years on from their meeting. An unbelievable journey…
During this stroll down memory lane, however, no official match was listed between the pair on the WrestleMania card. Instead, Austin was set to be Owens' guest on a special 'most stupendous' edition of 'The KO Show'. Now, as anyone who has even the most casual affiliation with wrestling fandom will tell you, in-ring, wrestler hosted chat shows seldom end in anything other than complete and utter chaos, ordinarily with some poor soul being introduced to the business end of a piece of furniture. So, with this in mind and Austin's whoop ass based declaration ringing emphatically in everyone's ears, the general consensus was that the former Hollywood Blonde was going to exchange some less-than-pleasantries with his fellow bearded, stunnering enthusiast before the pair threw fists for a few minutes, culminating in Mr. 3:16 sending his former fanboy packing, more than likely soaked in a few IPAs.
Ahead of time, Owens shared his intentions for the Saturday evening with me, albeit obviously much more innocently than they would end up materialising as on the night.
"Steve seems to be in a fighting mood. I've actually got a whole plan to have a nice talk with him."
What was perhaps most telling about Owens on this Friday morning was how naturally elated his entire demeanour was throughout the three hour junket. Any celebrity or athlete will readily tell you how painstaking the media trail can be and, on this particular April dawn, facing down somewhere in the region of 80 journalists, you could have forgiven the former Intercontinental and United States Champion for appearing quite stoic. As the villain of the piece, he could have even been given carte blanche for blowing off interviews, ridiculing the questions posed to him while belittling those asking them. Instead, here he was, beaming at every mention of his impending shenanigans with his childhood hero. I witness the one time Ring of Honor and Pro Wrestling Guerrilla favourite inform one interviewer that he will fight anyone who believes they are a bigger Steve Austin fan than him. He drags best friend Sami Zayn into several spots and ropes in Raw Women's Champion Becky Lynch for other on-camera opportunities, happily interrupting other interviews in the process although, of course, no one minds because it's all so ludicrously charming and wholesome.
This was a man who knew history was about to be made.
On Saturday afternoon, a line up of the night's matches was leaked online, with the expected main event of Charlotte Flair defending her SmackDown Women's Title against former UFC Champion Ronda Rousey now knocked down the card in favour of a new main event: The KO Show feat. Stone Cold Steve Austin.
A few curious glances are exchanged across the press box inside AT&T Stadium at the breaking of this news. Could an interview, even one where the guest is the biggest drawing and most influential star of all time, really be headlining WrestleMania?
The realisation began to dawn on us, yet no one dared utter what they were really thinking lest they be disappointed. We were going to be on hand to witness Steve Austin's first match in 19 years. And Kevin Owens would be his opponent. The same lad he offered advice to 17 years ago in an airport and had his picture taken with him. The same lad who grew up religiously watching and re-watching his matches and interviews from the Attitude Era. The same lad who would go on to share his penchant for attacking the McMahons and dishing out Stone Cold Stunners (Owens adopted the move as his finisher three years ago). The delight at discovering we were about to experience a seismic moment in WrestleMania history was coupled with delight for Owens himself. He had been walking round with the knowledge that he wouldn't just be sharing a ring with his idol. He would be trading blows with him in an official match. Austin's final bow. 'One Last Can' as it would be dubbed.
Owens' first WrestleMania appearance also occurred in Dallas, six years ago at the 32nd incarnation of WWE's grandest show. That night he would drop his Intercontinental Title in a jaw dropping multi-man ladder match to Zack Ryder. That weekend, Owens had let slip to me that his original opponent was scheduled to be The Undertaker, although not much detail was shared as to why the bout never made it to the ring. Given the enormity of what was about to occur, I revisited this weekend with the man himself to learn a little bit more about what happened behind the scenes. Safe to say, six years later, no longer is Owens' standing in the company an issue when marquee matches are being discussed.
"Things shifted and that was the year that Shane McMahon returned and obviously at the time my standing with the company compared to Shane coming back after all those years, the thought was probably that Shane vs The Undertaker was a huge match. But I know it was on the table and it was heavily discussed and it obviously would have been amazing for my first WrestleMania to be in there with The Undertaker. Would have been sweet, didn't happen, but I have been in the ring with him since then. I was in the ring with him at a Madison Square Garden show, so that was cool."
Just over 24 hours later, the glass is shattering and the earth is shaking. Owens' has revealed his plan and the bell is being rung. Punches are being thrown, beers are being drunk and a brawl is tearing through the capacity crowd inside the AT&T. Owens takes a beating, flying through a ringside table, then the match swings back in his direction with a reversed suplex on the floor. Up the entrance ramp and across the stage the fighting spills, then back down towards ringside, where chairs and more beers make an appearance. The first stunner is landed by the French Canadian. The first three count, crucially, is not. Moments later, the original is dished out by the Texas Rattlesnake as the decibel level among the 77,000 strong audience soars to migraine inducing levels. Owens is carted away from ringside by a couple of Dallas police officers as Austin drinks and spills enough beer to neutralise all the cattle in Texas.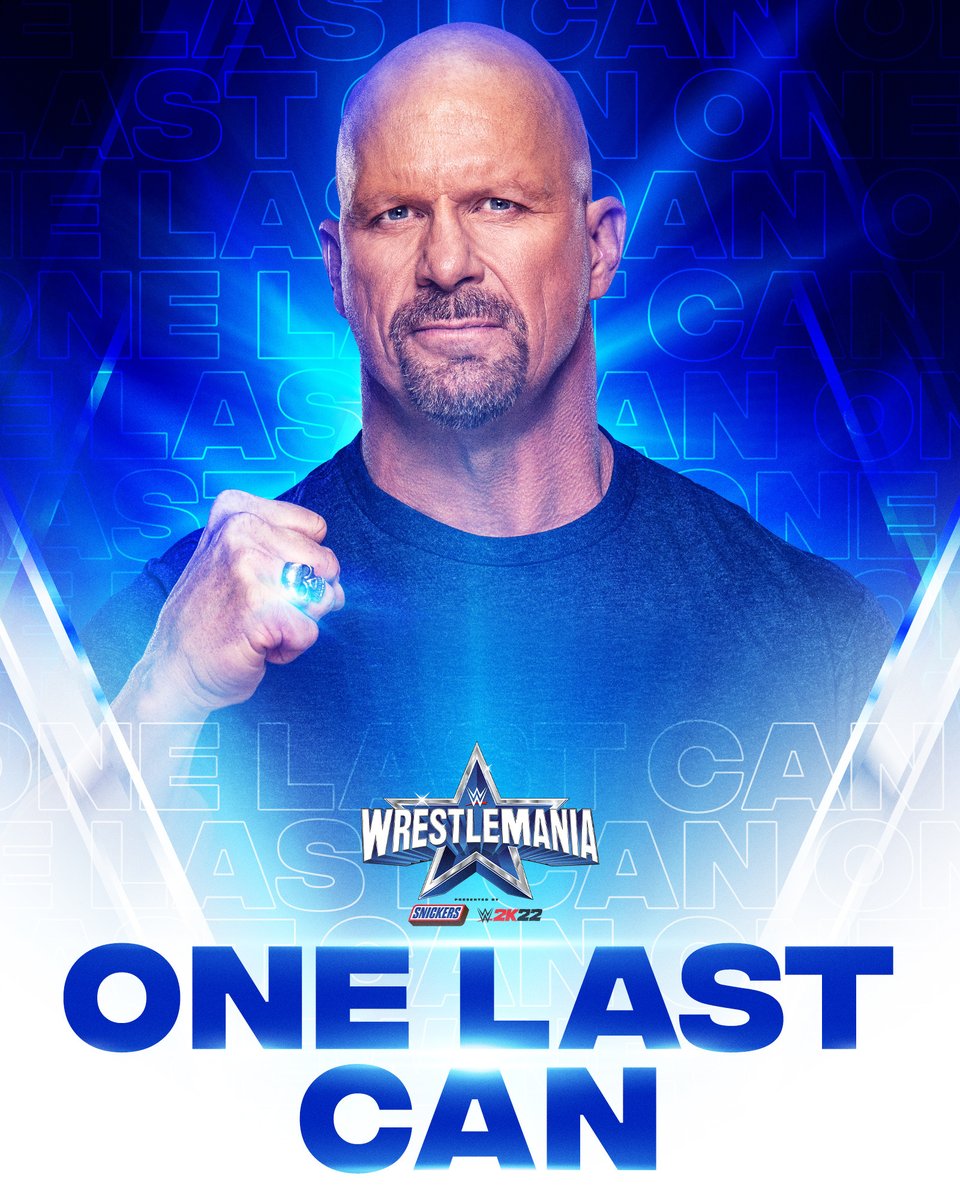 As Owens departs beyond the entrance curtain, I am immediately reminded of the moment our interview came to a close. A customary handshake was shared before I thanked him for his time. I followed this up with "I'm really looking forward to tomorrow night", thinking it nothing more than a polite, although entirely genuine, platitude towards someone who's work I greatly admire and have done for years. Owens' response came paired with as big a smile as you will ever see from a man who was about to get his arse kicked by a 57-year-old bloke.
"I am too, believe me!"
This wasn't just the response of somebody nonchalantly responding out of courtesy. The beaming 'kid on Christmas Eve' smile that accompanied the reply said so much more than any words out of Owens' mouth ever could, and he's one of the finest talkers in the game. This was a man on the verge of history and, after 17 years of waiting, no one deserved it more than him.
Watch WrestleMania 38 on-demand now at www.wwe.com/wwenetwork