LeBron James' record-breaking basket was captured by thousands on their smartphones
13:00, 08 Feb 2023
LeBron James had held off Kenrich Williams. As he turned, he created a half-yard of space and leapt into the air. The world held its breath in anticipation of the record-breaking moment. James delivered, as he so often has, and the net duly rippled.
The fans in attendance, some of whom had paid thousands of dollars just to be in the arena, cheered as James became the NBA's all-time top scorer. They would have clapped too but their hands and eyeballs were glued to their smartphones as they desperately attempted to capture the moment on camera.
READ MORE:
They held their smartphones aloft to capture the moment, blocking the view of others and spoiling one of sport's greatest moments in the process. Almost everybody in attendance was doing exactly the same thing, so much so that the one elderly man on the front row, billionaire Phil Knight, sticks out like a sore thumb because he is simply taking in the moment with a smile on his face.
The desire to record things like this for social media likes means that people don't truly live in the moment when history happens before their eyes.
The man sat there with no phone is Phil Knight, who signed LeBron 20 years ago to Nike.
Be more Phil.
Sport only happens live once while moments like this are once in a lifetime. If you are lucky enough to be in the stadium and choose to watch it through a screen rather than take in the atmosphere yourself, you aren't only robbing yourself of that moment but thousands of others who would love to be in your seat.
The comparison to Michael Jordan's championship-winning basket against Utah Jazz in 1998, his last game in a Chicago Bulls jersey, is stark. That image is one that sums up sport as a whole. His basket is iconic, but the reaction of the fans in attendance gives you the emotional context behind the moment. There's several heads in hands. Mouths agape. One man is praying. Every individual in that image has a story to tell.
No phones out vs all phones out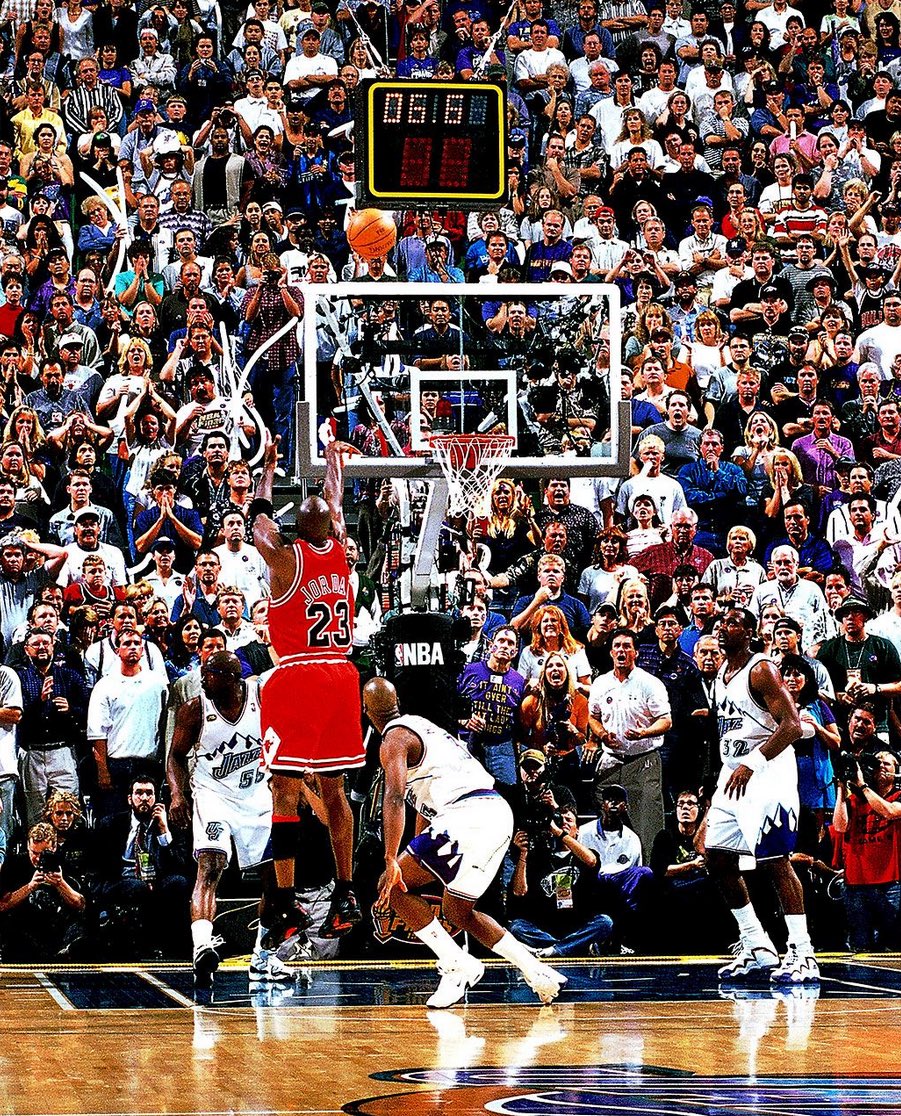 Now you simply see the backs of phones and people peeking around to make sure they have got the right shot. Perhaps it is exacerbated because American sport, and in particular basketball, is more predictable. Once LeBron was on the cusp of the record, the phones were out, ready to capture the moment. Unless it was a penalty, it wouldn't work the same in football or rugby league, where scoring is far less frequent and play is much more fluid.
But across all sports, the most frustrating thing about this modern trend is the fact that - bluntly - nobody wants to watch your sh*tty POV video. Nobody. Not even your own mother. By now, we've all watched the basket, filmed by ESPN's expensive cameras, from the perfect angle. They've provided several epic angles in fact, all filmed by paid professionals rather than greasy-fingered Bob from Taco Bell on row Y.
Having to watch these videos back is like having to feign excitement as somebody you know scrolls through their holiday pictures. 'Yes, Auntie Sheryl I'm glad you had a good time in Italy but I don't want to see your kids pretend to hold up the Leaning Tower of Pisa.'
Some argue that capturing a moment that will last forever is more important than watching it unfold with your own eyes. Others compare it to taking a picture of a monument on holiday. Both views are misplaced.
Sporting moments such as this will be replayed forever and you can still enjoy your memories and relive that event without actually having to film it yourself. Meanwhile, taking a picture of a monument is different as it remains in exactly the same place, doing the same thing. You can both enjoy it in the moment and photograph it in that instance.
Also, as a fan in attendance, you truly are part of the event. Part of the moment. Iconic sporting images are not just about the players, but everything around them. Think of the greatest images from the history of sport. None of them feature smartphones. It's time phones went back in pockets and fans started to live in the moment again.