After a remarkable semi-final win, the 18-year-old faces Leylah Fernandez on Saturday
09:56, 10 Sep 2021
The look on Emma Raducanu's face once she had won match point in her semi-final with Maria Sakkari was one of utter disbelief. But after a battling display, she is now a US Open finalist having beaten the Greek 6-1, 6-4.
With Virginia Wade, the last British woman to reach a Grand Slam final watching on, Raducanu flew out of the blocks to end a wait of 44 years for a British female finalist. She has quickly become a fans favourite at the Arthur Ashe Stadium and was cheered on by an adoring crowd that have lapped up every single moment of this incredible journey.
She came through the three rounds of qualifying just to make it to round one and remarkably, she is yet to drop a set on her way to the final. It really has been the perfect three weeks for the Brit, who will take on another teenager, 19-year-old Leylah Fernandez in the final.
"The time in New York has gone so quickly, I've been taking care of each day and three weeks later I'm in the final. I actually can't believe it," she said after the win.
The records she has broken this summer have been absolutely unreal. She's the youngest British Grand finalist in 62 years, the first British woman to reach the US Open final in 53 years and becomes only the fourth British woman to reach a Grand Slam final in the Open Era.
Pure happiness under the lights in New York 🌃🗽❤️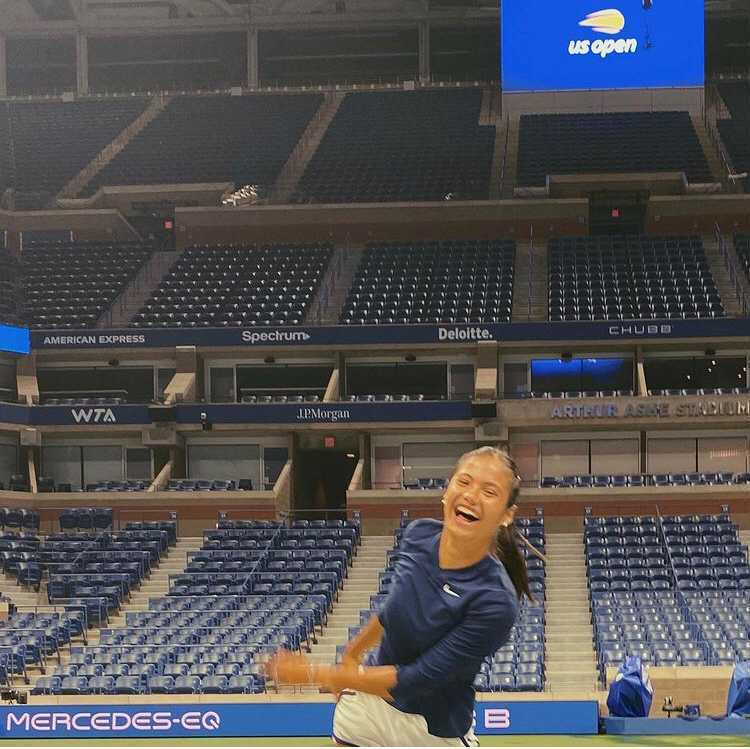 The rapid rise of Raducanu has been something that hardly anybody saw coming. Before Wimbledon, she was ranked 336th in the world, but having reached the 4th round there and now the US Open final, she is likely to crack the top 30.
This is not only great for the 18-year-old, but huge in terms of the progression of British tennis. For years, young players didn't truly have a champion to look up to, and then Sir Andy Murray won our hearts, and several Grand Slams along the way. But there is something different about Raducanu's success.
As a female, she is likely to encourage young girls to take up the sport up and down the country and this will breed success for future generations. Her tender age also makes her a perfect role model for those youngsters, as they know they could replicate what she has achieved with talent, hard work and dedication.
On the court, it was a man who never quite got over his semi-final hoodoo, Tim Henman, who was giving her advice on the court. He kept Raducanu calm as it came to the crunch points.
"Tim is honestly such a big inspiration, he was telling me to treat it one point at a time," she said. "In moments like this you definitely can't get ahead of yourself and you need to stay present. I'm grateful to Tim for everything he has done for British tennis and for me."
This is a big moment for British tennis, and a key moment for the future of the game. On Saturday, she will face the unseeded Fernandez, who won her tense semi-final 7-6 (7-3) 4-6 6-4 against Belarusian second seed Aryna Sabalenka.
Given the confidence she has played with so far, it would be no surprise to see Raducanu make that final leap and become a Grand Slam champion, 53 years after Wade won in New York.