The service will launch this spring ahead of Canelo's fight with Billy Joe Saunders in May
15:00, 03 Mar 2020
Sir Leonard Blavatnik. Soviet émigré, born in Odessa. Graduate of Columbia University and Harvard Business School. Businessman, knighted in 2017, dual British-American nationality, owner of The Beatles' label Parlophone.
And he's worth $20.1billion (£15.71b). He's the 27th richest person in the world, the third richest Brit, and now he wants to beam sport into homes around the United Kingdom.
For Sir Leonard Blavatnik is the owner of DAZN (pronounced 'Da-zone'), the on-demand sports-streaming service that in 2020 is ambitiously propelling itself around the globe to land in 200 countries and territories, the UK included.
DAZN's global English-language streaming service will launch this spring ahead of Canelo Álvarez's fight against Billy Joe Saunders on 2 May 2020, hoping to make its mark in sports by taking a leaf out of the Netflix book, and potentially send shivers down the Sky Sports spine.
You may very well have heard the name before. In May 2018, DAZN signed a $1billion (£736m) eight-year deal with promoter Eddie Hearn and his Matchroom Boxing set-up, which has the two-time world heavyweight champion Anthony Joshua under its banner. On top of that, Álvarez's bout is the first of an 11-fight $365m contract DAZN has with the Mexican.
DAZN will be available on smart TVs, set-top boxes, streaming sticks, smartphones, tablets, PCs and game consoles and promotes itself as "a ground-breaking live and on-demand sports streaming service, giving sports fans the control and flexibility to watch their sports, their way. It's about putting sports fans first".
Viewers are expected to have to pay a price of £4.99 a month in the UK. They currently charge an average of $12 worldwide.
Since its initialization in 2016, DAZN has so far launched in nine countries, including Austria, Switzerland, Brazil, Germany (where it will take over full Champions League coverage from 2021), and Japan (where it can currently claim a 10-year cooperation with the J-League, snatching the premier football division away from terrestrial TV).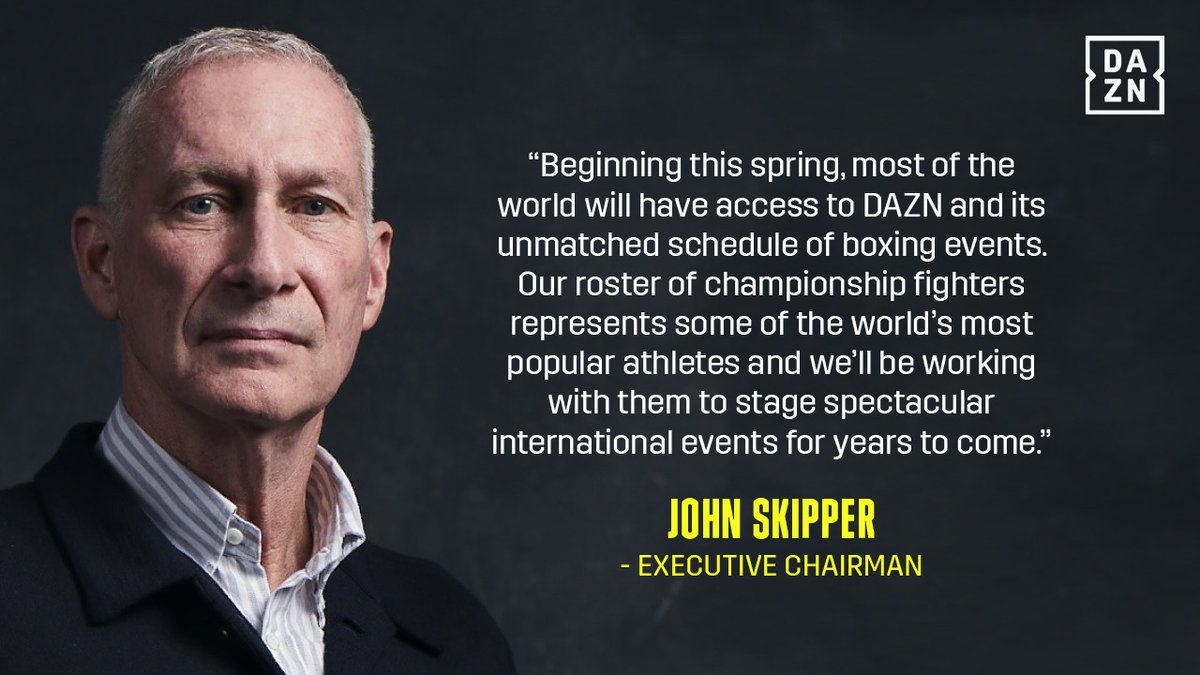 Boxing is where DAZN's bread and butter lies though. There are also deals in place with Oscar De La Hoya's Golden Boy Promotions and Gennady Golovkin, whilst Canelo's contract is the largest with an individual fighter in boxing history.
"Beginning this spring, most of the world will have access to DAZN and its unmatched schedule of boxing events," said DAZN Group Executive Chairman John Skipper. "Our roster of championship fighters represents some of the world's most popular athletes and we'll be working with them to stage spectacular international events for years to come.
"Since our launch in 2016, we've seen an encouraging level of interest around our key events from both international fans and potential partners, which highlighted the opportunity to capitalize on our existing rights portfolio within boxing to fuel our expansion," said DAZN EVP Joseph Markowski, in a company statement.
"Establishing DAZN as the global home of fight sports is just the first step and we couldn't think of a better attraction for our inaugural event than Canelo's traditional Cinco de Mayo Weekend fight."
Sky and BT currently dominate the sports broadcasting market in the UK, delaying DAZN's launch until this year. The pair's influence has however been waning, with Amazon recently infiltrating by taking a host of Premier League games over the most recent festive period. With another horse now entering the race, that monopoly may not be as solid for too long.