When Sport And Religion Collide
14:14, 05 Oct 2017
It was a regular tennis match for Israel's Dudi Sela at last week's Shenzhen Open. At stake was a place in only his second ATP semifinal of 2017. Everything was going well for the 32-year-old when he took the second set to force the match into a decider. A game later he retired, but it wasn't because of injury or illness.
The late-night clash was approaching sunset, but it wasn't just any ordinary sunset for Sela. It was approaching the official start of Yom Kippur, the most sacred day in the Jewish calendar. Earlier that day, he requested for the match to be brought forward, but he was unsuccessful in his appeal. Resulting in his withdrawal from the match to observe the religious holiday, which is 25 hours of fasting and intensive prayer.
"No one forced him to retire. He didn't do it because he was afraid of anyone, or because he was asked to. He did it only because he respects Yom Kippur and the country which he represents." Sela's brother Ofer told Israeli media over the weekend.
Sela's dilemma is one that thousands of professional athletes can relate to. Unlike the sports calendar, Religious festivals can vary each year based on their own calendar. Making it tough for the players and their sport to find a common ground.
Dudi Sela retired mid match today in Shenzhen just before the start of the Yom Kippur, one of the most important days in Judaism.
Hibernian F.C. goalkeeper Ofir Marciano was granted permission to miss his club's clash with Celtic to celebrate the Jewish festival. The 27-year-old, who also plays for the Israeli national team, was given full support by manager Neil Lennon.
"Ofir came to me a couple of months ago about it, to be fair, it's just one of those things – you have to respect a player's faith. That's more important than football." Lennon commented on the situation.
It isn't just Judaism where issues occur for sportspeople. In the ninth month of the Islamic calendar, Ramadan occurs, which requires Muslims to fast between dawn and sunset. It has previously coincided with some of the biggest sporting events in the world. Including the 2012 London Olympics, 2014 World Cup and 2016 European Football Championships.
"Well, every healthy adult Muslim should and must fast, but, if you're travelling or not well, then you can choose to make up this fast another day." Former Ipswich striker Nathan Ellington explained about athletes observing Ramadan during sporting events.
For all Hibernian fans, Ofir Marciano will not be in goal this weekend to due to the Jewish Holiday of Yom Kippur.
A delicate subject
Trying to meet the needs of every religion is a tough task for sporting organisations due to the different types. Meanwhile, opponents argue that Sport and religion shouldn't be mixed together. The Chinese Football Association recently criticised Henan Jianye F.C for allowing Taoists priests to perform a religious ritual on their own ground.
"The football pitch is not a religious place and hosting such activities on a public sports field is neither appropriate nor conforming with the image of professional football," the CFA said in a statement.
"Instead of asking for help from gods outside the pitch, Henan should seek victory through self-endeavour and battling on it."
In contrast, the International Basketball Federation (FIBA) recently lifted their ban on headgear. Meaning basketball players can play international competitions whilst wearing hijabs, yarmulkes and turbans. In recent months the organisation has come under pressure from numerous petitions calling for the rule to be changed. One campaign by Indira Kaljo attracted over 132,000 signatures on change.org. Bosnian-American player Kaljo was previously banned from playing in Europe for wearing a headscarf.
Basketball player
@indirakaljo
who kickstarted
#Fibaallowhijab
petition told me the last few years had been "a rollercoaster of emotions"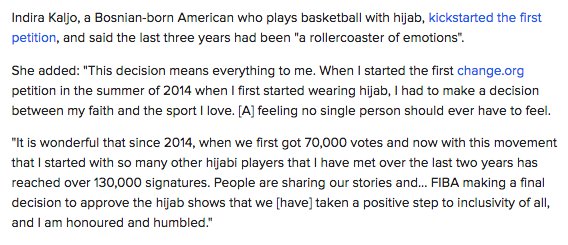 "The new rule comes as a result of the fact that traditional dress codes in some countries - which called for the head and/or entire body being covered - were incompatible with FIBA's previous headgear rule," FIBA said in a statement.
In the Arab world, the role of Muslim women in sport is one that has triggered criticism. Saudi Arabia didn't allow women athletes to compete at an Olympic Games until 2012. Prince Fahad Bin Jalawi al-Saud once proposed hosting a segregated Olympic games where Saudi Arabia would host men's events and Bahrain host the women's. The idea was dismissed by the IOC.
Still, there are signs of progress with a total of 14 Muslim women winning medals at the 2016 Olympics. One of those was Ibtihaj Muhammad, who clinch a bronze medal for the United States in the fencing competition. As a black-American Muslim, the 32-year-old believes that participating in sport provides her a platform to inspire others from a similar background to her own.
"I feel like it's been a blessing to represent so many people who don't have any voices and don't speak up," Muhammad said last year. "It's been a really remarkable experience for me."
Sport and religion will continue to collide regardless of the best efforts of the organisations to support it. The focus now lies in using the power of faith to inspire more to take up sport around the world.
"I am the part you won't recognise, but get used to me. Black, confident, cocky. My name, not yours. My religion, not yours. My goals, my own. Get used to me." - Mohammed Ali.