The day most people in the wrestling business thought they would never see is upon us
11:05, 26 Jul 2022
Hell has frozen over. For the first time since 1982, Vince McMahon Jr is no longer at the helm of the WWE. There's also a new champion in Ring of Honor, and a high-profile departure from AEW that came about as a result. Welcome one and all to The Grap Wrap.
Vince McMahon Retires
It was so widely spouted in wrestling circles that it became almost common knowledge that McMahon would never retire. That his time in charge of WWE would only end when he passed away. A known control freak for whom work absorbs every minute of his time, it seemed simply unthinkable that Vince's creation would ever exist without him. But on Friday afternoon, the seemingly-impossible came to pass.
McMahon retired from his day-to-day duties as WWE CEO and Chairman via a tweet. To put it into context, McMahon had promoted wrestling for 24 years by the time Twitter even launched as a platform. The idea that he'd shuffle out of view in such a low-key way seemed like anathema to the publicity-hungry executive. This is a man who has held the WWE and ECW heavyweight championships despite not being a trained wrestler. A man who has tried to launch his own boxing promotions, bodybuilding competitions, film studios and football leagues. Doing things quietly is simply not the McMahon way.
The lack of pomp and ceremony surrounding Vince's departure likely has its roots in the misconduct scandal he is currently facing. Industry insiders are speculating there could be more yet to emerge and that McMahon stepping away is a way of creating distance between the organisation and these allegations. Vince's daughter, Stephanie McMahon, had already assumed interim control of her father's duties. She will now work full-time as co-CEO and Chairwoman of the company. Company president Nick Khan has also moved up to fill the other co-CEO position.
Paul 'Triple H' Levesque, Stephanie's husband and Vince's son-in-law, has also returned to the company in his old role as Executive Vice President of Talent Relations. This job was being filled in an interim capacity by Bruce Prichard, after incumbent John Laurinaitis was named in the misconduct scandal. In a press release on Monday, WWE also confirmed that Triple H will lead the company's creative department going forward. 'The Game' held an all-talent meeting before Monday Night Raw to outline his intentions for creative going forward, including an emphasis on communication and approachability.
It remains to be seen how this large-scale upheaval will impact WWE in the long-run. Some are speculating that McMahon will still be pulling the strings in the background. However, with WWE operating as a publicly traded company, such subterfuge would open the company up to severe legal penalties. It seems like, at least for now, McMahon really is done with his day-to-day WWE duties. He remains the majority shareholder of the company.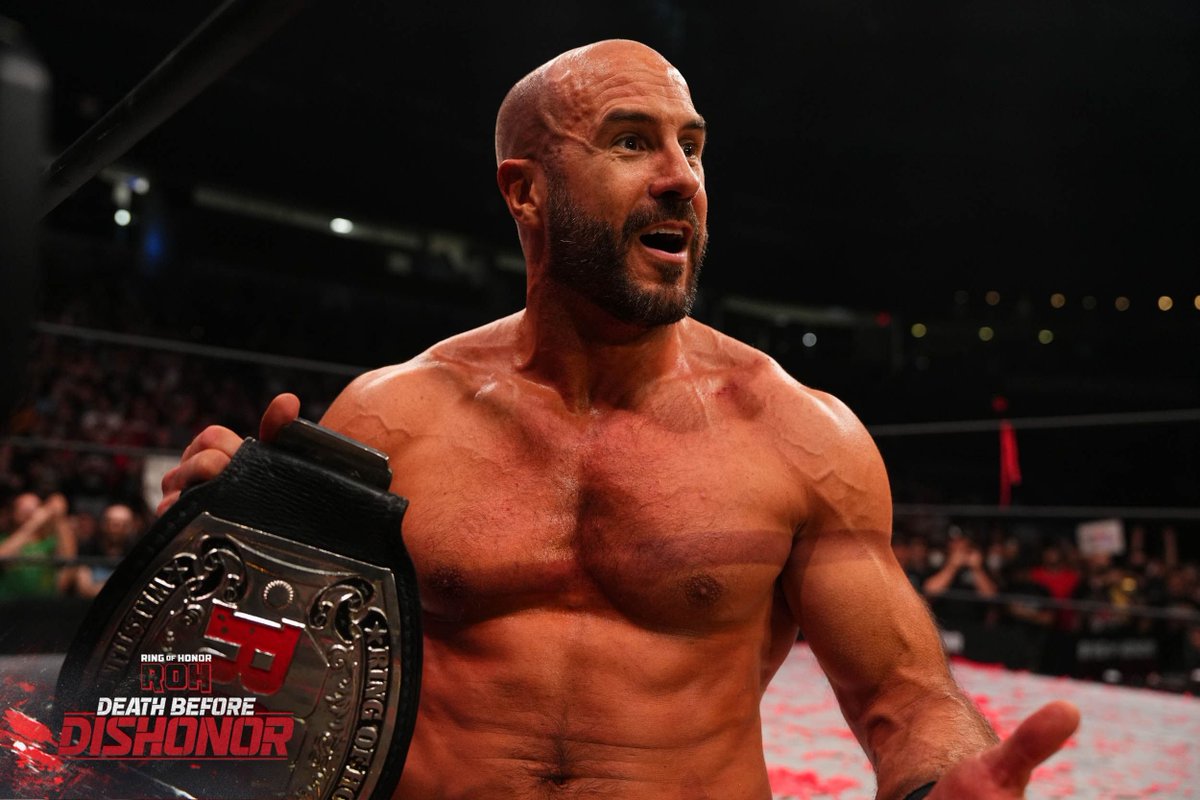 Claudio Castagnoli Wins ROH Title, Jonathan Gresham Leaves Company
Claudio Castagnoli's ROH World Championship victory over Jonathan Gresham ended up having wider-spread ramifications than anyone expected. Gresham had held the title for 224 days and the fact that recent WWE superstar Castagnoli, who has been heavily pushed in both ROH and AEW, beat him for the title seemed logical. But it set off a chain of events that is still being unpacked days later.
According to Fightful Select, Gresham "cussed out" ROH and AEW owner Tony Khan before his match with Claudio at Death Before Dishonor on Saturday night. The defeated champion was said to be unhappy with the direction his character was taking and the lack of communication from upper management, particularly Khan, when it came to addressing these concerns.
Gresham has been splitting his time between AEW television and Ring of Honor pay-per-views since Khan bought the latter company back in March. After recently turning heel, Gresham has been heading up the Tully Blanchard Enterprises stable, a villainous group managed by the former Four Horseman member whose name it bears. Blanchard is reportedly also done with ROH and AEW, though no word has emerged on whether his departure is related to Gresham's. The veteran was written out of storylines at Death Before Dishonor, with control of his faction turned over to Prince Nana. The group will continue as the latest iteration of Nana's long-running Embassy team.
*18+ | BeGambleAware | Odds Subject To Change