Can Lewis Hamilton Or Sebastian Vettel Surpass 400 Points In This 21 Race Season?
14:25, 17 May 2018
Following the curtain opening Australian Grand Prix it looked very possible Lewis Hamilton could be the first Formula 1 driver to amass over 400 world championship points in a single season. Yes he failed to win in Albert Park but he looked luckless in defeat and winter testing showed his Mercedes was as reliable as ever.
Hamilton scored 384 points in 2014 and that was despite retiring from the Australian, Canada and Belgian GP's. Notably that season consisted of just 19 races. Twelve months later, in winning his third world Championship, Hamilton accumulated three points less despite failing to stand on a podium step in just two races.
Two extra races were added to the 2016 calendar and Hamilton won 10 of the 21 grand prix. But that was not enough for him to take the title or surpass his best points haul. He ultimately finished-up on 380 points, five points adrift of Nico Rosberg and second in the championship. Last season there were 20 races on the roster and Hamilton was crowned world champion for a fourth time with 363 points. That was despite missing the podium six times.
93 percent completion rate
Hamilton has retired from just over seven percent of his races since his Mercedes career started in 2013. But that figure is falling race-on-race as the Brit is on a sequence of 29 consecutive starts without a retirement.
So calculating Hamilton could surpass 400 points at the outset was based on two retirements during 2018 and the remaining 19 races yielding 21 points apiece. Roughly speaking, ten race wins (yielding a full 25 points), six seconds (18 points each), two thirds and a fourth is what is required.
We are now five races in and Hamilton is just about on schedule. He has netted two wins, a second, a third and a fourth. That's given him 95 points from five races, an average of 19 per-race which, if could keep it up, would put him on 399 at the season's end.
What a feeling. It's been an awesome weekend, the car felt incredible! I can't thank the team enough for the hard work. To my fans, your energy was with me today as always, you guys are amazing! Looking forward to the next one 🙌🏾🙌🏾💥 📷 Vid Vorsic
@MercedesAMGF1
#TeamLH
#F1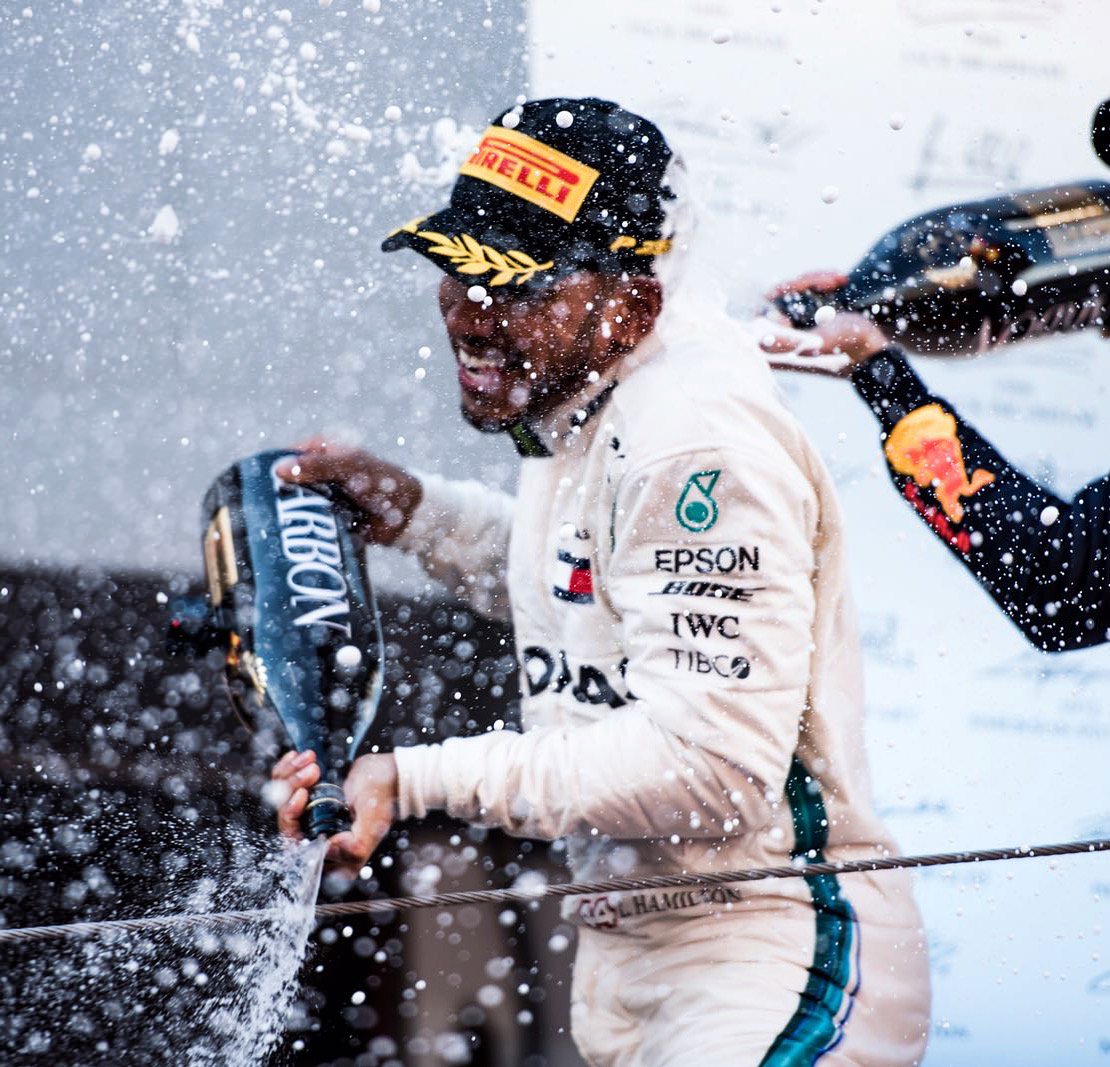 Points predictions
Ultimately the prospect of Hamilton surpassing 400 points remains possible albeit many would say it is massively unlikely. So what points will be alongside the names of the chief protagonist at the conclusion of the twenty-first and final race of the 2018 season on November 26th? Here's some loose predictions…
Lewis Hamilton: 363 Points
Sebastian Vettel: 318 Points
Valtteri Bottas: 292 Points
Daniel Ricciardo: 224 Points
Max Verstappen: 213 Points
Kimi Raikkonen: 213 Points
Sebastian Vettel: 318 Points
We are averaging out the German at a little over 15.1 points per-race and he is currently averaging 15.6. His Ferrari suffers just under three retirements per-season on average. Seb scored 397 and 392 in an invincible Red Bull back in the day (19 race seasons) and 10 gold or silver medals in 2017 contributed to his season haul of 317.
Valtteri Bottas: 292 Points
Bottas certainly knows how to keep his car on the track if not always live with his teammate. He was probably flattered when partnered with Massa at Williams and it is doubtful he will better his 2017 tally of three race wins. Suffered just one retirement in 2017 and was unfortunate to suffer that fate in Baku a few weeks ago. Certainly has a fast car and took 13 podiums last year. A reliable point-scorer, 305 last year, but his rivals are stronger this season.
Daniel Ricciardo: 224 Points
Claimed 256 points in the 21-race 2016 season despite winning just once. That figure was boosted by the fact he completed every race and all but one in a point scoring position. Like his teammate he suffered an outstanding number of retirements least year (six) but still raked-in 200 points. We have averaged out the Australian at 10.6 points a race on the understanding he will pick up a race at one of the 'gafs' (Monaco, Hungary, Barcelona, Singapore) and will suffer a couple more retirements before the season's end.
Max Verstappen: 213 Points
Last season was his first full year at Red Bull but his 168 point tally does not do him justice (seven retirements many due to mechanical issues) and he actually scored better in 2016. The young Dutchman's racing style means he is more prone to an on-track incident, or post-race time penalty than any other driver (rookies apart). Exciting to watch but a steady style means steady points so I'm loathed to give him a higher forecast than his teammate who he currently trails by 14 points anyway.
Kimi Raikkonen: 213 Points
Kimi's the driver who is most likely to find a Force India, Renault or even McLaren in front of him on the odd occasion. Outscored by his team-mate by a ratio of 1.5-to-1 last season and is behind Vettel by 30 points already (78 vs 48). Doubtlessly team orders and pit-stop timing have cost him dear. But has had 85 starts back at Ferrari and is still yet to win a race. With a fall guy status, two retirements in 2018 already and strong opposition, 213 points is the best we can muster.
Points at the top
Last year the top six drivers earned 1,558 points. On that basis, with an extra race in 2018, they should claim 1,646 this time around. However we have given them a combined 1,623 points (the same as number the 'big six' claimed in 21-race 2016).
Only once in 2017 did a driver representing a team other than a Red Bull, Ferrari or Mercedes make the podium (Lance Stroll/Williams in Baku) and fourth placed positions were equally hard to come by. Perez (Force India) and Sainz (Toro Rosso) were the only two outside the 'big three teams' to get one.
So far Perez, like Stroll last year, has picked up an unlikely 'bronze' in Baku and Pierre Gasly gave Toro Rosso-Honda 12 points for a fourth-placed effort in Bahrain. So there's plenty of reason to believe the traditional mid-pack teams can net a few more points than they have in recent seasons