How have the drivers and teams spent their week away from the busy F1 schedule?
11:00, 26 Mar 2023
We're a week on from the Saudi Arabian Grand Prix, where Sergio Perez took the top prize with Max Verstappen and Fernando Alonso joining him on the podium, and seven days into a short break as the paddock prepares to arrive in Melbourne, Australia for the 86th Australian Grand Prix.
Following the events Down Under, we have an even longer break before the Azerbaijan gets the start of summer motorsport underway. We've collected some of the interesting stories from the world of F1 this week.
Max Verstappen Reacts To Second Place With iRacing Streak
Max Verstappen doesn't take losing very well. He's known to be hot-headed when things don't go his way and, despite it sounding like criticism more than praise, it's probably one of the many reasons why he's been so successful in motorsport.
Read More:
After finishing in second place on Sunday, the Dutchman headed home and straight onto his racing sim to play iRacing, a subscription-based racing simulator used by the best drivers in their spare time to practice and even make a career out of. For the layman, it's the kind of setup where you have three screens around a steering wheel & pedals set-up in your spare room.
It's been noticed that Verstappen didn't just have a leisurely drive and head away to get some rest, but in fact took part in 11 consecutive races at the virtual recreation of Florida's Sebring International Raceway, winning all 11. Racing amongst him was McLaren test driver and 2021 IndyCar champion Alex Palou, with the Spaniard finishing second in the first race of the 11.
Verstappen had a great weekend in terms of driving in Saudi, but a driveshaft issue forced his team to swap out parts on his car that led to a grid penalty that saw him start in P15. He fought his way up to second place but that is never enough for a relentless winner.
No time to rest for
@Max33Verstappen
👀
Max was already competing in iRacing less than 24 hours after the Saudi Arabian Grand Prix. He won the next 10 out of 10 races, pulling out a +19.818 gap in a 5616 SOF race. 🏁🔝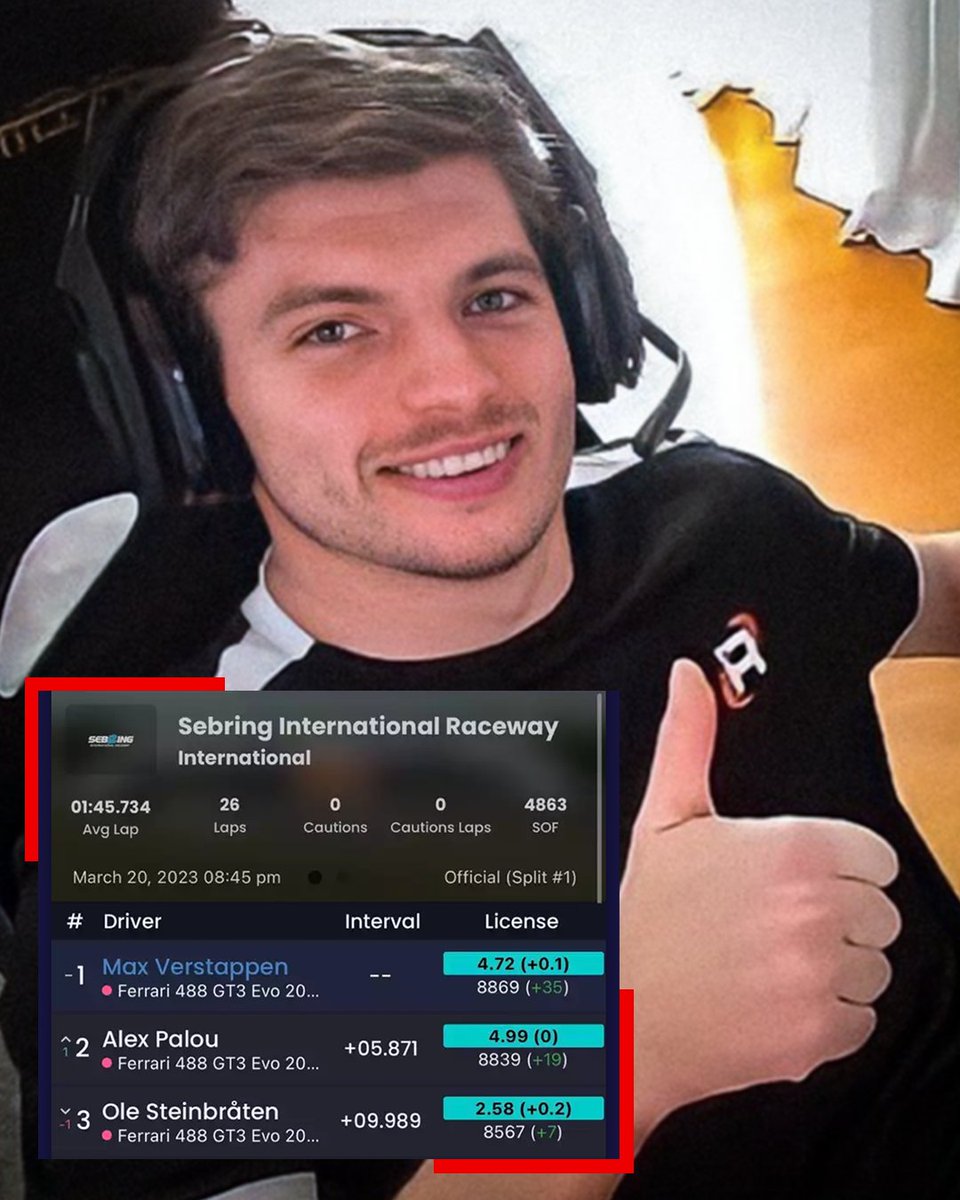 There's a virtual 12-hour endurance race taking place this weekend too, and it looks like Verstappen is preparing to enter on his week off.
Christian Horner Rules Out Lewis Hamilton From Red Bull Move
Lewis Hamilton's current contract at Mercedes expires at the end of the season and team principal Toto Wolff has already made it clear that he would have no qualms if the seven-time World Champion were to leave the team after another poor season.
There have been rumours of what Hamilton might do next, whether it's retirement or stepping away from the team he's helped build over the last ten years. One team has ruled themselves out of contention early, however.
Red Bull's Christian Horner was quick to dismiss any talks of a move for the Brit. Speaking to Sky News, he said, "What Lewis has achieved in F1 is second to none, but we're very happy with the drivers that we have.
"They're committed as a pair not only this season but the next season as well. So, I can't see where we would be able to accommodate Lewis."
Mexican driver Sergio Perez is just one point away from his teammate and reigning champion Max Verstappen, but his seat is currently secure at Red Bull after signing a two-year renewal with the Milton Keynes-based side last year following a dramatic weekend in Monaco.
One suggestion from former team owner Eddie Jordan was a swap between Ferrari and Mercedes, with Hamilton joining the Scuderia and Charles Leclerc switching the other way.
Speaking to OLBG, the Irishman said: "Now that would be interesting. Charles Leclerc is very much a Mercedes type of driver, and to see Leclerc and George Russell fight it out would be great. That could be a deal in heaven."
F1 Exhibition Opens In Madrid - Featuring Grosjean's Burnt Chassis
For those that like a museum (don't we all?), opening this week in Madrid is F1: The Exhibition. Inside is the 'Past, Present and Future' of Formula One, documented in interactive displays in six unique rooms.
There's rooms showing artefacts from cars and drivers of yesteryear, with unseen footage and large-scale pictures all over, as well as a design lab to lift the lid on modern car design. One of the more eye-catching displays is the chassis belonging to the 2020 Haas of Romain Grosjean. The Frenchman infamously veered into the armco barriers after turn two in Bahrain, causing the car to erupt into flames and split in half.
The exhibition promises to capture the heart and soul of the sport we all love ✨
Celebrating Formula 1 and it's magnificent history!
#F1
@F1Exhibition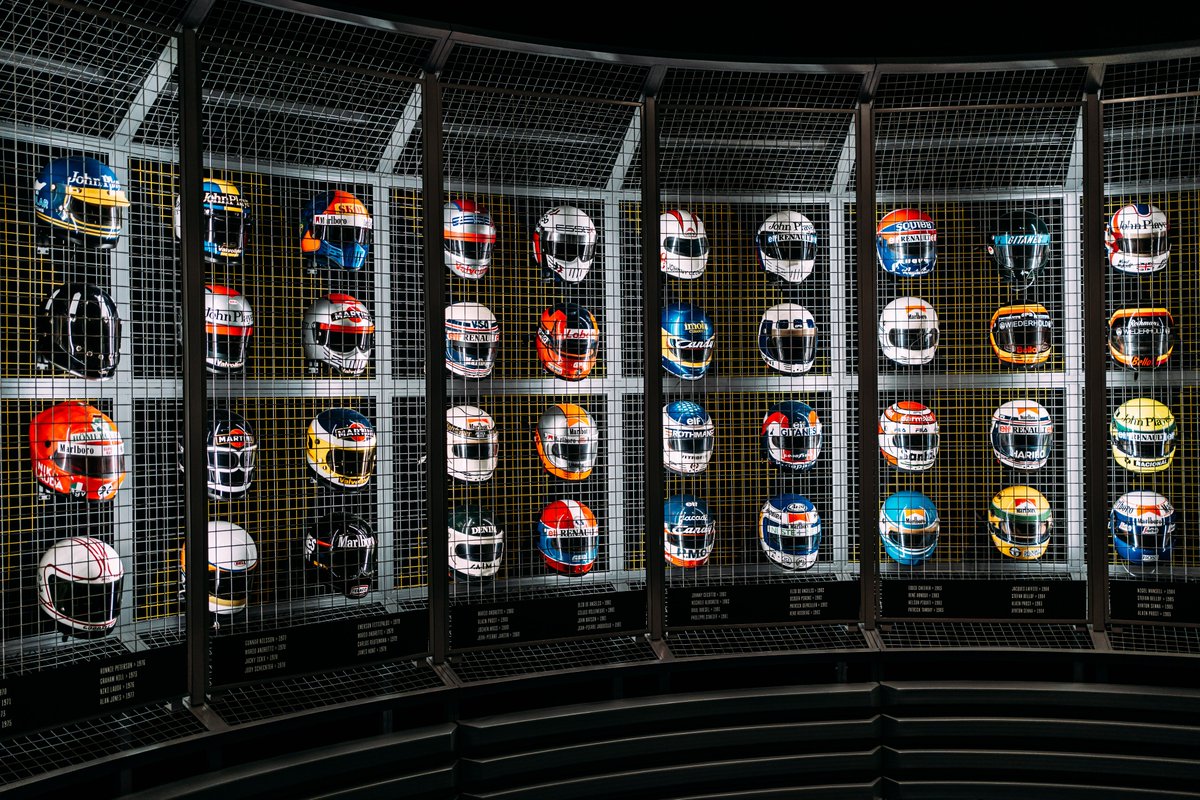 Amusingly, in the gift shop, you can find a mug with the words of Toto Wolff's enraged rant at former race director Michael Masi from the 2021 Abu Dhabi Grand Prix where Max Verstappen snatched the World Championship away from Lewis Hamilton after the controversial safety car deployment and exit. We're not so sure the Austrian would laugh at it himself though.
McLaren Announce Team Changes After Horrific Season Start
Before this season, Lando Norris had never finished a race lower than 15th. In both races so far in 2023, he's finished 17th. Oscar Piastri didn't even get halfway through Bahrain before his gearbox packed in. He settled for a P15 finish in Saudi Arabia, over seven seconds behind 14th placed Nyck de Vries.
McLaren CEO Zak Brown was ready to make changes and there's been quite a few made with immediate effect. The team is set to "move away from a single Executive Technical Director role" with the appointment of three new leaders reporting to team boss Andrea Stella.
Technical director and former engineer James Key has left with immediate effect. Replacing him is three new directors including Peter Profromou, a veteran of the company who will by the Director for Aerodynamics. Profromou is known for his work with McLaren in the nineties alongside Adrian Newey, and the pair moved to Red Bull back in 2006, with Newey choosing to stay in his new surroundings and Profromou returning to McLaren in 2014.
Neil Houldey, another existing employee, will step up to become the Director for Engineering and Design, and Ferrari's David Sanchez will rejoin the team as Director for Car Concept and Performance. However, he won't be able to join the team until January 1st next year, due to gardening leave.
Lando Norris reacted on Twitter to the changes, showing his loyalty to the team that provided his big break in the sport, however it will be interesting to see how long that lasts if results don't improve in the coming months.
From team changes to major infrastructure upgrades, every single one of us is working flat out to get McLaren back to the top. Seeya soon 'straya 🇦🇺
Regulations On Cost Cap To Be Reviewed For Struggling Teams
Reports from Autosport say that Formula One bosses are set to discuss changes to the cost cap regulations, in a bid to aid smaller teams catch up to the top of the field.
Despite the cost cap's introduction in 2021 being a positive, there have been complaints from teams about the infrastructure side of the cap, and how smaller teams are suffering because of it. Teams are able to build new factories and there is an exemption in the rules for the creation of new wind tunnels for aero testing, however any other investment to improve equipment at the headquarters of a team is included in the limit that teams must stay below.
For example, a team like Red Bull that already has the best equipment before the cost cap was introduced will need to spend less on developing the existing equipment, whereas a team like Williams, who rely on engines from Mercedes, might be stuck with the equipment they could afford back in 2021 and unable to upgrade.
Autosport reports that there have already been preliminary discussions between team principals and F1 bosses about changing the rules, with Williams leader James Vowles keen to force the issue.
The FIA are open to changes for relaxing the rules around capital expenditure, however for a rule change to go through before 2024, it would need six teams to back it. If there was eight teams on board, then we could see regulations change before the end of the season. You'd imagine that McLaren, AlphaTauri, Williams, Haas and Alfa Romeo would be on board automatically, with their spots in the bottom half of the table so far this season. It's unclear whether there is any opposition to the rule, with the way teams vote open to interpretation and speculation, but it's likely that we see these rules change.
Alpine boss Otmar Szafnauer has already supported the issue publicly, saying: "If you don't allow that expenditure, then that inequity is there forever. That means you're screwed forever and I think that's wrong."
*18+ | BeGambleAware | Odds Subject to Change