As Charles Leclerc took pole position ahead of Max Verstappen, he did so with the help from his Ferrari team-mate. Carlos Sainz has been keen to establish himself as a key player in the team, but once again he was forced to play second fiddle around Circuit Jean Picard.
Sainz will start 19th on the grid after engine penalties, and the Spaniard already knew that he would not start in the top ten but he still played a huge part in Q3, as he gave his Ferrari teammate a tow on both laps which propelled him to pole.
On the first attempt they were slightly out of sync as the pair got their timings wrong, but on the second and final attempt - they nailed it. Leclerc finished 0.304 second ahead of Drivers' Championship leader Max Verstappen, who will start in second, with his teammate Sergio Perez in third. That slipstream tactic put the Ferrari on pole, even though on the straights, the Red Bull was quicker. This tactical masterstroke won't cost Ferrari points in the Constructors' Championship - Sainz was going to start on the back row either way - but now Leclerc has a great chance to further close the 38 points gap between himself and Verstappen.
READ MORE: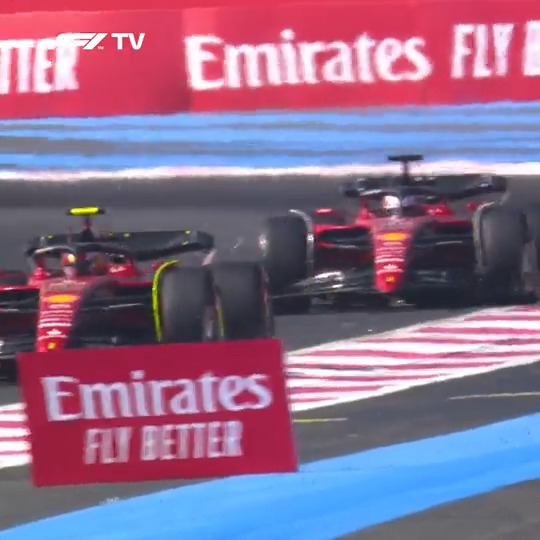 "It was a great lap," Leclerc said, as he celebrated his seventh pole in 12 races this year. "I struggled all weekend to put a lap together and I managed to put it. But I must say thanks to Carlos because it would have been much closer without him."
The Red Bull showed good pace in France and Verstappen isn't willing to give up on the race win yet. Verstappen responded: "Overall we were lacking a bit in qualifying, just general grip. It was a bit more tricky than I would have hoped but we still have a decent race car. Tomorrow will come to our favour. We are quick on the straights and we can use that."
Ironically, despite his selflessness, Sainz actually proved again that he is more than a number two. He might well have challenged his teammate for pole having set the fastest lap in second qualifying, and he could well be the fastest car on track tomorrow, even though he is starting down in 19th.
Watching him scythe his way through the field will be one of the stories to look out for tomorrow, as he targets the points from the back row. "Unfortunately the penalty comes at a point in the season when I am feeling at the best with the car," Sainz said. "I have been all weekend very fast.
"But obviously because of the penalty the target was to get to Q3 and give the tow to Charles, which I think I did pretty well. I think it was pretty nailed. I am happy for the team."
Qualifying order
1) Charles Leclerc
2) Max Verstappen
3) Sergio Perez
4) Lewis Hamilton
5) Lando Norris
6) George Russell
7) Fernando Alonso
8) Yuki Tsunoda
9) Daniel Ricciardo
10) Esteban Ocon
*18+ | Be Gamble Aware