This driving duo gives Formula One fans a reason to be positive
12:00, 16 May 2020
Despite its unfortunate hiatus, Formula One raced back into public consciousness this week with the bombshell news that, after six seasons, the partnership between Scuderia Ferrari and four-time World Champion Sebastian Vettel is set to end.
It's a move that reportedly cost the Prancing Horse close to $90million, with share prices initially dropping 4.5%, but additionally kicked the dormant engine on the driver's carousel back into life. Less than 48 hours later, Ferrari announced that Carlos Sainz Jr would be the man to step into Vettel's cockpit and partner Charles Leclerc in an initial two-year deal.
The 25-year-old Spaniard arrives from McLaren. The vacant spot Sainz has left has provided the opportunity for McLaren to produce what will no doubt be the popular partnership of Lando Norris and the refreshingly jovial Aussie with a perpetual smile etched across his face, Daniel Ricciardo. The 30-year Perth native will arrive from Renaut upon the conclusion of his two-year-contract in 2021.
On the current grid, Ricciardo has the fifth highest number of career races run, as well as seven wins and 29 podium places on his CV. Norris, ten years Ricciardo's junior and awaiting to compete in only his second season, is still waiting to pop his top three cherry.
Fans might currently be Grumpy Gus' with the 2020 F1 season yet to ignite, but the promise of this driving duo within the McLaren gives reason to be positive, if simply for the positivity of their distinct personalities and obvious affection and rapport.
Class clown Ricciardo - nicknamed The Honey Badger - maintains his quick Aussie wit and seems as permanently ready to start a joke as he is to start a race. Unabashedly self-gratifying and complimentary, Ricciardo will also vehemently remind you how handsome he is as he is fast to applaud his driving skills.
With his profile raised to non-F1 fans with the excellent Netflix docuseries Drive To Survive, Ricciardo often acts in contrast to the more stoic personalities that seem to be exhibited by the likes of Max Verstappen and Vettel. His introduction says it all: "I'm Daniel Ricciardo, I am driving with the Renault F1 team. I'm still from Australia. And I'm still good-looking."
The anointed 'funniest man on the grid' seems permanently the lookout for the opportunity to inflict mischief, from interrupting interviews, sarcastically slating his fellow competitors, to accidentally mimicking an Irish accent - something he had been practicing all weekend - in response to an anticipated question from a journalist...who turned out to be Scottish.
¡Adiós amigo! It's only been a year, but it's been a pleasure
@Carlossainz55
. We've had some good laughs and made a few memories. Give it your all mate and let's give this year the send off it deserves.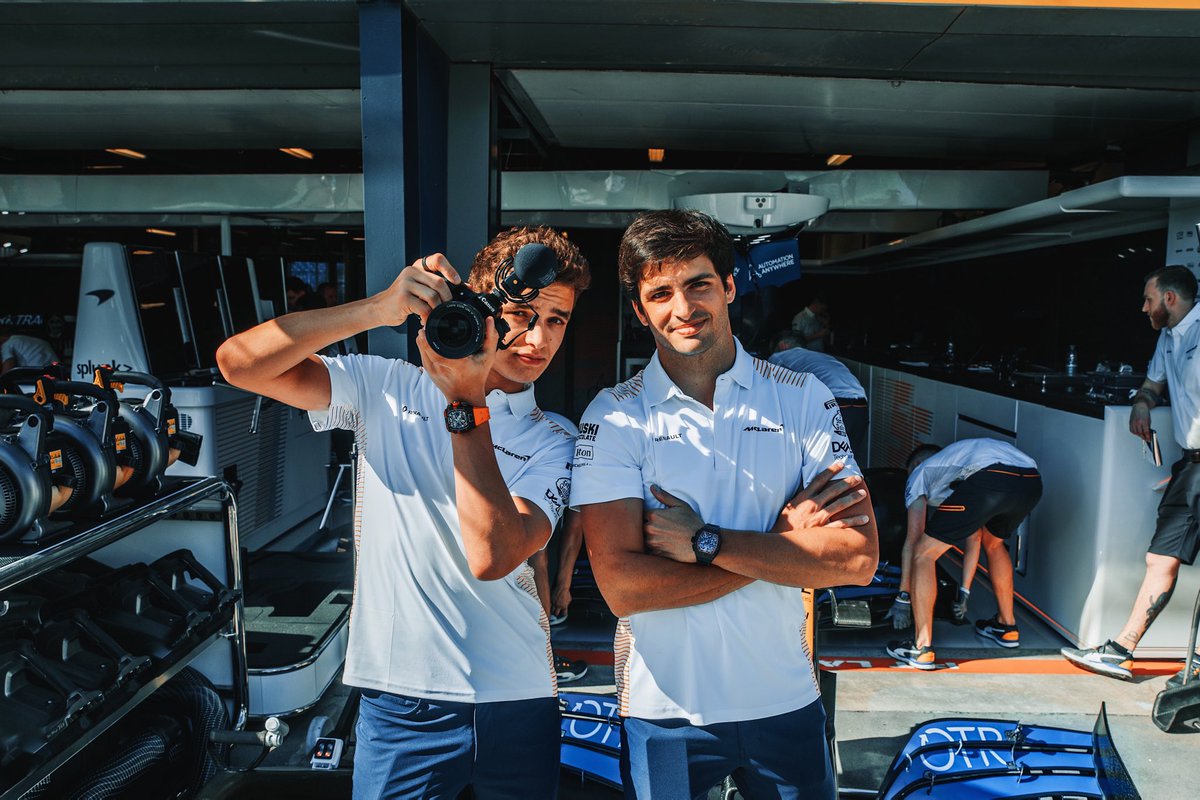 The young Brit-Belgian Norris meanwhile hasn't slunk into the shadows during imposed lockdown, with the 20-year-old being one of the more visible presences from the world of Formula One, entertaining online through Twitch escapades and gaming platforms. With the 2021 teamup, not only will one of the hottest young prospects in F1 benefit from Ricciardo's experience but also no doubt on a personal level from an ever-growing rapport developing between the two drivers..
The pairing of Ricciardo and Norris - something already monikered 'the giggle team' by former driver and F1 commentator Martin Brundle - has already garnered the respect of rival racer George Russell "I think Daniel going to McLaren is going to be good," the Williams driver said, "It's going to great for Lando. He's going to relish that challenge, having a strong team mate next to you, I think for Lando it's a win-win situation, so that's great for him."
The friendly nature of the relationship between the two was elucidated at the 2019 British Grand Prix press junket, when separated by reigning world champion Lewis Hamilton. With Hamilton conceding that his own moustache needed some work to it, Norris admitted he too couldn't do much better, to which Ricciardo leaned over to ask the young upstart whether he 'had any pubes yet?'.
One cheeky grin and a glance from the Honey Badger later led the two to erupt in fits of giggles, the conference interrupted, and Norris eventually reduced to tears of laughter. Even more hilariously it was mostly to the bemusement of the press and drivers in attendance.
The immediate future of Formula One in 2020 is as yet unknown, but with Ricciardo and Norris and McLaren providing a much-needed optimism injection, it's best to get those cheek muscles warmed up at least. 'Dando' will be the cronies to provide comedic camaraderie, that welcome dose of humour both to the sport and the wider world.